For many years Silestone worktops have been a popular name in the engineered stone world and a consistently popular contender for kitchen worktops.
In this guide, we will look at various benefits of Silestone worktops in your kitchen. But before we do that let's take a look at what Silestone worktops actually are…
What are Silestone worktops?
Like other quartz stones, Silestone is a compound material made up of 90% natural quartz and small bits of granite, mirror chips, and polymer resins. Fabricated from natural quartz, one of the hardest and most resilient natural materials, they make popular choices for bathroom and kitchen worktops.
As one of the original style of quartz material to be manufactured for kitchen and bathroom worktops, Silestone has become a popular feature in homes across the country.
So now we know what Silestone is, let's take a look at some of its key benefits…
4 benefits of Silestone worktops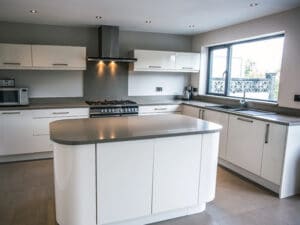 Stain Resistant
One of the main benefits of silestone counterstops is that it is a non-porous stone, Silestone is highly resistant to stains from wine, lemon juice, coffee and other household oils and liquids.
Huge variety of colours and tones
With so much to choose from, including slabs that resemble the beautiful veining characteristics of marble worktops, Silestone counters come in a wide range of beautiful colours and tones. Whether you are after a more modern or classic feel to your kitchen, Silestone probably has the answer.
Hard-wearing and durable
Like its natural stone counterpart and other quartz materials, Silestone is extremely hard-wearing and durable. They are highly resistant to scratching and chipping and whilst natural stones such as granite also share these qualities, quartz worktops carry the added benefit of flexibility. And this makes it easy to work with complicated kitchen designs
Easy to maintain
Cleaning and maintenance are a breeze with Silestone worktops. As with other quartz worktops, all that is needed is a quick wipe down of your kitchen worktops with warm water and a microfibre cloth. This will keep them looking fresh and new for years to come. And hence this is another reason why Silestone quartz worktops are such a popular choice for high-traffic areas like the kitchen.
Need our help?
Still unsure whether Silestone worktops are the right choice for your kitchen? Or are you still struggling to make sense of all the different stones and their various properties?
At Marble Supreme, we're here to help. And whether you are after quartz countertops, marble surfaces, granite worktops or even wood we're happy to give impartial advice about various worktop materials in order to help you find the right material for your home. Simply, get in touch today or visit our Bristol showroom in Kingswood to speak to one of our stone experts in person.