If a bathroom renovation is on the cards but you're struggling to get inspired, fear not. In this handy article, we've compiled a list of our favourite bathroom ideas covering a wide range of bathroom styles. Whether you're hoping for a more traditional aesthetic or have always dreamed of a hotel-style bathroom, these luxury looks are sure to provide you with some much-needed inspiration!
Before Starting Your Bathroom Renovation…
Before we get stuck into our favourite bathroom ideas, there are a few things for you to consider that will help you to plan your bathroom renovation! 
Agree on a budget – If there is more than one decision maker, then you both need to decide what your budget is going to be. Some people choose to have two budgets: an ideal spend and an absolute maximum. 
Assess your space – before deciding on a bathroom design, you need to properly measure your space. This includes the floor space, wall area and sizes of your existing

bathroom fittings

.
Consider your storage requirements – Know that you'll need a lot of storage? Work with your bathroom supplier to ensure that your design can accommodate appropriate storage solutions.
Factor in any repairs – Sadly, renovating a bathroom can uncover hidden repairs that you might not be expecting. To avoid overspending, it's important to factor this in when deciding upon a budget. 
 With a detailed list of everything you'd like to include, you'll be much more prepared when approaching your bathroom contractor. 
1. The Minimalist Bathroom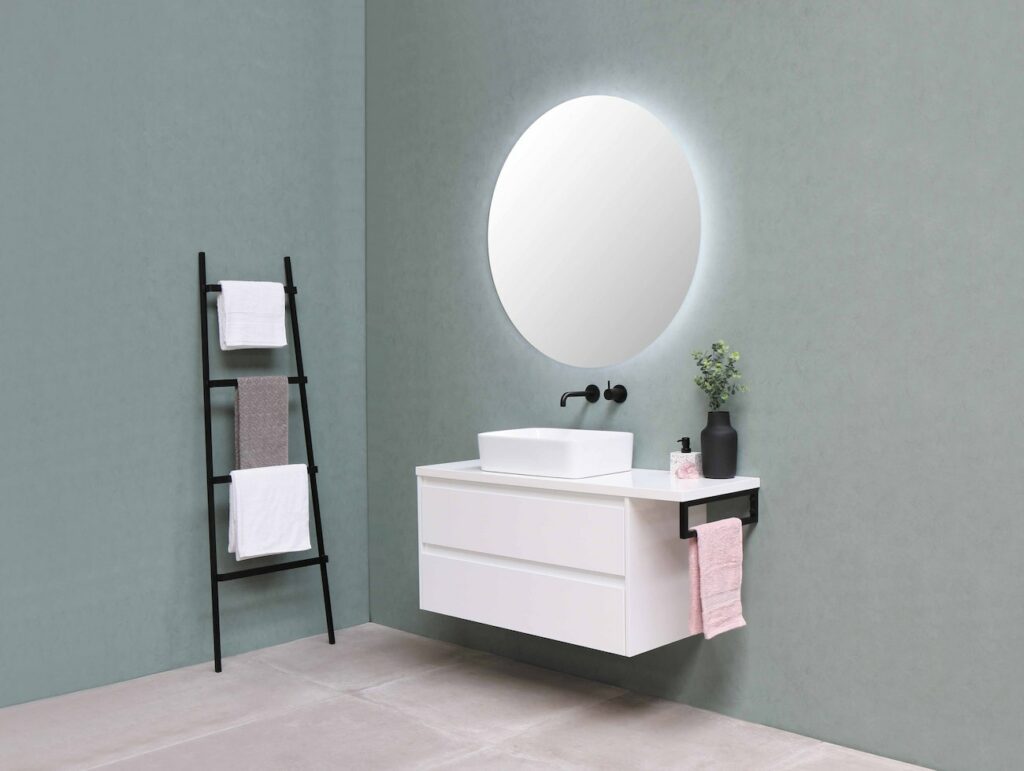 First on our list of bathroom ideas is 'the minimalist bathroom'. As the name suggests, a minimalist bathroom is all about keeping things paired back and as simple as possible. Sometimes it can be tempting to kit out your bathroom with all of your favourite accessories but, go overboard, and this can make the space feel cluttered and overwhelming.
Beyond the practical purposes of the space, your bathroom should be a calming sanctuary for relaxation. To achieve this, think about the elements of your bathroom that are absolutely essential and do away with the rest. By focusing on just a few necessary elements and investing in high-quality materials, you'll create a peaceful space that looks clean and presentable without the need for too much maintenance.
Wondering where to keep your toiletries? A stone bathroom vanity unit with storage space under the sink is the ideal way to keep messy shampoo bottles out of site. 
2. The Traditional Bathroom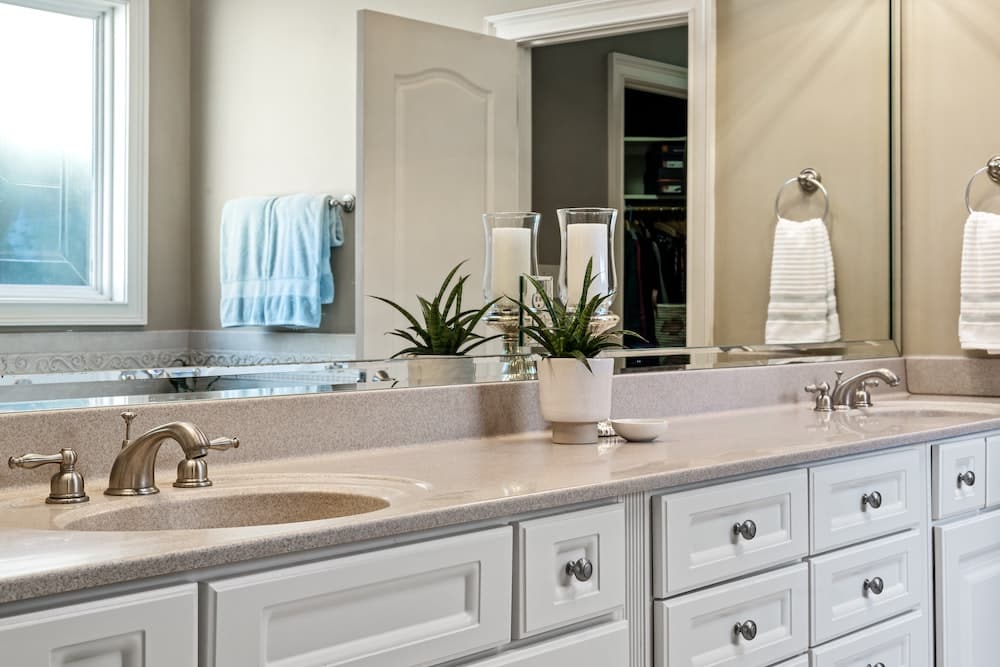 If you've been scrolling through bathroom ideas online and found that everything is a little 'too contemporary' for your taste, why not go for a more traditional bathroom look as showcased in the image above? Pale granite countertops pair beautifully with classic oak vanity drawers and provide a great storage solution for all your products and potions!
For the fixtures and fittings, ditch a square tub for a classic roll-top bath with Edwardian or Victorian-style lever taps. These classy final touches will give your bathroom that added wow factor and will ensure that it stays 'en vogue' for many years to come.
3. Hotel Luxe with Lavish Granite Countertops
If you're a fan of luxury en-suite bathrooms then this hotel-style bathroom is for you! 
With 'his' and 'hers' sinks and a gorgeous granite worktop, this cosy, contemporary bathroom oozes sophistication. If you want to give your bathroom a similar feel, why not consider opting for dark stone countertops and floor-to-wall tiles?
Natural stone materials will not only help to create an organic and eye-catching space, but they'll also require less maintenance over time.  
Find out the best ways to care for your granite worktops in our handy step-by-step guide. 
4. The Monochrome Suite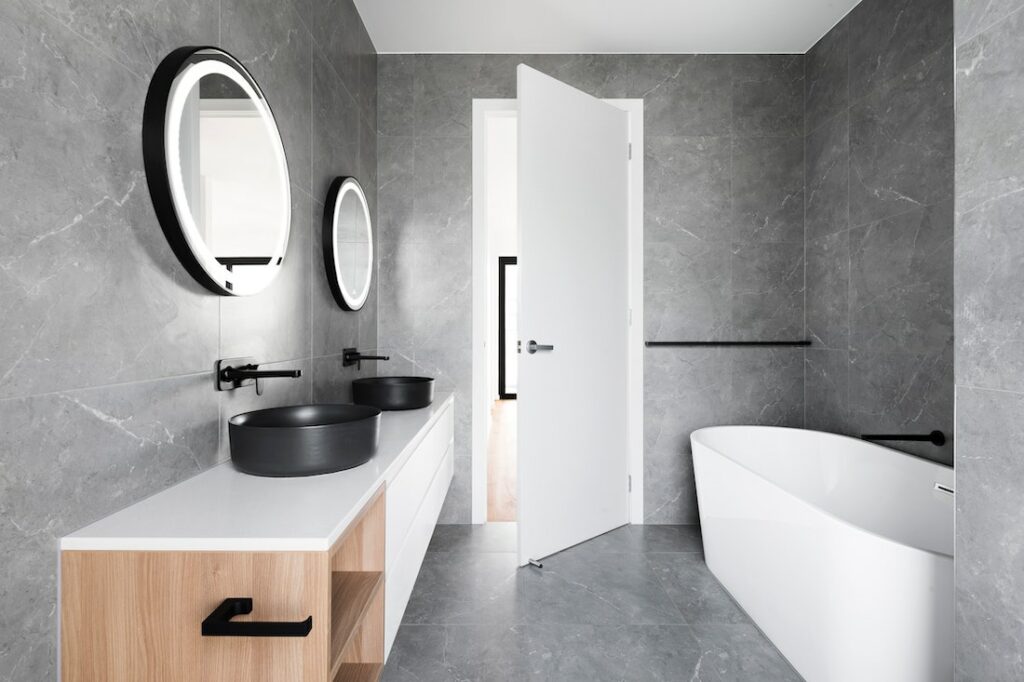 If you're not so keen on bright, bold colours then a monochrome bathroom could be the perfect solution. Monochrome interiors not only look stylish but they also stand the test of time! By stripping back your bathroom scheme to just black, white and grey and focusing on clean, bold lines, you can create a statement without needing to go overboard. 
What's more, if you do choose to add a pop of colour in future, monochrome tones are all very versatile and will complement most shades. 
Want to give your bathroom a more high-end feel? Adding a quartz or marble bath surround will give your space a real sense of opulence. Discover our range of stone bathroom furnishings and find out how we can help you. 
5. The Vintage Bathroom with a Beautiful Quartz Counter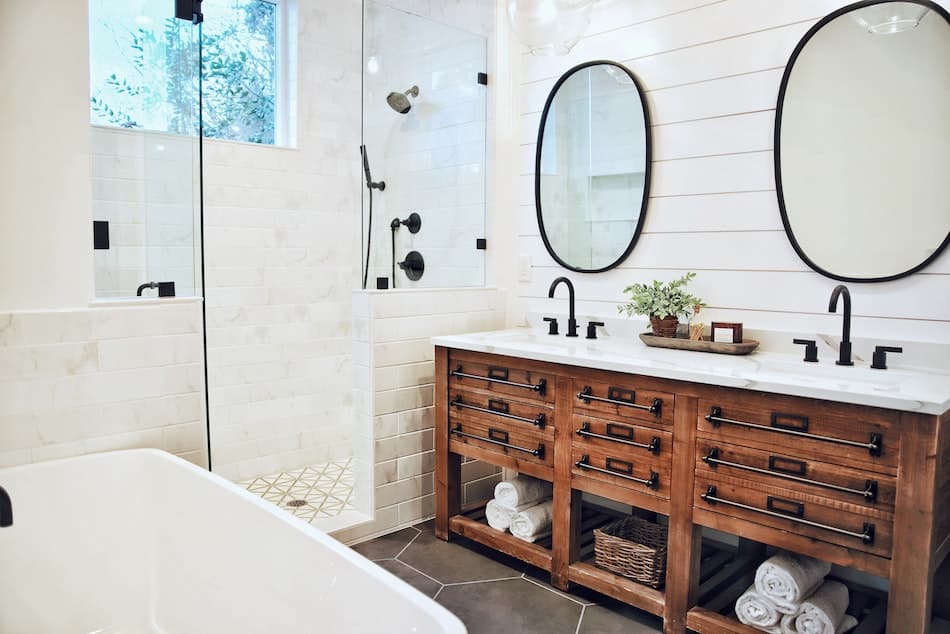 Last on our list of bathroom ideas is the 'vintage bathroom'. 
Much like traditional style bathrooms, the vintage suite focuses on classic fixtures and fittings but incorporates quality antiques to give a rustic feel. 
In the design above, we love the combination of monochromatic details with the quality quartz worktop and repurposed apothecary drawers. As demonstrated here, just one piece of quality antique furniture can totally transform your space into a heritage haven!  
Are You Planning a Bathroom Renovation?
If our bathroom ideas have got you inspired and you're ready to get started with your bathroom renovation, give us a call. At Marble Supreme, our experienced team can supply and install premium stone bathrooms and kitchen countertops in marble, granite or quartz. 
If you'd like to see our stone in person, why not visit our showroom? We have a wide variety of styles to choose from and can provide you with invaluable advice and guidance. Start planning your dream bathroom today, get in touch.