Kitchen worktops play an essential role in any kitchen. They are not only functional but also set the tone for the overall look and feel of your kitchen. A kitchen counter is a long term commitment, especially when made out of a long lasting material like granite or quartz. However, the kitchen worktop trends 2018 can help to inspire your next kitchen project.
Whether you are simply looking to change your colour scheme or planning a full-scale kitchen renovation, it's important to consider what material, finish or design you choose for your kitchen worktops.
In order to keep on trend we have put together a handy guide of kitchen worktop trends for 2018 to look out for.
1. Quartz Worktops Are On The Rise!
You guessed it Quartz worktops are still one of the most popular kitchen worktop materials. A recently published survey by leading home renovation and design platform, Houzz, revealed that engineered quartz stone worktops were increasingly popular amongst UK homeowners between the ages of 35-54.
Introduced as a high-end alternative to Granite, the increased production of engineered quartz has paved way to a greater variety in stone colours and patterns, opening up the market to make quartz more widely available to homeowners across the country, even those on a tight budget.
As a non-porous material, Quartz does not require regular re-sealing like natural stones such as Granite. Add to this it's extreme flexibility and stain resistance and you can see why Quartz worktops are continuing to rise in popularity amongst homeowners across the UK.
You can see our exclusive range of quartz stone by visiting our quartz countertops page or popping down to our Bristol showroom in Kingswood.
2. Textured Vs. Polished Finishes
Whilst a polished worktop finish is still one of the most popular worktop finishes, honed and leathered finishes have become increasingly popular in recent years.
A honed finish is a matte finish that gives off next to no shine. The overall look of a honed finish can vary depending on the stone, but generally it has a low sheen and smooth surface characteristic of a matte finish
This type of finish works particularly well with Marble stone as its low shine helps cover up any unwanted flaws or scratch marks that can come with Marble worktops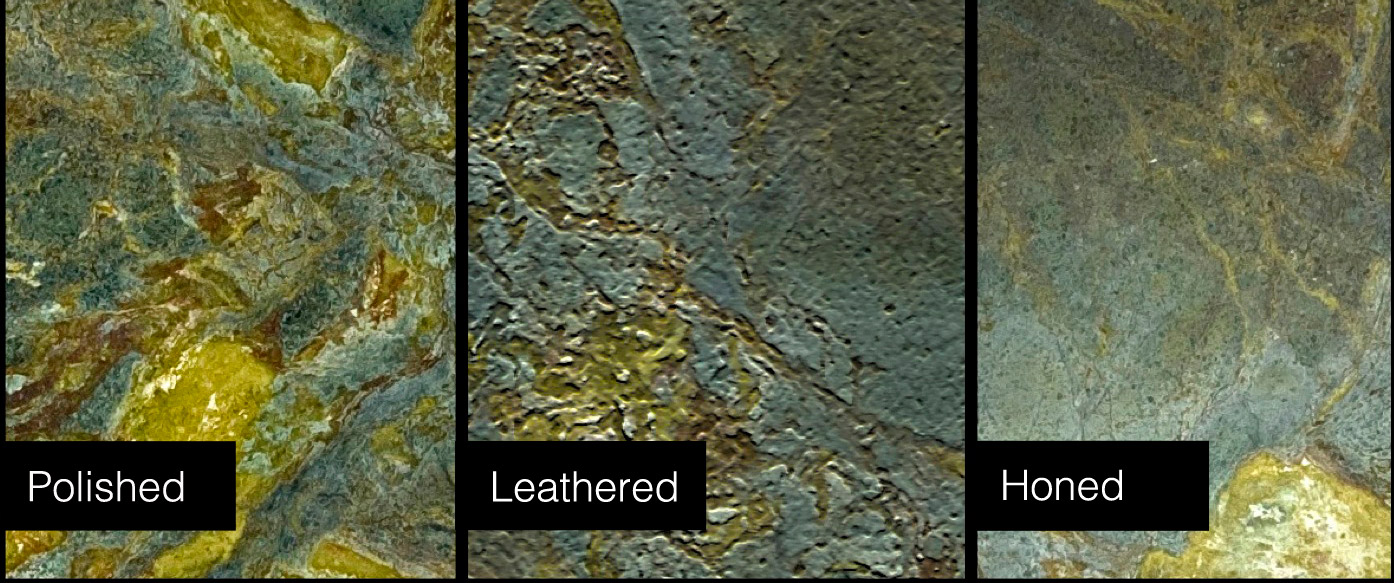 3. Faux Marble
Widely known for its intrinsic beauty, Marble worktops are popular in both kitchens and bathrooms. However as a high maintenance material it bears its own problems as a kitchen worktop contender. It requires regular sealing to prevent it from becoming scratched and is prone to damage when coming into contact with acidic items such as lemon juice, tomatoes and vinegar.
Increased development in the production of Quartz stone has paved way to a vast range of veining and patterns and now means quartz stone is offering a solution that combines both the aesthetic beauty of marble stone with the durability of granite worktops which is ideal for the kitchen environment.
4. Neutral Tones Are Here To Stay
Soft, neutral tones have become an increasingly popular kitchen worktop trend across the country. This is particularly noticeable with kitchen worktop colours with the jet black and bright coloured worktops of past years falling out of favour for softer neutral colours like a soft grey, white or even beige worktop.
Instead the brighter, more striking colours of the past are more prone to come through single interjections of colour or single, individual features within the kitchen.
These are often set against the neutral colours of the kitchen worktops  in order to provide a stark contrast between the key focal points of the kitchen, giving way to a modern kitchen design that makes the most of contrasting neutral and bright features to create the maximum feeling of space.
5. Character Is Everything
Character plays an important part in any kitchen worktop material. With the aid of technology a huge breadth of beautifully different patterns and colours are now available compared to the plain styles of previous years. Increasing demand for worktops with more character has also driven this advancement.
Materials like quartz, a man-made composite stone, are designed to bear a striking resemblance to the realistic veining of natural stones such as granite and marble, but often within a more affordable price bracket than their natural stone counterparts.
Whats more new quarries across the globe and the constant evolvement of technology continually allow for the discovery of new stone, both natural and composite, each carrying its own veining and patterning.
Whilst plain, solid colours provide a timeless look, stone materials with uniquely intricate veining patterns have begun to take off as a popular kitchen worktop trend across homes in the UK in recent years.
Honed and leathered finishes can also offer a characteristic of their own whilst also having the durability of standard polished finishes of the past.
6. Seamlessly Blended Kitchen Sinks
Whilst choosing the style of your kitchen worktops is a key decision in any kitchen renovation, so too is choosing the style of your kitchen sink.
In line with modern kitchen worktop trends, countertops with an integrated kitchen sink have become increasingly popular in homes across the UK, with many moving towards sleek, integrated kitchen styles that provide a seamless look and feel from kitchen worktops through to kitchen sink.
This seamless approach also has its functional benefits. Dirty water or trapped crumbs are no longer a problem with the absence of a gap between the sink and kitchen worktop. And as for maintenance, all that is needed is a quick wipe down to prevent or remove any marks or stains.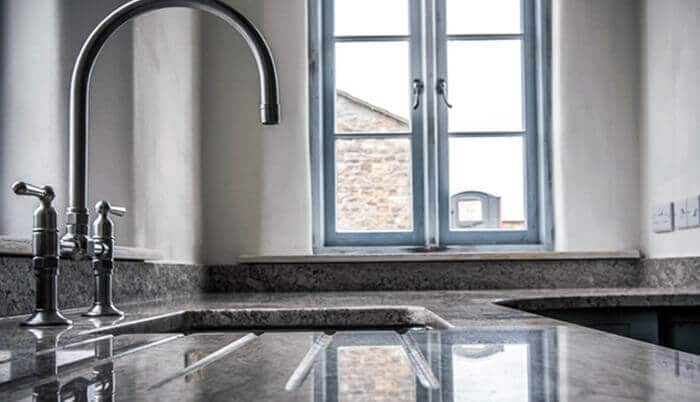 7. Multipurpose Kitchen Islands
Kitchen Islands have been a popular aspect of kitchen designs over the years. Whether you are a dab hand at cooking or like to use your kitchen as a social area to entertain family and friends, a kitchen island is a highly versatile area of any kitchen.
In recent years they have become an essential part of kitchen renovation projects. They not only offer a key focal point for you kitchen but provide a space to entertain, prepare meals and even store multiple household items.
Throughout the rest of 2018 and far into 2019, we expect to see kitchen islands continuing to serve a multitude of functions. They will be there to provide stylish storage solutions, house under-counter kitchen appliances and even provide seating areas for a breakfast bar or casual dining.
8. Tile Backsplashes
Splashbacks have often been an important feature of kitchen design and 2018 bears no exception to this. However in recent years we have seen a movement towards decorative stone tiles in favour of a full stone slab when it comes to kitchen backsplashes. And this is a trend we believe will continue in line with previous years through to 2019.
Tile backsplashes now provide a canvas in which to capture bold and striking design characteristics, and with a variety of tile styles, the ability to create attention-grabbing focal points has become more apparent than in previous years.
Need Our Help?
Still struggling to decide on the ideal material for your kitchen or bathroom worktops, or would like to hear more on how stone worktops can offer a wealth of benefits to your kitchen space? Then get in touch today and we'll happily help you find the right material for your needs. Alternatively, pop on down to our Bristol showroom and see our exclusive range of stone materials on display or give us a call on 0117 956 3030