Kitchen trends in 2020 are set to be just as eccentric as they are functional. Here's the lowdown on some of the prominent kitchen features we can expect to see gain popularity in 2020 and beyond… 
1. Dark blue 
2020 is the year we can expect to see more blue in all aspects of interior design. Following Pantone naming Classic Blue as the official colour of the year, it's fair to assume that this will have a huge effect on design decisions in 2020. 
The use of blue has been rising in popularity, with 2019 seeing dark blues take centre stage in homes across the UK. So, it's not surprising to see the trend continue into the new year. We recommend quartz worktops if you want to have a long lasting blue kitchen worktop.
2. Ladders instead of larders
Smart storage is the solution many of us have been looking for, and can certainly increase the functionality of your kitchen. While open shelving is becoming more favourable, there is an unlikely star we can expect to see a lot of in 2020: the ladder.
One of the highlights of this storage trend is the recent rise (no pun intended) in the use of ladders as shelving. Easy to manoeuvre and move on a whim, a ladder offers the flexibility and flair that the traditional shelving unit severely lacks. 
The traditional larders and units could be on their way out as the humble ladder finds its way out of the garden and into the kitchen. 
3.  Statement sinks
How much thought have you put into your kitchen sink? It's a feature that many people leave until last, but that could all change in 2020. A statement sink could become the main feature of your kitchen. Lavish taps and unconventional basins could set your sink apart from the rest and create an eyecatching talking point, these combine perfectly with a marble worktop.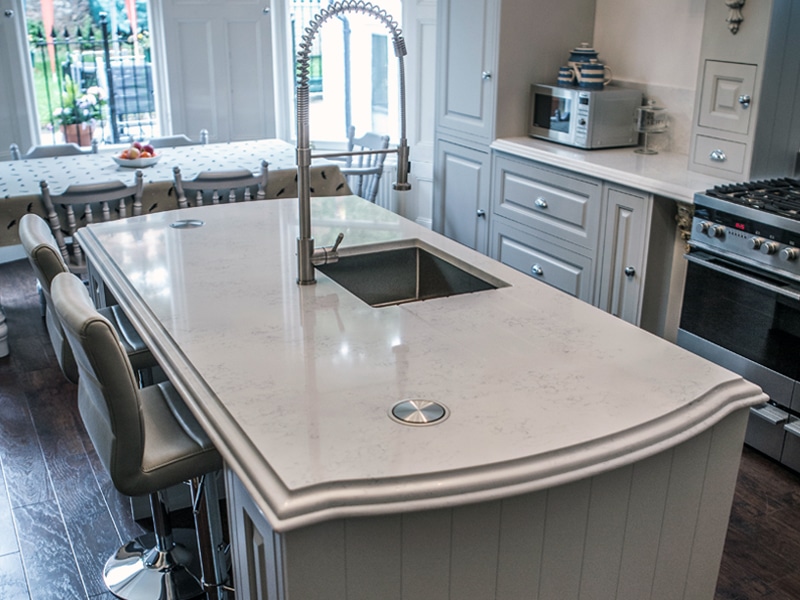 4. Beautiful backsplashes
It's time to make the most of your kitchen backsplashes. Designers are loving backsplashes that tie in with kitchen countertops. Got marble, quartz or granite worktops? Create a uniformed look and use that same material for your splashback – Marble and quartz, in particular (see our stock here), are set to be favourites of 2020.
Not sure if a splashback is right for your kitchen? Read our blog to discover how a short or full splashback could benefit you! 
5. Unconventional islands
Have you ever seen a double island? The unusual design is gaining popularity and could prove to be incredibly useful for anyone craving more space to entertain. Beware if your kitchen is on the smaller side though! Squeezing in a double island could make your kitchen feel cramped and unusable. You can find out which layouts work best for different kitchens with our kitchen layouts guide.
If the idea of a double island doesn't appeal to you, the new gravity-defying island could be a great alternative. Providing you with a spark of style, an island that's cut out on one side can provide much-needed space below – with the cutaway creating the illusion of a much more spacious kitchen. 
6. Dark surfaces
Dark floorboards had a moment of fame in the design world last year, and it looks like the popularity of dark surfaces could grow in 2020.
If a dark floorboard doesn't appeal to you, dark countertops or cabinets are worthy substitutes. It can be hard to balance the contrast of light and dark if you are choosing a dark surface. It's key to make sure the rest of your kitchen is light and bright to ensure you achieve the intended effect. Read our blog to find out exactly how to pick the right colour for your worktops.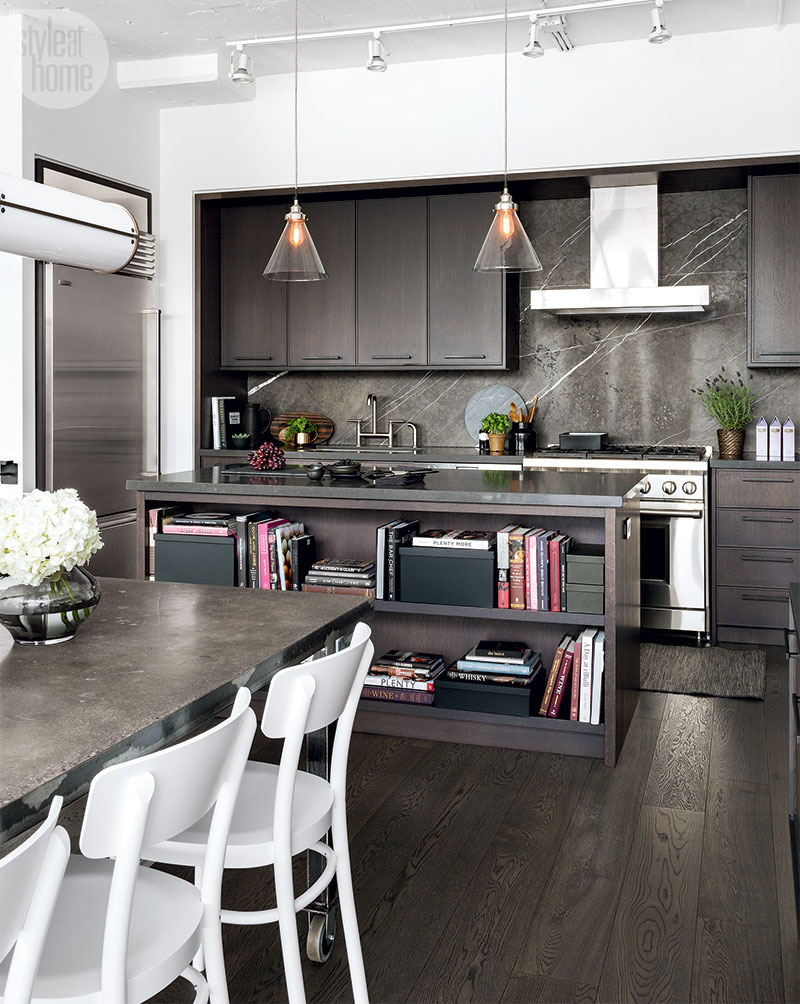 7. Pops of colour
A trend that many designers think will rule 2020, is experimentation with colour. Think random pops of colour in an otherwise very minimal kitchen. Most notably, the soon to be coveted two-toned cabinet is a trend that we think will be in vogue for years to come. 
8. Sustainable materials
Sustainability and environmentally conscious products were a huge talking point of 2019 across all industries, so it's no surprise that this will continue to affect how we choose materials in our homes. Picking materials that are ethically-sourced is becoming a top priority of many people and has led to a rise in the use of reclaimed wood in the kitchen. 
We always make sure our stock is sourced ethically – and 2020 will, no doubt, see a rise in demand for sustainable products across different trades. If you're considering using wood in your kitchen, find out more about the pros and cons with our stone vs wood worktop blog.
So there we go, watch out for those trends in 2020! If you want a kitchen that's style-savvy, you've got a headstart. Do any of the trends appeal to you?
If you'd like to find out more about kitchen styles, explore our blogs.  Interested in a new quartz countertop or splashback? Contact us to talk to one of our experts, visit our showroom – or take a look at what we offer, including bathroom worktops.