When it comes to choosing a new granite, marble or quartz worktop it's not just about choosing the right colour, size or stone. Choosing a professional granite worktop supplier that you can trust is also an important consideration to make. In an ever-growing competitive market with a wide range of choices both in price and quality, finding a supplier with the required technical expertise, a true passion for stone and a high level of customer service is key.
Here are some things to consider before making those all-important final decisions:
VIEW BEFORE YOU BUY
Don't just choose something online. Pop on down to our Bristol showroom in Kinsgwood and view our extensive range of beautiful stone ideal for kitchen worktops, bathroom worktops or flooring, splashbacks and vanity tops. It's important that you view granite worktops, quartz countertops or marble worktops with your very own eyes in order to truly get a feel for how they look up close and personal. Each slab of stone is extremely unique and the true essence of its colour or patterning can only be seen when you are up close and personal with it. Any granite worktop supplier should be able to show you a wide and varied range of granite.
BOOK IN A CONSULTATION WITH A GRANITE COUNTERTOP SUPPLIER
The kitchen buying process should always start with a 1-2-1 visit with a highly experienced and passionate stone expert. You never know, it's also likely that a skilled professional will know of one or two different stone types or material choices that you may not have even considered, yet fit well within your budget and design needs.
CUSTOMER TESTIMONIALS
As you would when buying a new TV for the living room or family car, make sure you do your research. Have a look at what other customers are saying about a company and their products and services. They may have a great range of stone but are they a trusted, well-respected and honest supplier according to customer reviews? If any issues do arise, how are they dealt with? Moreover, their passion for stone should shine through in their work, communication and overall online process. Take a look at their reviews on Google, Facebook, CheckaTrade or any other third-party "trust" pilot service. Industry-specific websites like Archilovers, Houzz and Ideal Home can also be useful.
GRANITE WORKTOPS SUPPLIERS SHOULD BE EXPERT, PASSIONATE CRAFTSMEN
If you've spent the time to check out what others are saying about a company's products and services, you'll also want to consider how they come across. Following on from a point raised above – they may have a wide range of stone to offer, but are they truly passionate about what they do? It's important that their passion for stone is shown in throughout their work, website copy and social platforms. Right from the very first contact, through to the quoting stages, if a supplier is personable and passionate about their work you are more likely to work with them. People buy into people for the most part, particularly if those people represent an unrivalled quality of service and product. Granite Worktop Suppliers should be passionate about the granite they are supplying and passionate about creating a magnificent worktop for you. Accept nothing less.
WHY MARBLE SUPREME?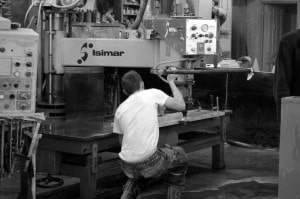 HASSLE FREE INSTALLATION PROCESS
Once you've decided on the ideal materials for your kitchen worktops, the following templating and installation process should be managed with little to no fuss. It's important to find a granite worktop supplier that is happy to work with you to find the best times for your schedule and provide any further advice throughout the process where needed.
As with any other home improvement projects at Marble Supreme, we understand that dates and times might be moved from time to time and we're always happy to accommodate to find the best time to suit both parties.
IT SHOULD BE ENJOYABLE
Don't forget these are your kitchen worktops and so try to have fun in the process. Whilst there are a wealth of decisions to be made and lots of careful planning needed, we're on hand to help you through every step of the process. Just pick up the phone and speak to one of our team. Or alternatively, pop down to our Bristol showroom and speak to us in person.
STILL UNSURE? – GET IN TOUCH
We're happy to provide a range of expert advice and guidance throughout the whole process. We can provide sample stone slabs for you to take home and try in your own kitchen and bathrooms in order to give you a better feel of how these will look in your home! No matter the question, we're here to help and like to empower our customers to find the right stone for their individual tastes and budget. We can also talk you through our exclusive range of Azul Platino and Brazilian granite stone.
Happy hunting!…