Vanity units are an excellent choice for those who are installing a new bathroom, or wet room or simply giving their current bathroom that much-needed makeover. They are designed to hold the basin, conceal unsightly pipework and ensure you have sufficient bathroom storage space. But without proper care, they can end up losing their appeal.
In order to keep your vanity unit looking its best, we've put together this simple guide with easy steps to follow and tips to ensure your vanity unit remains a statement in your home. Plus, we offer some great alternative, eco-friendly cleaning tips for you to consider.
GRANITE VANITY UNITS
Granite worktops are one of the most popular choices for vanity units and more. It is naturally antibacterial and highly resistant to scratching and staining but it's still important to maintain granite surfaces properly, and that includes understanding how to clean granite safely.
How To Clean Granite
To keep granite shiny, we recommend regular cleaning with a PH-balanced product or a mixture of detergent and warm water. You'll need to remove any items from the surface of your bathroom vanity unit and wipe down the countertops with a soft microfibre cloth. Avoid using abrasive cleaners or scouring pads because they may scratch the surface, and remember to buff out any visible streaks afterwards.
Removing Stains From Granite
To remove oil-based stains like dirt or grease, we recommend a commercial alkaline degreaser. For tough, organic stains like wine or coffee, a commercial stone poultice is recommended but you can create your own (details to follow).
Eco-Friendly Cleaning Tips
If you're trying to avoid using mass-produced, chemical-based cleaning products, we have collated the following green ways to maintain your bathroom vanity unit and countertop:
Try creating your own natural cleaning products using household items. Simply add hydrogen peroxide or acetone to baking soda until a paste is formed. Spread the mixture over granite using a clean cloth and repeat as necessary. Wipe the area dry and remove any excess to prevent leaving any sticky or cloudy residue behind.
Avoid using lemon, vinegar or acidic ingredients as they can damage the surface.
Once clean, try adding a few small drops of essential citrus oil onto your countertops to keep your vanity unit smelling lemony fresh.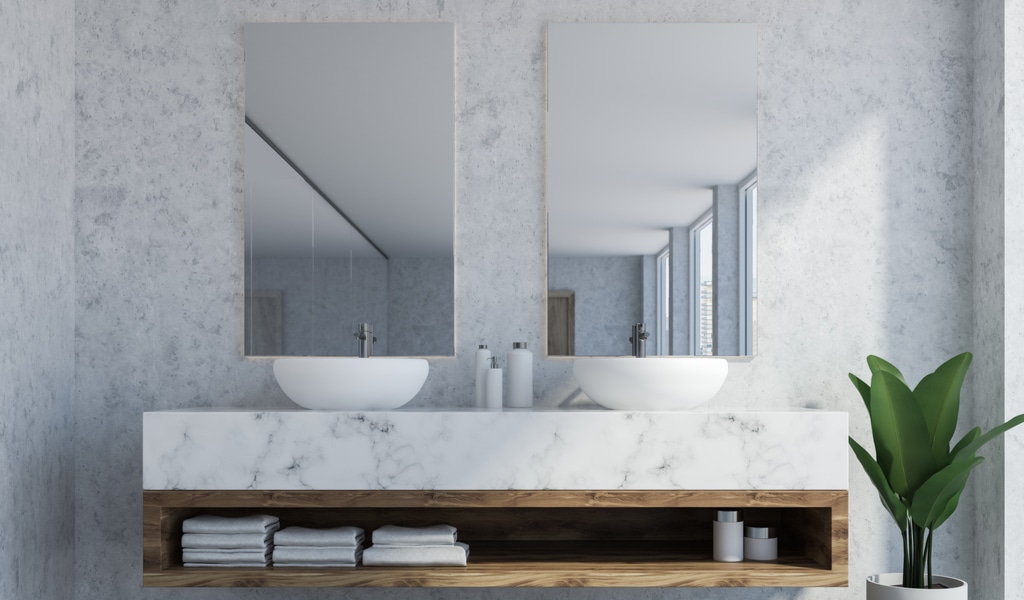 MARBLE VANITY TOPS
Marble, composed mainly of calcium carbonate, is a metamorphic rock. It can vary in colour from neutral whites and creams to pinks, greys, browns and black. With its rich colours and luxurious feel, marble worktops are a popular choice for kitchens and bathrooms. It is versatile to work with and keeping it clean is actually easier than you may think. Just be sure to avoid products containing acid.
How To Clean Marble
To maintain your marble vanity unit, we recommend that you wipe all of the surfaces regularly. You can choose to use a commercial marble cleaner but it is also possible to use plain soap and water. Simply spray the countertops with your chosen cleaning product and scrub the surface gently. Wipe away any excess residue with a clean wet cloth and repeat as necessary. Then rub the worktops dry and buff them with a soft absorbent cloth.
Removing Stains From Marble
The key to removing stains from marble is correctly identifying the origin of the stain and then applying the most appropriate cleaning method.
Organic stains like food, paper or urine cause a pinkish-brown discolouration and can be removed using a mixture of water and a non-ionic detergent. For stubborn or tough stains, we recommend a mixture of equal parts water, white spirit and detergent. This will need to be shaken regularly to maintain the emulsion and prevent the mixture from separating.
Iron or rust stains are orange or brown in colour and can be removed using a stone poultice. However, deep-seated metal stains can sometimes be difficult to remove. Biological stains like mildew are common in bathrooms and wet rooms. To remove these, we recommend using ammonia or hydrogen peroxide. Although gloves should always be worn when handling these toxic chemicals.
Eco-Friendly Cleaning Tips
Purchase an eco-friendly detergent at your local store or online. Mix a couple of drops with warm water and use a soft microfibre cloth to wipe down all surfaces. Next, use a clean, damp cloth to remove any sticky residue and buff away smudges with another dry cloth.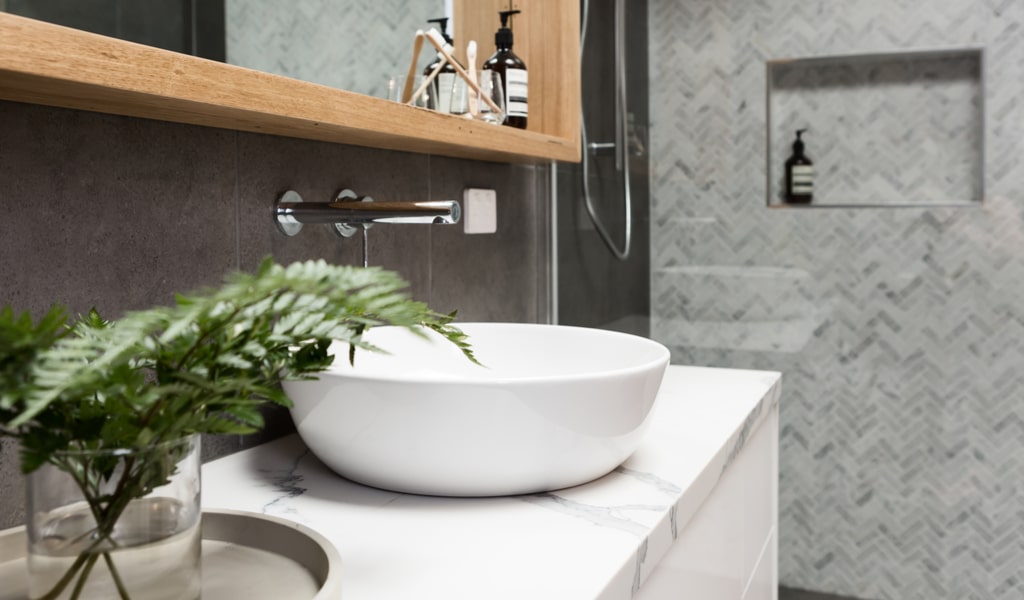 QUARTZ STONE VANITY TOPS
Quartz countertops are made from one of the hardest minerals on earth and are arguably the most durable stone for your bathroom vanity unit. It comes in a variety of beautiful colours and patterns and is resistant to staining and scratching. It can even contain a resin which means it does not have to be sealed.
The specific cleaning requirements of your quartz stone will depend on the location within your home and how often it is used, but quartz is not hard to maintain. The following guide should help ensure you are able to keep your quartz countertops looking brand new.
How To Clean Quartz Stone
For routine cleaning, we recommend wiping surfaces with a mixture of warm water and soap. This should be done as often as required, but the more often this happens the better maintained your bathroom vanity top will be. To get rid of dirt, you can use a recommended putty knife but be careful to only scrape gently.
Removing Stains From Quartz Stone
To remove tough stains from your vanity units, you will most likely need a cleaner that is specifically made for quartz. If you're unsure what's safe to use then please ask a member of our team or check out our helpful FAQ section. We're always happy to provide free advice and hope we can answer any of your questions.
Eco-Friendly Cleaning Tips
Avoid using multi-purpose wet wipes and opt for liquid cleaning products and reusable cloths. This should save you money and reduce the number of wet wipes that end up in landfill.
If you are set on using wet wipes, choose a biodegradable alternative and dispose of your wipes in the bin rather than flushing them away.
It all sounds simple and that's because it is. Maintaining your stone bathroom vanity unit should never be a chore and we hope with these simple tips you'll be well on your way to a sparkling surface.
NEED OUR HELP?
If you'd like to find out more about the various properties of granite, marble or quartz countertops then feel free to explore our blogs or get in touch with one of our team today. Our trusted worktop experts will be on hand to impart their advice and recommendations. Or if you fancy finding out more about our wide range of kitchen worktops and bathroom worktops, including granite worktops and quartz worktops, why not pop down to our Bristol showroom in Kingswood and talk to us in person.