In response to the coronavirus pandemic, we're all being actively encouraged to wash our hands more regularly and everyone is taking extra precautions to clean and sanitise their kitchens and work surfaces. 
But it can be difficult to determine where you should be cleaning and which products are suitable for disinfecting your stone kitchen worktops.
Kitchen areas that need regular cleaning
Since the virus may be able to survive on metal, glass and plastic surfaces for as long as nine days, experts recommend that you focus on cleaning highly touched areas. 
This means prioritising surface areas which are in regular use or are used by multiple people at any one time, including:
Kitchen worktops

Tables

Chairs 

Door knobs

Light switches

Handles

Sink basins

Taps
How to disinfect your kitchen worktops
Not all stone kitchen worktops require the same care, so it's important to understand what kind of treatments work for your kitchen surfaces.
Marble surfaces
If you're a seasoned owner of marble worktops, you will know to avoid acidic or abrasive cleaners that can corrode the surface and damage the stone. 
However, you might not be aware of the following disinfectant cleaner options:
Soap & hot water –

Soap will not kill germs but it will remove pathogens and this the first step towards disinfection, according to the

Centre for Disease Control and Prevention.
Marble cleaner –

There are plenty of cleaning products that have been designed to sanitise and clean natural stone surfaces, including

Seventh Generation cleaner and disinfectant.

Mould and mildew remover

– This product contains disinfecting ingredients (bleach) in concentrations that have been specially formulated to be non-damaging on marble countertops.

For more tips on how to clean marble and remove stains, check out our comprehensive

marble cleaning guide

.
Granite surfaces
Granite is an incredibly hard stone surface and it is significantly less porous than marble and other materials of worktops and countertops. But despite its solid structural qualities, you still need to avoid using acidic or chemical cleaners that can damage the colour of the stone.
Instead, you should try:
70% isopropyl alcohol – Rubbing alcohol can be sprayed directly onto sealed granite countertops to kill off germs and bacteria. You just need to allow the product to sit for 3-5 minutes, then rise with water and allow to dry naturally or buff with a clean cloth.
Microfibre cloths

– A microfibre cloth should be used for daily wipe-downs and regular cleaning.

To discover more helpful granite cleaning tips, take a look at our

step by step guide to cleaning granite worktops

.
Quartz surfaces
Quartz worktops are non-porous, stain resistant and do not need to be sealed.
Instead, it is recommended that you clean and disinfect quartz countertops daily as well as utilising the following solutions for sanitisation:
Antibacterial detergents

– A small amount of surface cleaner or antibacterial detergent can be used to remove stubborn stains and kill pathogens. You just need to ensure that you leave the mixture on your countertops for at least 3-5 minutes for it to be effective.

Soapy water

– Soap & hot water is an ideal solution for daily cleaning and sanitisation. It can help to remove bacteria and preps the surface for further disinfection.

Discover more ways to clean your quartz stone countertops.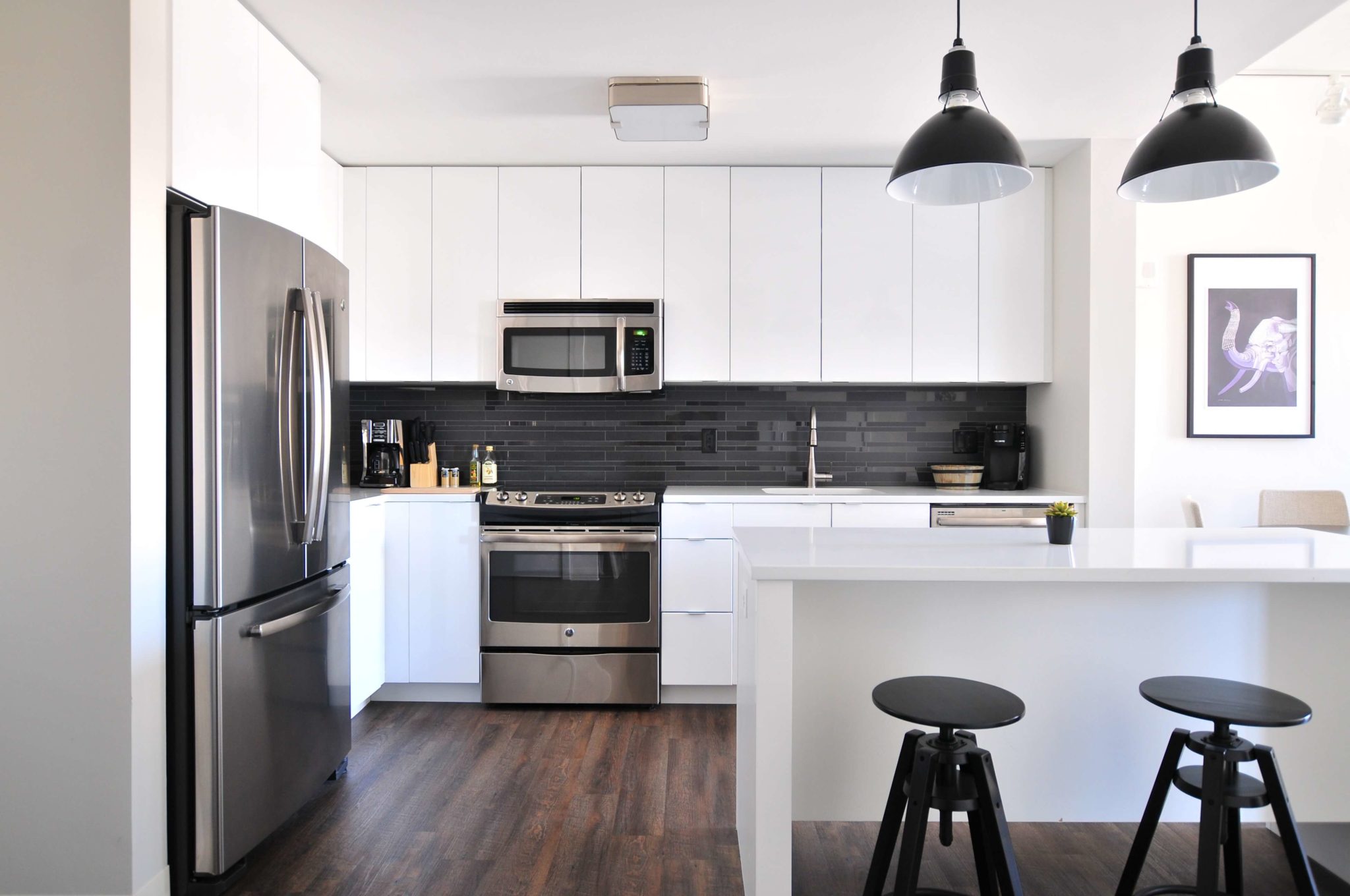 When disinfecting your stone worktops or kitchen surfaces, experts recommend wearing disposable gloves to avoid contact with the virus. You should also wash your hands with warm water and soap for at least 20 seconds after you've finished cleaning. That way you can ensure your home remains clean and you're safe to enjoy your stone worktops from the safety of your home, don't forget to also be regularly disinfecting your bathroom worktops.
But if you're still unsure how to remain safe, you can find helpful advice here.