GRANITE WORKTOP SINKS
So after much deliberation and research, you've chosen your perfect choice of granite stone and are ready to have your kitchen worktops installed, but wait, there's still the choice of kitchen sink to go with your granite worktop and this can sometimes be a hard decision to make. That's why we've put together this quick guide to help you choose the best sink for your granite kitchen worktops.
UNDERMOUNTED GRANITE WORKTOP SINK
As the name suggests, an under-mounted sink is placed directly into the kitchen unit allowing the sink-to-sink to sit underneath the granite worktop. They are perhaps the most popular choice to go with granite worktops and here are a few reasons why:
Aesthetically pleasing – By placing the sink firmly in a kitchen unit you are able to get the most out of your granite worktops. You will be able to see the beautiful edges of your granite worktops seamlessly dropping off into your sink.
Ease of use – What's more, the unique way in which they are installed means that any crumbs or liquids can be easily wiped straight into your kitchen sink.
No need to buy a draining board – As the sink is housed as an integral part of your kitchen unit there is no need to buy a separate draining board. Instead with an under-mounted sink you can have draining board grooves mounted into your granite worktop, giving both a stylish and practical granite work surface – and this is one of our many areas of expertise here at Marble Supreme.
Things To Consider before choosing a granite worktop sink
With any element of a kitchen worktop, there are factors to consider and under-mounted sinks are no exception. With any under-mounted sink installation, it's important that it is done correctly and carried out by skilled professionals in order to provide the maximum value both in practicality and aesthetics for your kitchen sink. For a start, the under-mounted sink needs to be able to support the weight of all of your kitchen dishes, and because of this, you need to install that the unit is also sealed properly. We would also advise that you keep an eye out for condensation build-up between both the rim and the underside of the kitchen counter that your sink is mounted in.
At Marble Supreme, our team of expert craftsmen are here to help with every aspect of your installation so that it is hassle-free and seamless.
Here's a few examples of some of our recent under-mounted granite worktop sink installations: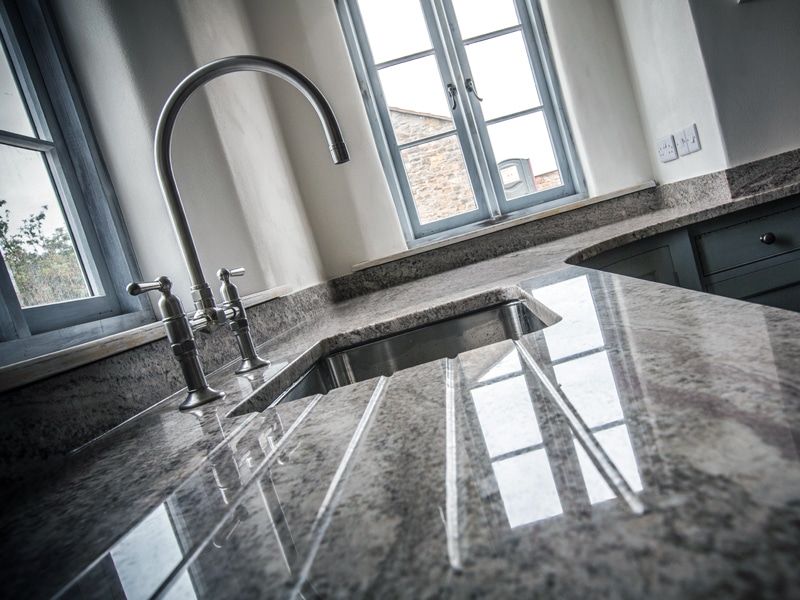 OVERMOUNTED SINKS
As opposed to under-mounted sinks, over-mounted sinks sit just on top of your granite countertop and are supported by the weight of your worktops. Also known as "inset" or drop-in" sinks they are one of the most traditional sink options around there and like other sinks options have a number of benefits and considerations to take on board:
Cost – As one of the most traditional and widely available options they are often the cheapest option.
Easy to install – As they mount on top of the granite kitchen surface they are easier to install than other options such as under-mounted sinks.
Easy to change – Whilst under-mounted sinks are a more integral part of a kitchen unit, over-mounted or "inset" sinks can easily be replaced, and any changeover should not damage your granite worktops.
Sink Considerations
Whilst they may be easier to fit that's not to say they don't have their own drawbacks. One of the most notable drawbacks of overmounted sinks is that any moisture or small crumbs can become trapped around the edges of the lip that hangs over your granite kitchen surfaces. This can not only cause an aesthetics issue but can also become unsanitary with an excess build-up of small crumbs and moisture over a long period of time.
GRANITE COMPOSITE SINKS
Granite composite sinks offer something a little different to other sinks options out there. They are often a firm choice for kitchen sinks that need to stand the test of time and handle multiple challenges from tough stains, the pile-up of dishes and cooking oils. Here are some key benefits of granite composite sinks:
Durable just like granite stone – Made from a combination of highly durable granite stone and high-tech composites they are sturdy and robust, able to withstand the strains of a modern-day kitchen sink.
Heat and scratch resistant – With the durable qualities of granite stone, granite composite sinks are heavily heat-resistant and can easily take a pan straight from the oven to the sink. Moreover, they are also extremely chip and scratch resistant.
Cost – Whilst granite composite sinks are the most expensive of the composite sink range, they are cheaper than their other heavy gauge stainless steel sink counterparts
Key Considerations
Granite composite sinks can also be installed as under-mounted sinks, however, though they may share the same properties as granite or other natural stones they may not always blend seamlessly into the pattern of your chosen kitchen worktop material. This said they are still an extremely beautiful and practical option for sinks that will be susceptible to heavy use!
QUARTZ COMPOSITE SINKS
In some ways similar to granite composite sinks, quartz composite sinks are made with a mix of ground stone that is then bound together. Just like quartz countertops, quartz composite sinks share some similar advantages and can be a great option for high-traffic kitchens. Here are a few of their main benefits:
Range of different colours – Like quartz worktops, quartz composite sinks are available in almost any colour with a wide range of varying patterns and shades dependent on the pigment added during manufacturing.
Scratch-resistant – Quartz composite sinks are highly scratch resistant and are therefore an ideal choice to meet the demands of many modern kitchens.
Cost – As with granite composite sinks, quartz composite sinks are cheaper than their stainless steel counterparts.
Things To Consider
Whilst the range of colours and patterning options means that they can suit nearly any kitchen material choice, quartz composite sinks are not as durable as their granite counterparts. They are unable to withstand as much heat and are in actual fact more expensive than granite composite sink options. There are also options to be had when looking at marble worktops or sinks installation in your bathroom worktop.
STILL UNSURE WHICH GRANITE WORKTOP SINK TO CHOOSE?
If you're still unsure of the type of sink that is best for you why not pop along to our Bristol showroom and speak to one of our friendly team of experts? Or alternatively, give us a call on 0117 956 3030 or email us at info@marblesupreme.com. We're always happy to provide guidance no matter where you are in the process. Our aim is to empower our customers to find the right stone, stone tiles or sinks fit for their individual tastes and budget.