If you've recently remodelled your kitchen or you're looking to do so, you might already be familiar with the hot commodity that is… a kitchen island.
A kitchen island is a freestanding unit, that is used to create additional countertop space in a kitchen or form a boundary between the cooking area and the living or dining room. It can be built to match existing kitchen cabinets and become an integral part of your overall kitchen design or you might prefer to create a stand out, focal point in the room.
Today's kitchen islands have become a must have for any modern kitchen space and they're being custom built to suit various homes and businesses across the UK.
In this article, we will explore the most popular kitchen island styles to compliment quartz worktops, granite worktops and marble worktops, and we'll take a brief look at the pros and cons of each.
If, after reading, you remain unsure which kitchen island is best for your property, our team is on hand to answer any further questions you might have. We're also able to offer a free quotation, so just get in touch for more information today.
L-Shaped Kitchen Islands
A standard L-shaped kitchen island consists of two adjoining, perpendicular walls of cabinets. Each wall is arranged to form an L configuration, which helps to create two distinct kitchen areas as well as facilitating a more optimised kitchen layout.
The sections of the island can vary in length, depending on your personal design preference or the dimensions of the room. It is also important to consider how much clearance is required, in order to provide sufficient access to the island cabinets and kitchen apparatus.
An L-shaped kitchen island is great if you're looking to build a stylish open plan kitchen or open-concept space. The perpendicular cabinets give homeowners flexibility when it comes to setting boundaries between living spaces that might otherwise blend together.
Since it is likely that one side of the island will be used for cleaning or washing up, it is not uncommon to install a granite composite sink or a luxury stone wash basin. The adjacent side may be purpose built to incorporate space for modern kitchen appliances, such as a microwave, ceramic stove or fridge freezer. But the possibilities are essentially endless.
The highly functional L-shaped island is one of the most popular kitchen island styles due to its versatility and flexibility. It can be the ideal solution for homes with small kitchens and may create a more cohesive cooking space for ambitious home cooks and chefs. This is a great kitchen island style to compliment quartz countertops.
Pros
Provides additional storage and prep space

Improves kitchen layout and workflow
Cons
Costly

May not suit some large kitchens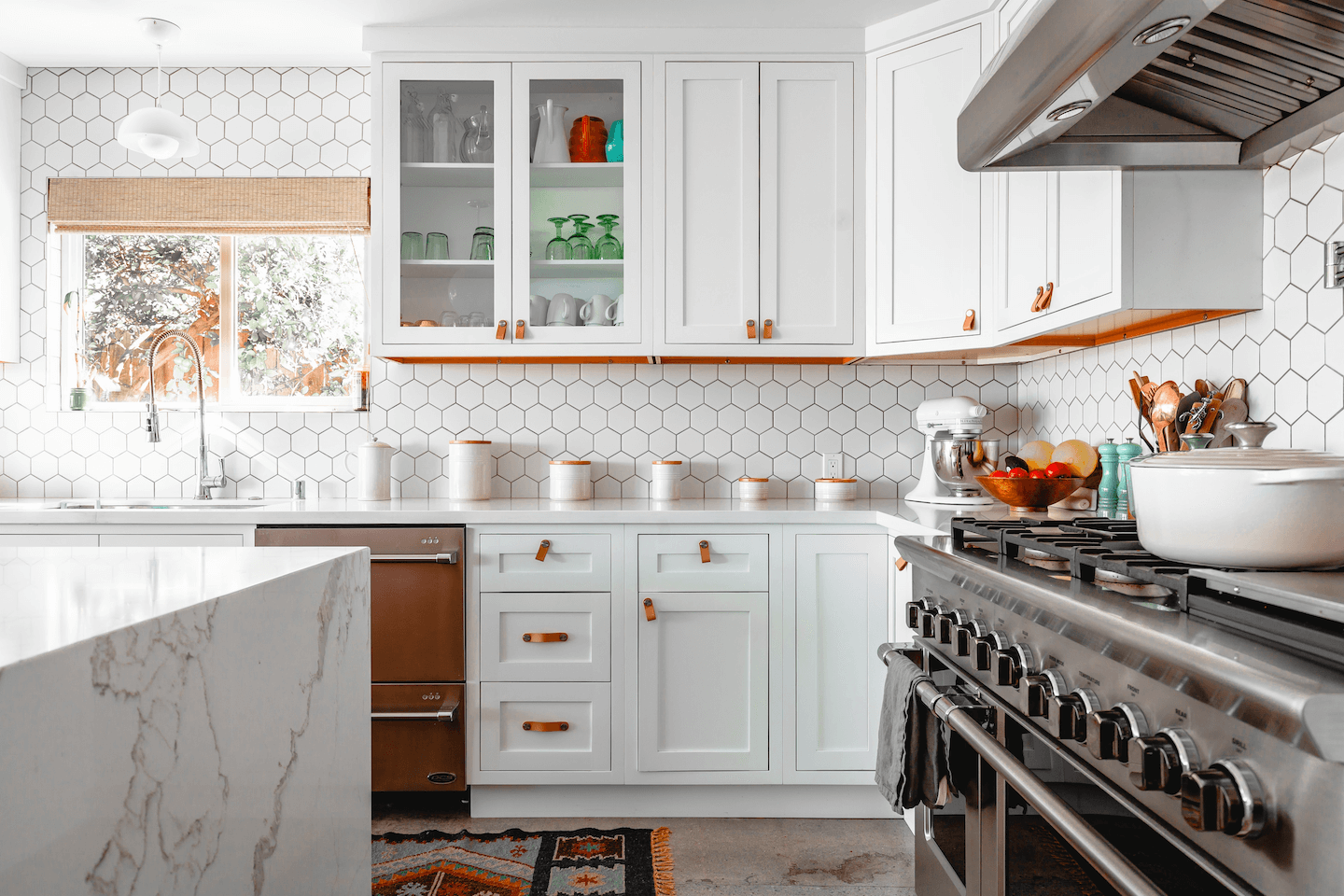 U-Shaped Kitchen Islands
A U-shaped kitchen island is perhaps the most versatile kitchen island of them all and is often a firm favourite of the avid cooks, with a workspace that surrounds them on all sides. 
The U-shaped island works well in large spaces, as it can become a major focal point in the room. The spacious design means that there are lots of areas to cook on and this bodes well if you choose to install a luxury marble, granite or quartz stone countertop.
Of all of the natural stone materials that can be selected for your kitchen countertop, marble is popular because it creates a sense of luxe and grandeur in a room. However whilst it's unique and timeless beauty can help add value to your home, Marble worktops do require regular care and maintenance. You can read more on the pros and cons of marble worktops in our very own guide.

Quartz stone worktops are non-porous and highly resistant to discolouration. They stand up to oil, coffee, wine and other common sources of stains in the kitchen; they look modern and certainly won't chip or crack easily. And with technology developing constantly, unique veining patterns similar to that of Marble stone are becoming increasingly available – making quartz a very popular choice for kitchen worktops. You can find out more about the various benefits of quartz worktops in our guide – the 5 benefits of quartz worktops.
Granite is the most popular choice for a kitchen island countertop because it's dense crystalline structure makes it incredibly smooth and hygienic. It's one of the most water and scratch resistant natural stone surfaces and comes in a wide array of granite colours:
As mentioned, there is a large amount of functional storage space in a U-shaped island but there are also two corners. The double corners may result in you losing some accessible storage space but if you choose to install a lazy susan or swing-out device this should alleviate any issues.
Pros
Highly functional

Large spacious design
Cons
Double corners may reduce accessible storage space

May not suit some small kitchens
Galley Islands
Perhaps the most common kitchen island design due to it's practical and aesthetic qualities, a galley kitchen island has a more streamlined design, compared to other kitchen island styles and is built to be a good fit for any kitchen layout – You might call it the quintessential kitchen island design.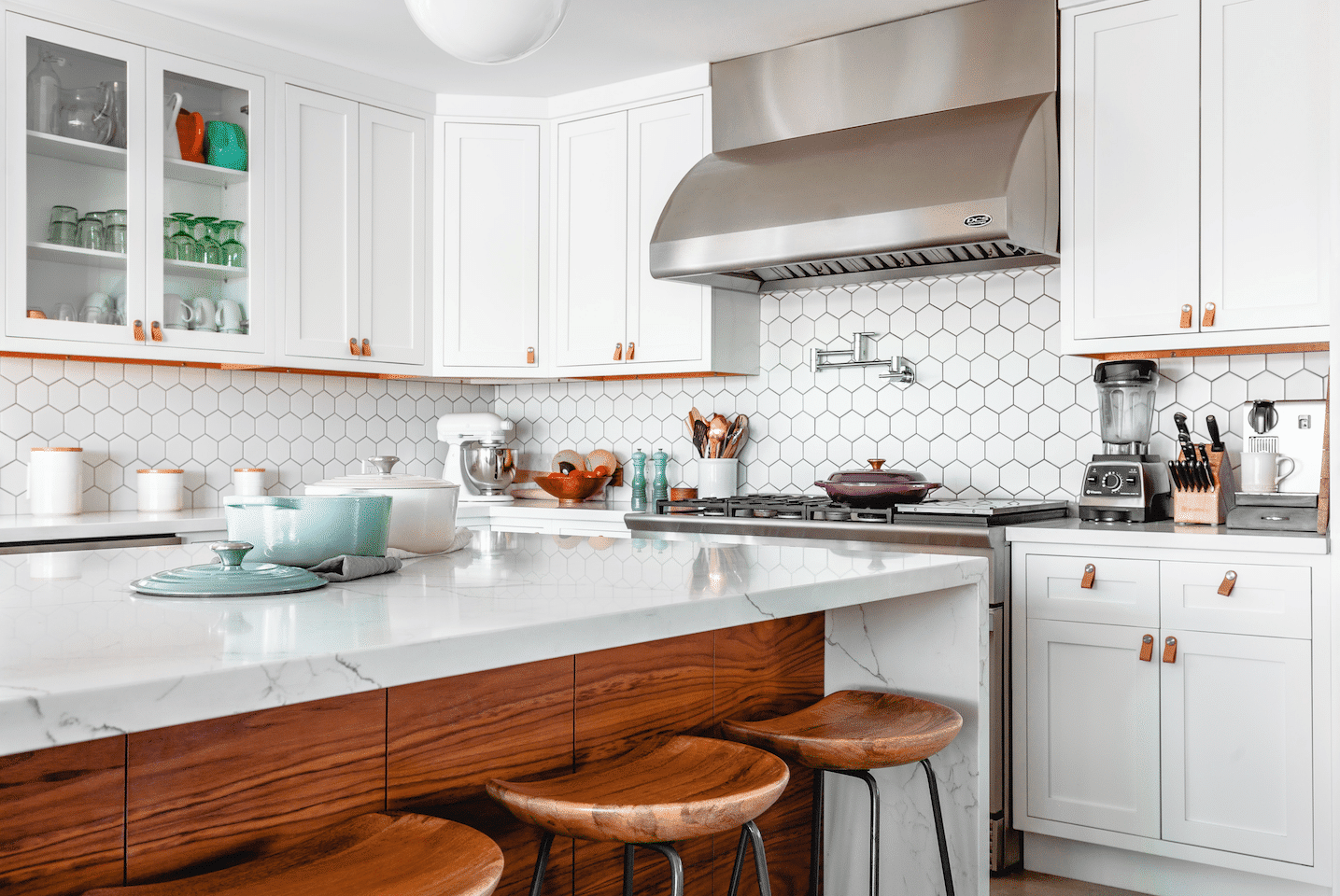 With fewer frills and a modern, contemporary feel, the galley kitchen island appeals to those with a more minimalist aesthetic. The design also favours bar-style seating as well as stools and purpose built chairs.
Some homeowners may think the galley island style is a little too simplistic but there are numerous ways in which you can customise your island, to make it the perfect addition to your home.
If it's just extra storage space you need or it's going to be used as an additional kitchen countertop, an enclosed kitchen island with cabinets is likely to suffice. But if your home needs a more casual space to dine, it makes sense to choose a kitchen island that has space for additional seating so you can eat there comfortably.
Pros
Can accommodate multiple chairs

No corners or curves
Cons
Simple design

May not fit large kitchen appliances
Free-standing or Portable Kitchen Islands
A free-standing kitchen island is a go-to option if you're unable to place a permanent structure in your home. It can feature most of the same practical components as a traditional kitchen island but the structure is typically placed or built on wheels.
With this portable design, there is the potential to create stunning pieces of furniture that can be added or removed from the room. You'll still need to ensure that there is sufficient space for you to tuck away the kitchen island when it is not in use, but this style can be ideal for smaller kitchens and properties with limited space.
Pros
Portable design

Great for properties with limited space
Cons
As with any aspect of interior design, it is important to do your own research and make the right decision for you. A free-standing kitchen island might be the crème de la crème when it comes to flexibility but it may not suit your individual living requirements.
To make an informed decision, we recommend that you read our kitchen blog for inspiration and advice. We also suggest speaking to a qualified expert so that you have all of the available knowledge, to choose the best kitchen island for you.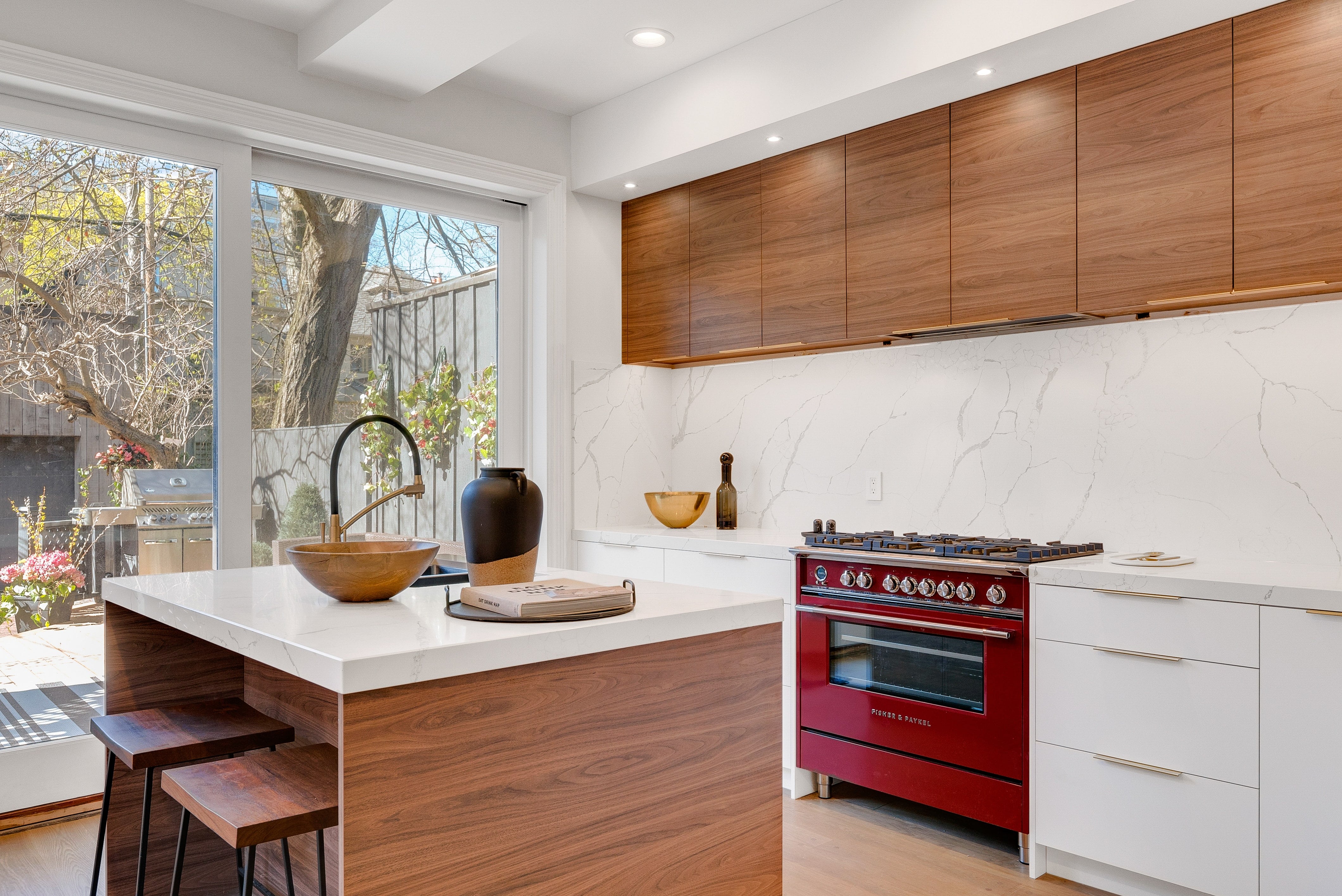 At Marble Supreme, we'd be more than happy to explain each style in more detail and we look forward to hearing from you whether you're looking for a kitchen island to compliment your kitchen worktops, or if you need help deciding on bathroom countertops, simply get in touch or visit our Bristol showroom today.