When designing your next kitchen you should always consider upcoming trends, after all, you'll want it to stand the test of time. So we've put together the top kitchen trends for 2021. 
Take a look at the features that the experts are expecting to make big waves next year!
Colours
When it comes to colour, the possibilities are endless but here are a few of our top picks to help you out. One of the primary choices for kitchen colours in 2021 is neutrals such as grey, beige, greige and oak. Not only will these neutral shades bring a sleek and sophisticated look to your home, they are easy to decorate with and can also create the illusion of space. 
Another stand-out colour scheme for 2021 is fresh pastel shades for a calming feel, including duck egg and mint. These tones are great for creating a tranquil kitchen setting and can be paired with darker shades to create contrast, and this vibe can easily be achieved with a marble worktop or quartz countertop. Design experts are predicting that contrasting colour choices paired with metallic finishes will be hugely popular.
Finally, palettes dominated by warm earth tones like oranges and intense shades such as navy blue is a top emerging trend for 2021. If these deeper tones are too dark for your kitchen space, they can be paired with a lighter granite worktop such as our Silver Cloud or Topazio White for a brighter finish.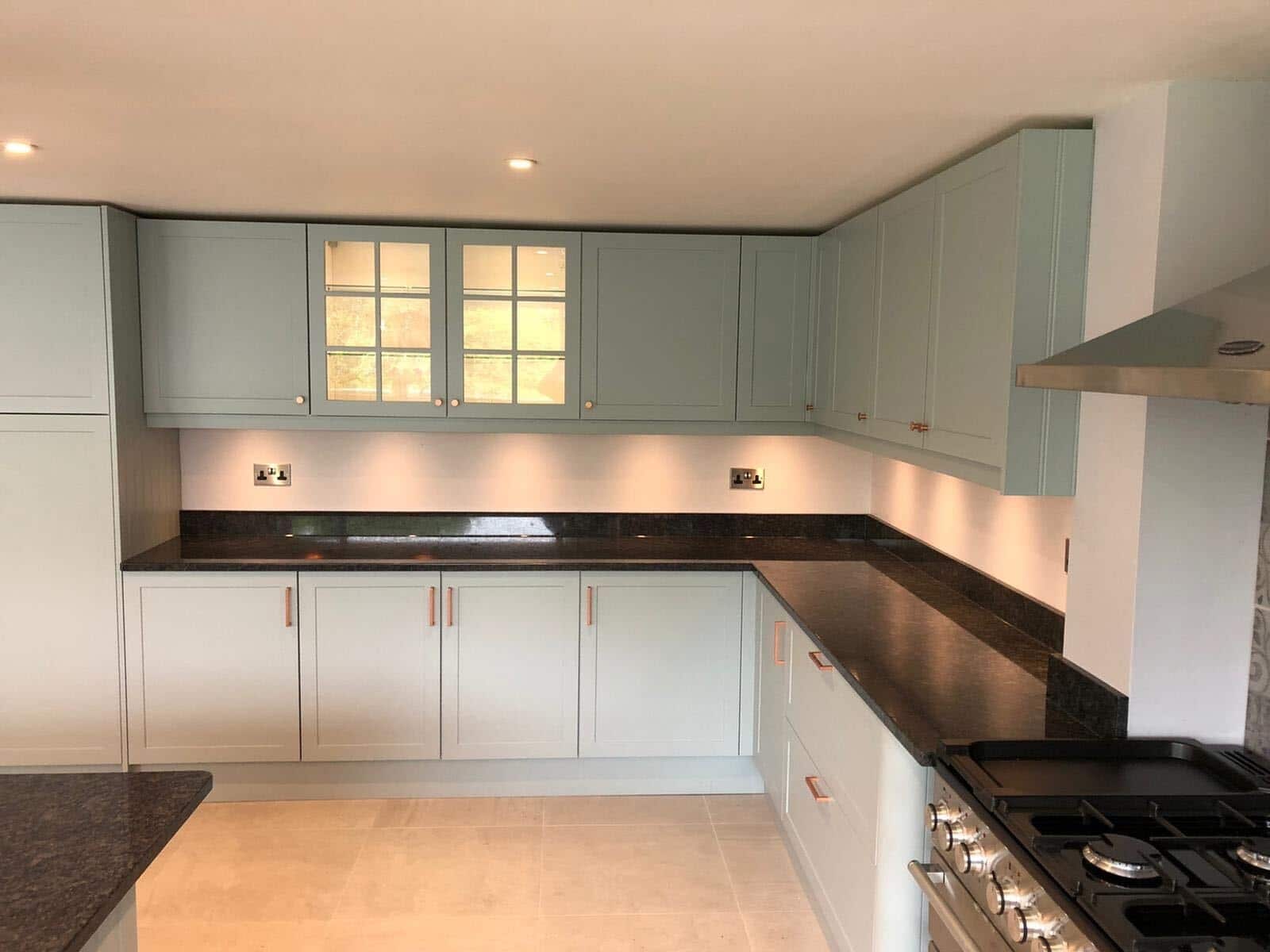 Mix and match
Gone are the days when kitchens were just one colour – 2021 is all about two tones and mixing and matching with textures and styles. If you're the type of person that has problems making decisions, this trend is ideal for you – who says you should stick with one style anyway? 
This trend extends beyond contrasting paint colour on kitchen walls. You might wish to combine marble countertops, granite worktops or quartz worktops with metal or stone with glossy ceramic. This trend works with any style of kitchen, whether it's a shaker design in two shades or a glossy finish paired with wood. Have a play around with colours and materials and you'll soon establish a well-balanced blend. Don't be scared to be bold and adventurous.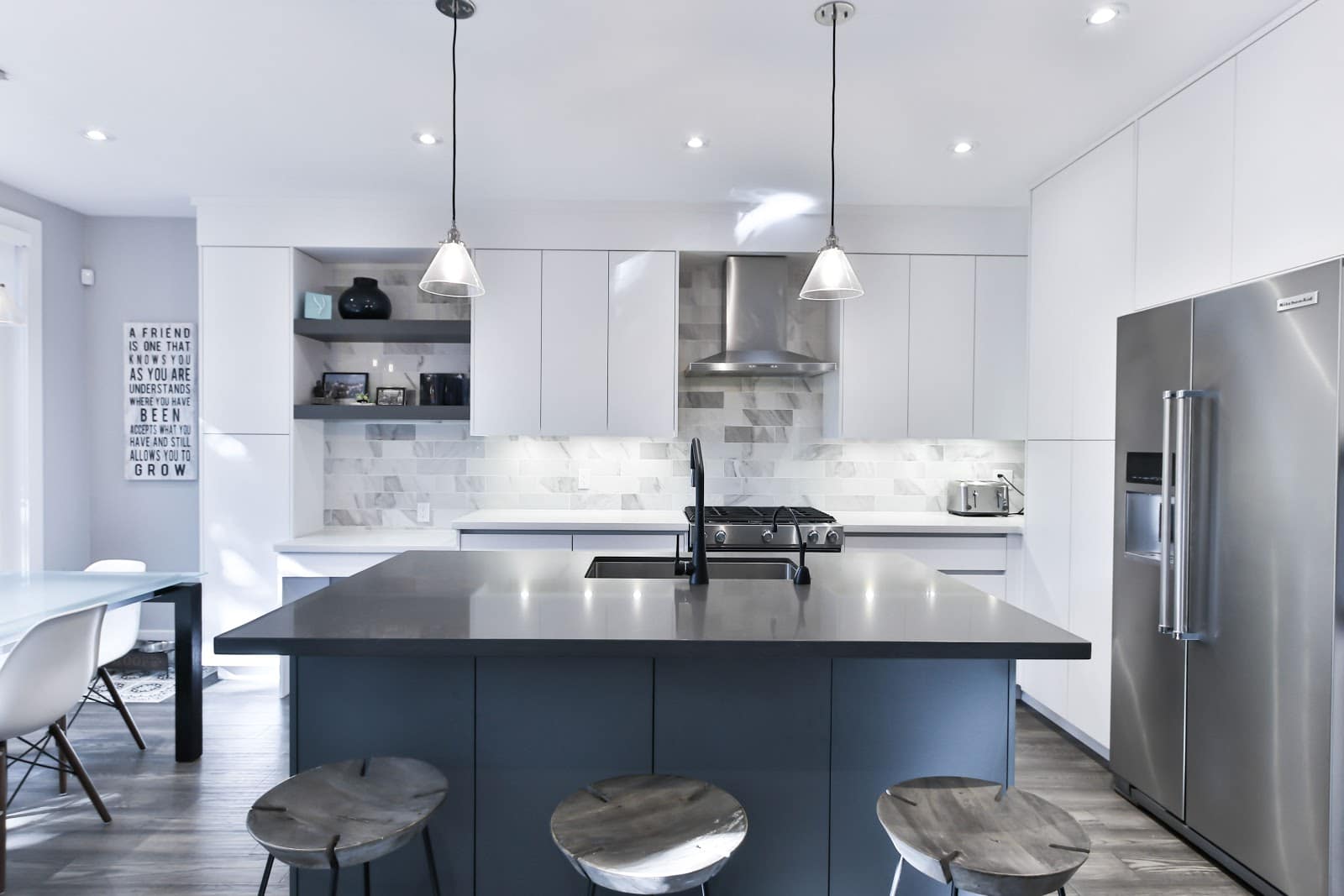 Curved islands 
Up next, it's curved islands for a sleek and elegant appearance. Not only do they look great, but rounded islands also help to create the illusion of space and can soften the look of your kitchen worktops. Curved islands are practical too, offering extra cupboard and shelf space or another seating area for larger kitchens.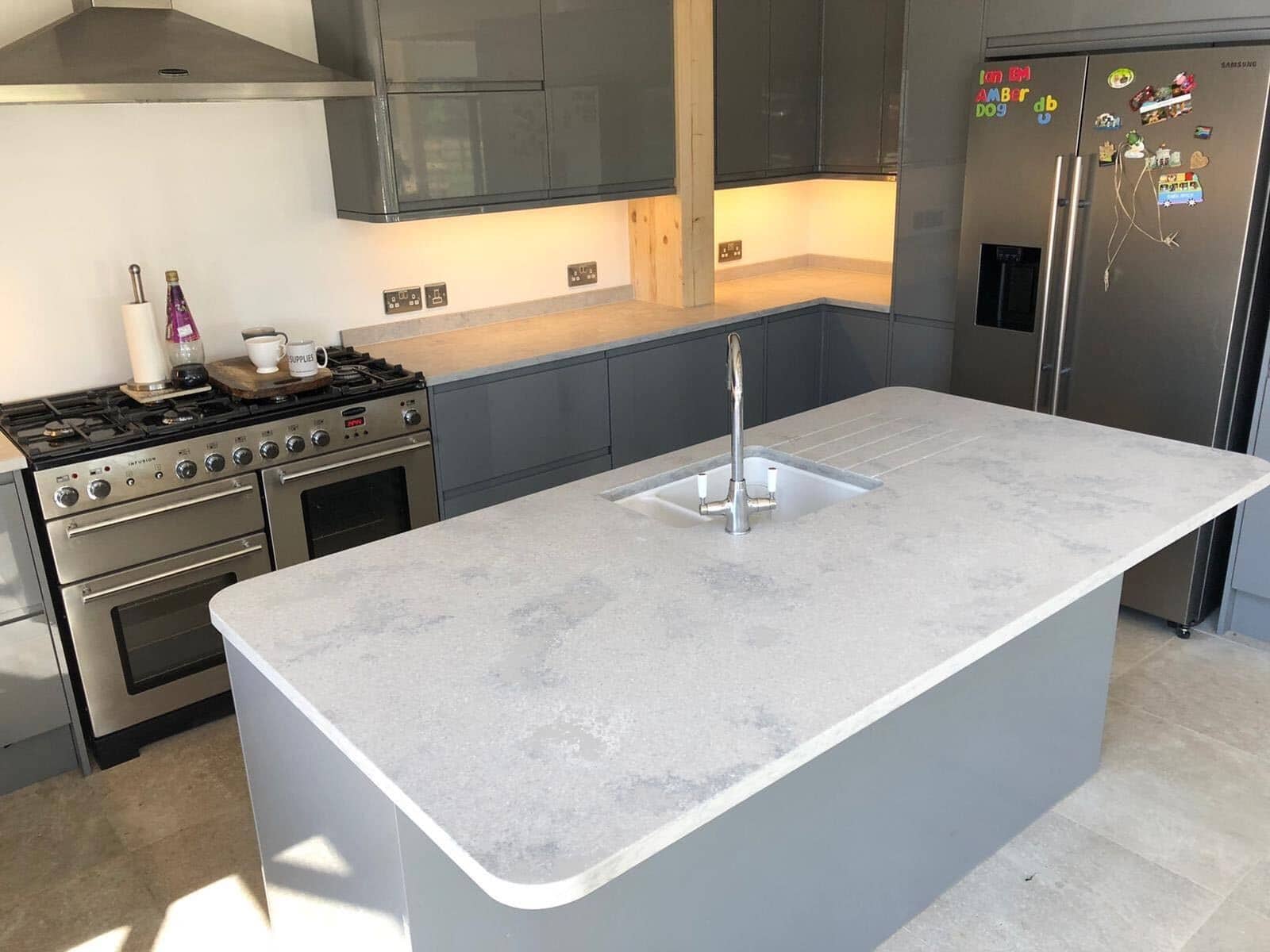 Quartz
Quartz solid surface countertops are a top pick among homeowners right now, and this trend is set to continue into 2021. Quartz countertops are manufactured to look just like granite and marble for a more affordable price. Plus, they are non-porous so you won't need to worry about staining your new kitchen. Quartz is manufactured in a huge variety of shades so you won't have any issues finding an option to pair with your cabinets.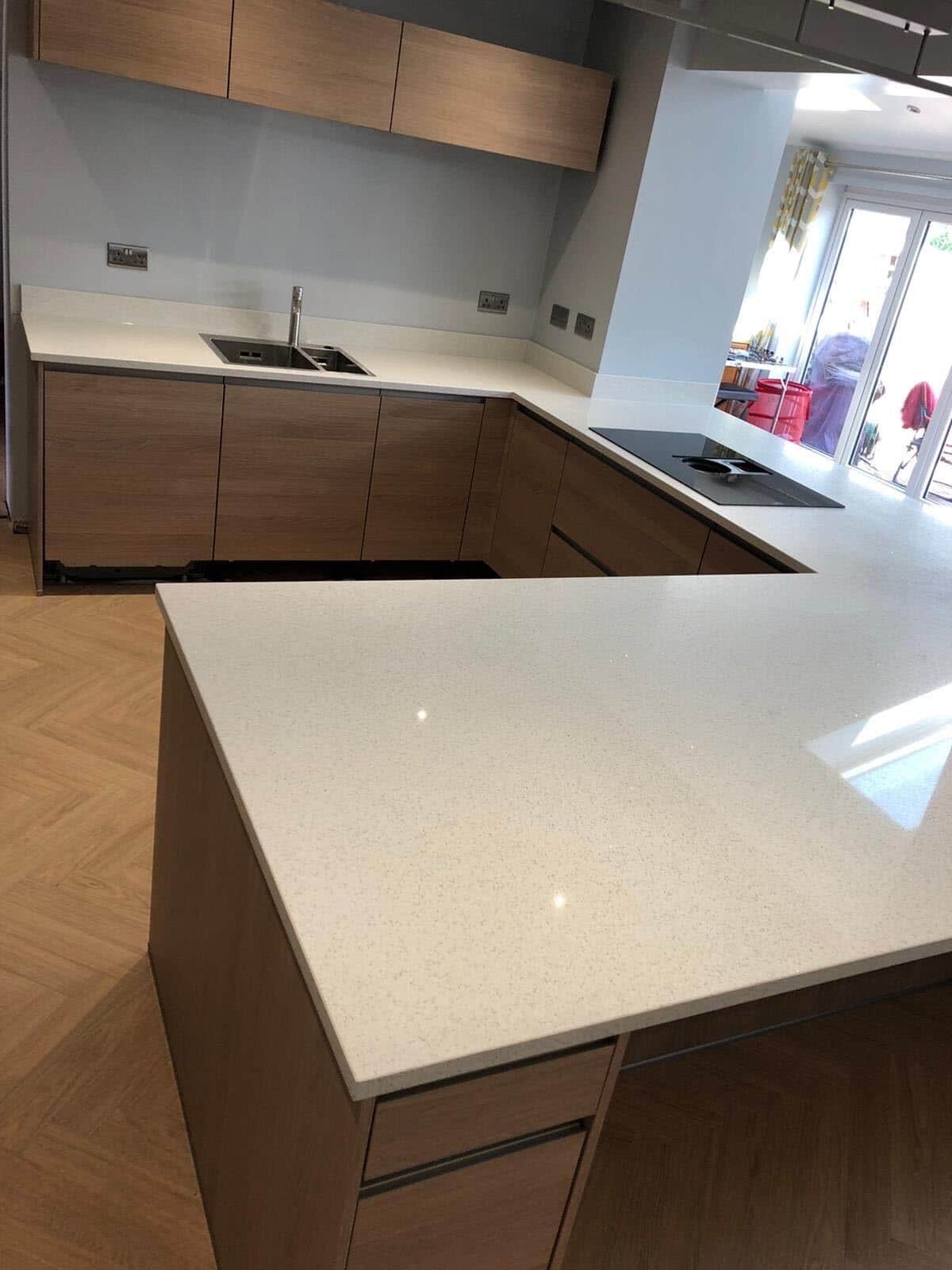 Golden finish accessories 
Gold finish kitchen accessories have crept into fashion and are now the first choice for many. Whether it's draw handles, light fixtures or taps, gold finish accessories are versatile and can be used to add warmth to a kitchen or as a statement piece.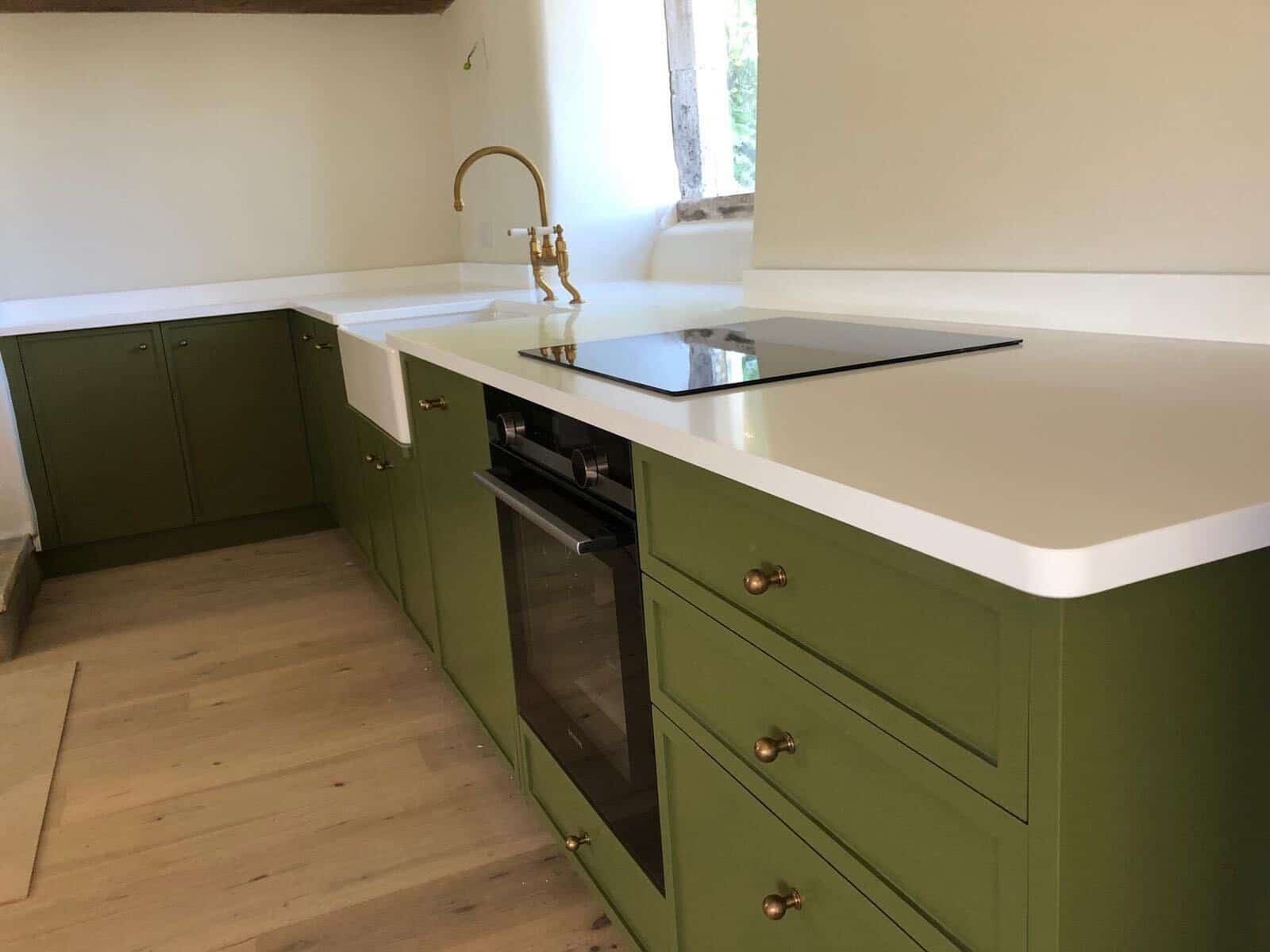 Open and flexible 
The concept of an open plan kitchen became popular a few years ago, but this trend isn't going anywhere any time soon. Open Plan kitchens offer opportunities for a more social cooking and dining experience, they give the illusion of space and light in your home. 
Many have opted for a multi-functional interior, with their kitchen area doubling up as an office space or lounge area. This is a modern approach to kitchen design and with more people working from home these days, this trend is set to continue.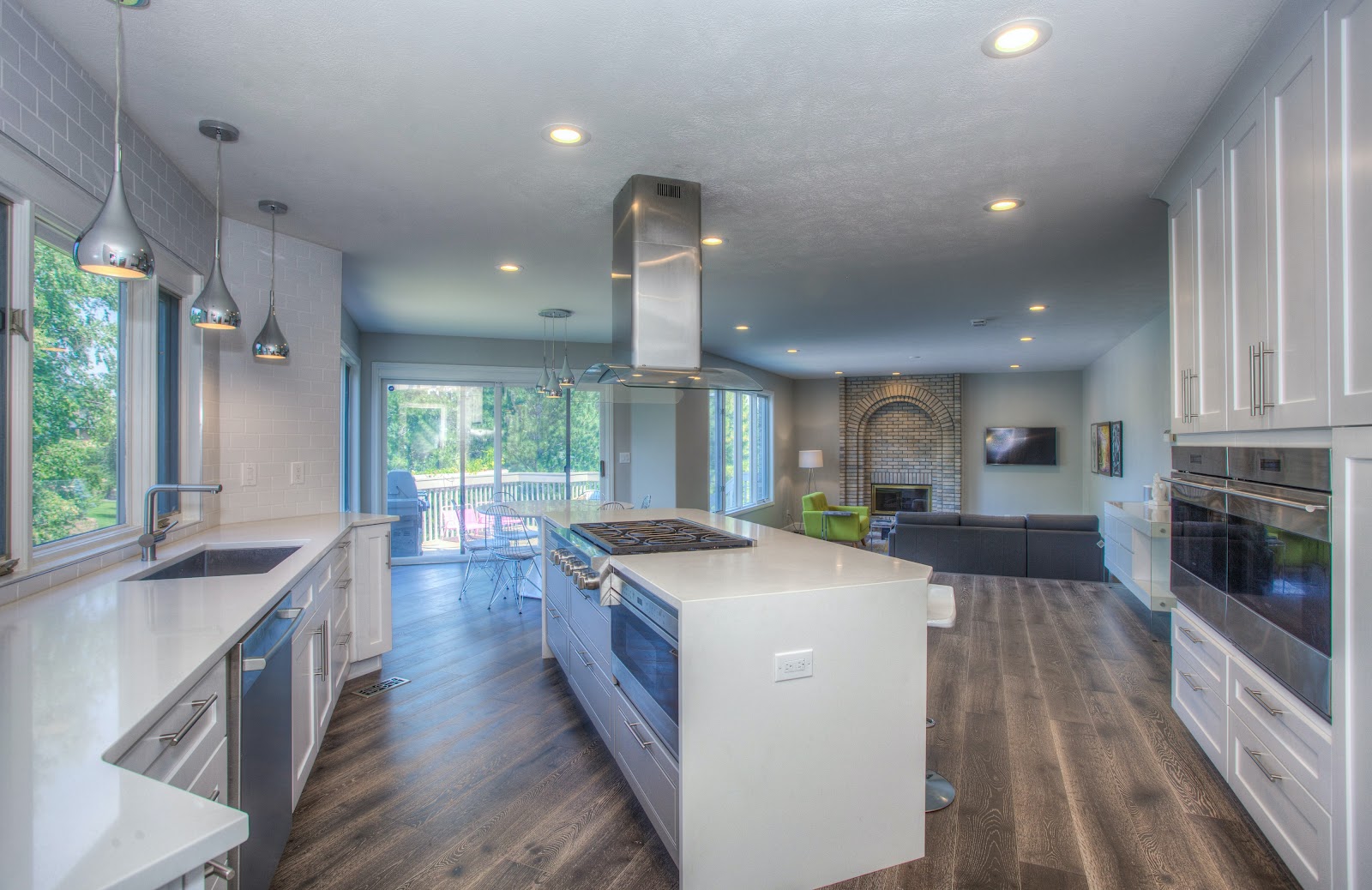 Trends are always an important factor to consider when planning your new kitchen installation or renovation, and we're here to help if you find yourself struggling with your kitchen design.
Call us today to speak to one of our experts on 0117 956 3030, or fill out our contact form.