Having a beautiful, relaxing bathroom to come home to at the end of a stressful day is a dream we all aspire to. There's nothing like sinking into a warm bath, or standing beneath the hot stream of a shower to ease your muscles and destress. So how do you go about creating your dream bathroom? 
We're experts in kitchen and bathroom worktop installations in Bristol and the South West, so we've put together our top tips to help your bathroom remodelling journey go as smoothly as possible. With our support, you can build a bathroom you can't wait to come home to. 
Remodelling your bathroom can be an extremely rewarding experience. You get to choose your materials to suit your taste and your lifestyle, and a new bathroom renovation not only benefits your quality of life but can also add significant monetary value to your home. 
Consider future use
When you're remodelling your bathroom, or any room in your house, it's important to consider the long-term resilience of the materials picked as well as the design you opt for. Quartz countertops, granite worktops, and marble worktops are long lasting and perfect for the bathroom!
Those trending colours and patterns may look good now, but how long will it be until your style looks dated? Stick to trends that will look timeless and you'll continue to love it in 10 years' time. Quartz worktops are an excellent choice for a timeless looking bathroom
As well as aesthetics, you need to consider whether your needs will change in the future. 
Accessibility and practically is particularly important if you're looking to stay in your current home for a long time. Opting for wider walkways and lower countertops can be a real benefit for people with limited mobility.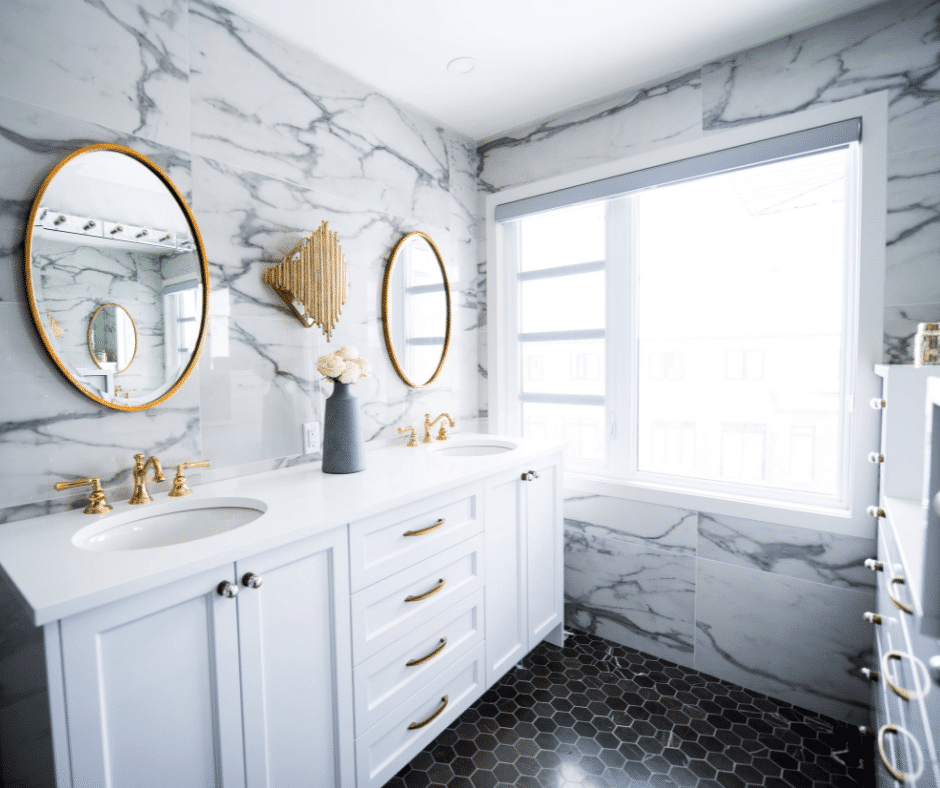 Storage is a top priority
One important feature to consider when remodelling your bathroom is whether or not your storage space is substantial enough or if it needs to be expanded. 
There are endless possibilities for adding storage, whether you'd prefer it to be inbuilt, hidden or a feature itself, pre-planning will save you time and money later on in your remodelling journey. Having to add in storage space after your remodel is finished can be quite difficult and may ultimately stick out like a sore thumb compared to the rest of your interior design. Cluttered bathroom worktops may ruin the aesthetic of your bathroom as well as pose the risk of staining to your chosen bathroom countertop material. Having ample space away from your main surfaces for your everyday items, in an easy to reach spot, can make all the difference. 
Plan out your lighting
If you're lucky enough to have natural lighting in your bathroom, make the most of it in you bathroom remodelling! Adding large windows or skylights can help brighten up the room. 
Artificial lighting can be just as effective, and you can even get playful with it. Adding spotlights can light up dark corners or provide mood lightning. Good lighting can really open up a room, creating the illusion that it's even bigger than it really is. 
Carefully consider the materials you use 
There is a wide range of different types of stone that work well as bathroom countertops. Whether you prefer style or durability, there is a stone for you. 
The maintenance required for caring and cleaning different stones varies, so be sure to consider just how much time you can dedicate to your worktops. As a high traffic area in your home, your bathroom is susceptible to lots of water, soap, and cosmetic and cleaning chemicals so it's important that your chosen materials can withstand this. 
Finding the right choice of stone for your bathroom worktops can be daunting but it's important to consider their individual properties. A good bathroom worktop should strike the perfect balance of functionality and style sufficient enough to meet the demands of how you live.
Stone such as quartz and marble offer multiple-use as flooring or tiles too. 
Unsure which material to choose? Check out our guide to choosing bathroom worktops or vanity tops.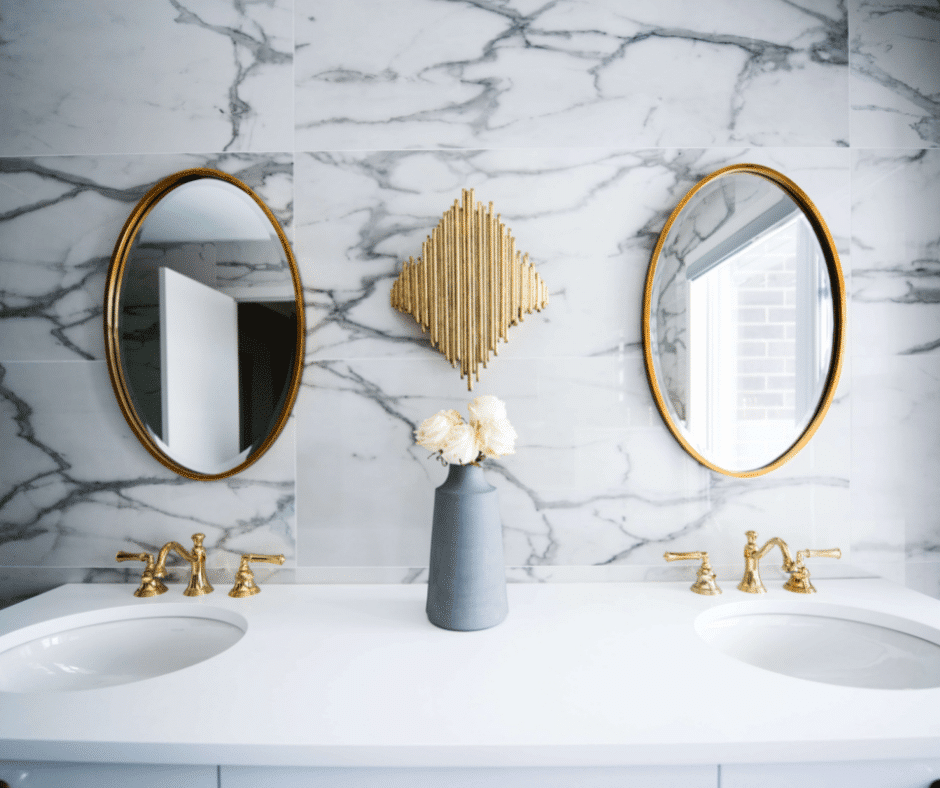 Prioritise proper ventilation 
One of the most neglected aspects of remodelling a bathroom is ventilation. Having bad ventilation can lead to mildew, damp and even mould in your bathroom. If you don't have a window that can be opened to let in fresh air, we recommend installing an air vent or fan to allow the room to dry out between uses. 
A good fan can improve the air quality, eliminate odours and draw out moisture. 
As a room that sees plenty of water and steam it's important to ensure it can air out and dry to avoid issues developing. Without proper ventilation your stone worktops, and any other materials and items in your bathroom may deteriorate faster. 
There are several options for ventilation so be sure to pick one that suits your needs. 
Of course, there are many more things to consider when remodelling any room in your home, but those are just a few tips we think are most important for bathroom remodelling. We hope this has helped you on your remodelling journey! 
Need our help?
If you'd like to find out more about the various properties of Granite, Quartz or Marble stone then feel free to explore our blogs or get in touch with one of our team today. 
Our trusted worktop experts will be on hand to impart their advice and recommendations. Or if you fancy finding out more about our wide range of kitchen worktop materials and bathroom vanity tops, why not book an appointment to visit our Bristol showroom in Kingswood and talk to us in person.