Minimalism is a trend that will never go out of style when it comes to kitchens. It gives a classy and hygienic look, with smooth sleek worktops and other surfaces unencumbered by clutter and mess. There is, however, a fine line between a streamlined minimalist design and a more uninviting and empty seaming room. At Marble Supreme, we have put together several top tips to help you achieve the minimalistic kitchen of your dreams, while keeping it personal.
What is a Minimalist Kitchen?
A minimalistic kitchen will be free of clutter, whilst being extremely functional, it will look cleaner, with only a few items which are useful or cherished. The elements of creating a minimalist kitchen are focused on efficiency and practicality while utilising a neutral colour palette. This is equally true for your kitchen worktop as for your cupboards and choice of flooring.
Where did the Idea of Minimalism Come From?
A little background on how minimalism started can help to grasp what it means to have a minimalist kitchen. The roots of minimalist philosophy are believed to be inspired by a mixture of several artistic and philosophical movements which were popular before WWII. 
Firstly was the Bauhaus movement, which was a German art school which is a geometric and abstract form of art which conveyed little to no emotion. Though this began in 1913 it still has a lot of obvious influence on artists and architects today. 
Zen philosophy also had a part to play in the popularity of minimalism in the home. Rooted in Japanese tradition, it brings about simplicity and a focus on living with the essentials.  
Lastly, is the De Stijl movement, De Stijl is a popular Dutch artist who is famous for using the clean lines that are often seen in minimalist kitchens today.
Minimalism in interior design became popular in the 80s in cities like New York and London. Minimalist design is also highly influential in Scandinavian interiors which involve large clean spaces with plenty of light.
Our Tips for Designing a Minimalist Kitchen
Monochromatic Colour Scheme
A white kitchen is a great way to give a clean, simple feel to the space, whilst giving the illusion of a larger and brighter area. Though white can seem difficult to maintain, really it just makes it very easy to see when your kitchen counters need a clean.
An all-white kitchen can give too much of a clinical feel, a good way to counter this is to pair it with a hardwood floor. As well as this the addition of chrome, brass or wood accents can bring the room together and make it feel more homely.
Use High-Quality Materials
Quartz, marble and granite are a great way to elevate the look and feel of your kitchen. A beautiful stone countertop can be a great way to add natural texture to your kitchen.
Natural stones like marble and granite are all unique and are an easy way to add personality to your kitchen. Though quartz is an engineered stone it resembles marble in appearance, but is even more durable and has higher longevity.
High-quality stone can be used for kitchen countertops, splashbacks and cladding. At Marble Supreme, we stock natural and engineered stones from the most respected suppliers, and our team has over 65 years of experience in cutting and fitting stones for countless bespoke projects.
Our Recommendations 
We have an abundance of options when it comes to natural stone for your minimalist kitchen. Seeing them in person at our showroom is preferable as images cannot do many of them justice.
Marble is usually a top choice for people wanting to create a luxurious and minimalist feeling, however, many types of quartz mimic the look of marble but is more stronger and more practical. Classic Quartz options have the distinct marble veining, whereas our Silestone options are more neutral.


For a truly minimalist look, while keeping it natural, marble can be used in the kitchen with the right care.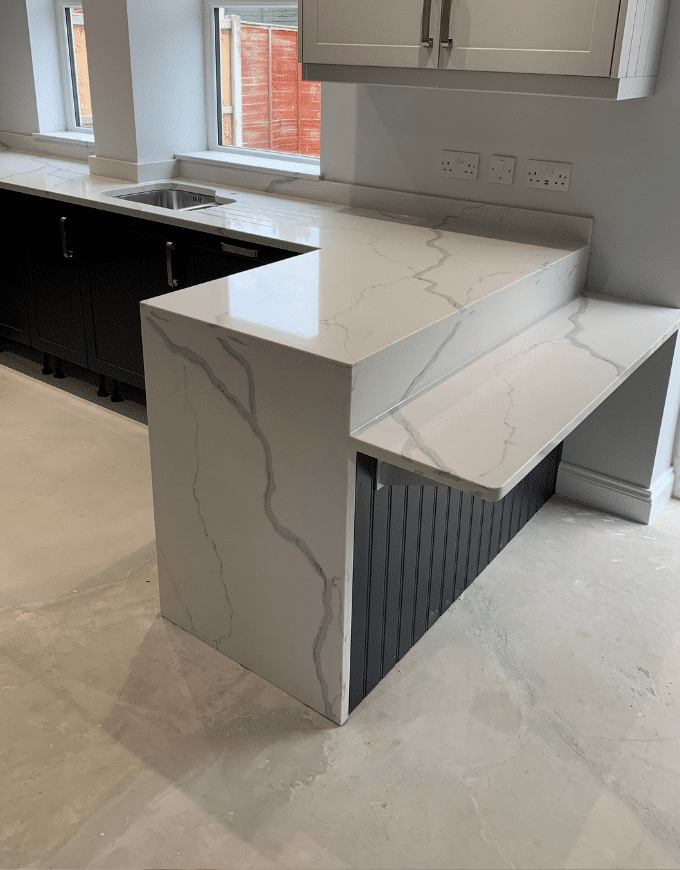 Get Inspired by Scandinavian Design
Scandinavian design is quintessentially minimalist, boasting uncluttered spaces which are functional and sleek. The purpose of Scandinavian kitchen design is to be practical and improve daily life, making your daily kitchen chores easier and more enjoyable.
Use Closed Doors and Hidden Spaces to your Advantage
Sliding doors and cabinets can be a way to maintain a minimalistic look while increasing the functionality of your kitchen. Hidden pantries and breakfast stations can be a space-saving and novel way to create a fully functionalised kitchen. Using cabinets and cupboards for clutter can also elevate the minimalism of your kitchen.
Keep it Sustainable
Introducing recycled materials into your kitchen can add character to an otherwise modern kitchen. Things like an antique mirror or repurposed timber can add an effective contrast to the look of your room.
Natural materials such as marble and granite are seen as sustainable as the mining and cutting of them has a low carbon footprint.
Handless Kitchen Cabinets
A lack of handles protruding from cabinets can elevate your kitchen's minimalistic style. It creates more hidden storage which leaves a neat and streamlined kitchen space. Handleless cabinets also have the benefit of less cleaning, you can just wipe your cabinets rather than have to deal with fiddly handles and fixtures.
Keep Kitchen Units on One Side
This is a useful time for space maximisation for smaller spaces, it uncomplicates the look and feel of your kitchen and allows a large open space for dining.
Have the Necessities 
Many people will have an abundance of utensils in their kitchens, multiple knives, wooden spoons, and plates that haven't been used in years. Free up space by gathering up what you no longer use and donate it.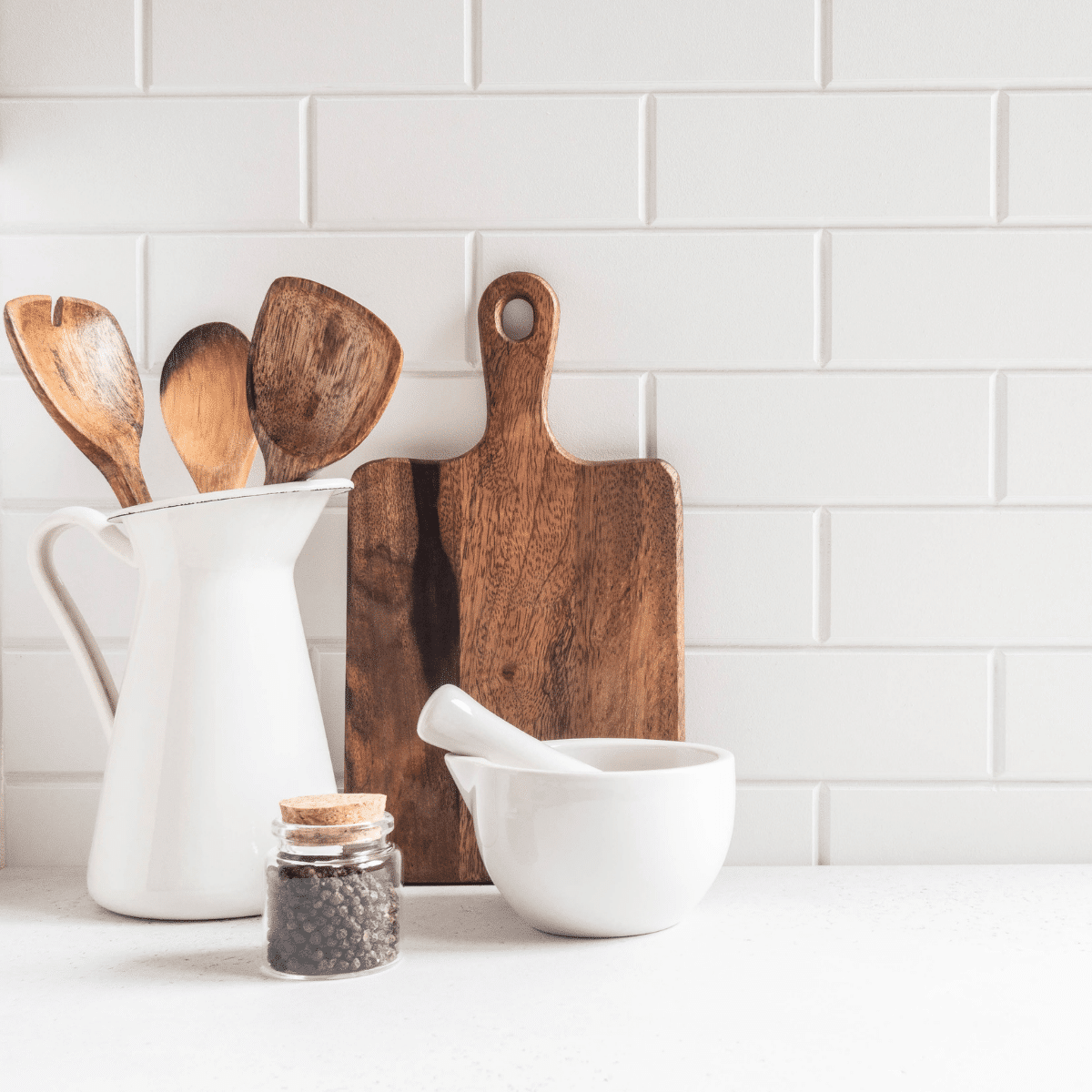 Creating a minimalist kitchen space not only looks great but it makes cooking meals simpler, and cleaning easier and it makes your kitchen a more desirable place to spend time. It is a timeless style that makes your kitchen appear more spacious. If you're interested in starting with upgrading your worktops then get in touch with the expert team at Marble Supreme.
You May Also Be Interested in…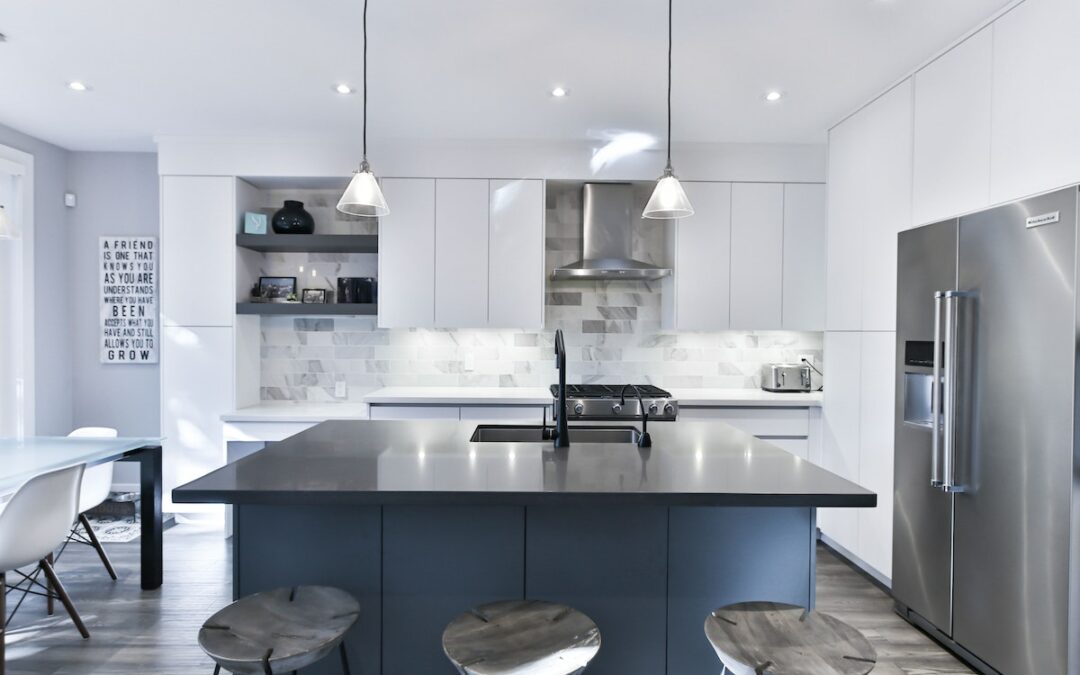 Whether you're looking to give your existing kitchen a face-lift, or are planning a full-scale kitchen refurbishment, choosing the right granite colours for your kitchen worktops can be a big decision. Factors such as the size of your space, the amount of natural...