PLANNING FOR YOUR KITCHEN WORKTOP
When it comes to remodelling your kitchen there are a number of things that need to be considered before shopping around for your ideal kitchen worktop. To start it is important to define your needs. Are you simply looking to give your kitchen a facelift with a new kitchen countertop, or is this part of a larger-scale refurbishment?
The next thing to consider is the budget. This should be established before shopping around. If your new worktops are part of a larger-scale remodel, then a more economical choice may need to be considered. Affordable options are often found with suppliers who cut and install the piece for you. However, if you're simply looking to upgrade your worktops, you are likely to have more budget to play with, allowing you to choose from a far more elaborate range of stone surfaces.
Once your perfect material has been chosen, having your worktop measurements on hand can be incredibly valuable, particularly for getting a realistic and accurate quote of what your new worktops will cost.
MEASURING YOUR KITCHEN WORKTOPS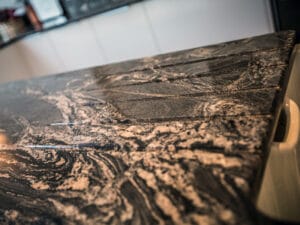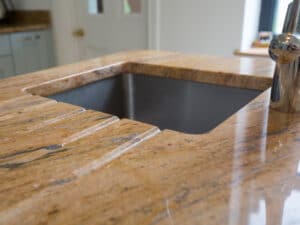 Here's a quick guide on how to measure your worktops to prepare for a new kitchen counter:
Firstly, begin by sketching out the layout of your kitchen counters – make sure to include the location of anything that is set into the worktops, such as sinks and oven hobs and cooking appliances etc. Ensure that these sketches are as to scale as possible.
With a measuring tape, take a measurement from the wall to the edge of your kitchen countertop – make sure to measure both the length and width of each kitchen worktop. Measuring the length and width of any sinks or stove inclusions would also be recommended.
If you are looking to extend any existing worktops, make sure to also include the extra dimensions for these extensions. Additionally, if you are looking to include a Kitchen island in your remodel, make sure to include these proposed dimensions.
Come visit us at our Bristol show with your kitchen worktop diagrams and measurements, and we will help you find the ideal material to suit your design and needs, all within your chosen budget!
Bespoke Kitchen Worktops
At Marble Supreme, we are a granite, marble and quartz worktop company that understands the importance new kitchen counters will play as a part of family life for years to come. That's why we pay so much attention to every step of the process, from sourcing just the right solid stone worktop to crafting perfectly fitting, beautifully finished countertops. Call us today and we'd be more than happy to talk you through our vast selection of stone surfaces, including an exclusive selection of beautiful granite worktops, quartz countertops, marble worktops, and more. Or, why not pop in and see our recently refurbished showroom; view and even borrow samples or obtain expert advice from our experienced and friendly team? What's more, you can even watch our skilled craftsmen prepare the marble in the workshop, right from the showroom window! Take a look at some of our kitchen projects for examples of our work.