Kitchen islands and breakfast bars have become integral to modern kitchen designs, providing an eyecatching centrepiece that can perfectly compliment your existing granite or quartz worktops.
Offering additional functionality and storage space, they are an excellent way to enhance your stone kitchen worktops and create a space to entertain guests. From food preparation and casual dining, to evening drinks with friends and family, these essential kitchen elements can be used for a whole range of activities. 
So, why not make your kitchen island or breakfast bar the focal point of your home?
As skilled craftsmen in marble countertops, quartz countertops and granite worktops, our team have a vast amount of experience crafting beautiful bespoke kitchen islands and counters. So, we thought we'd share a few useful tips to remember before you commit to purchase!
Read on to find out more…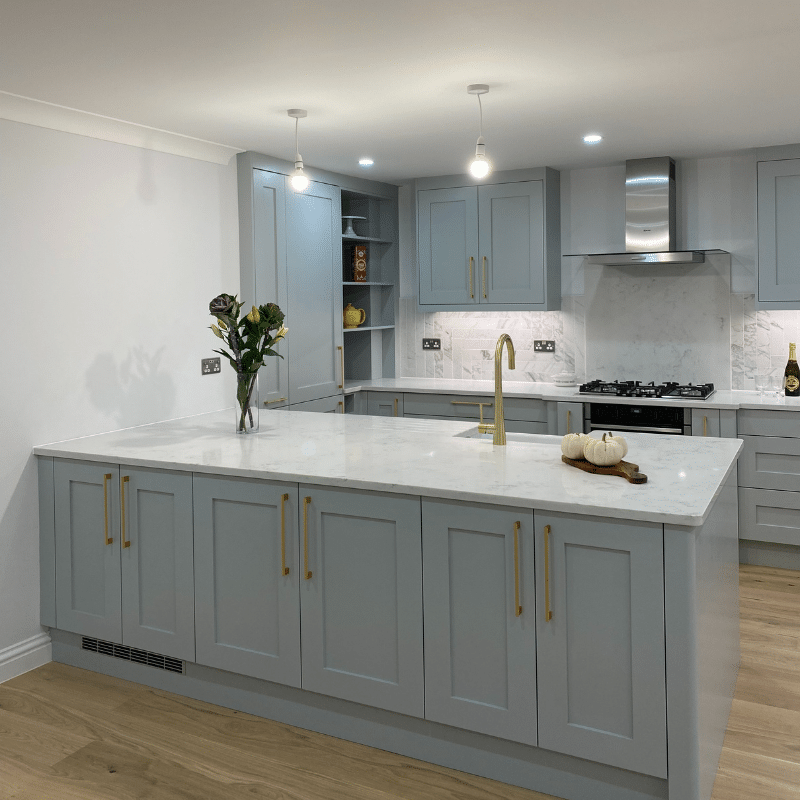 How Will You Use Your Kitchen Island or Breakfast Bar?
Whether you're after a kitchen island with seating or a breakfast bar that matches your existing worktops, it's important to consider the primary purpose of your new counter. 
If you want a dining space that doubles up as an area for food prep, then you may need to think wisely about your choice of stone material. Solid stone worktops such as quartz and granite are great choices for the kitchen because they offer excellent scratch resistance and durability. This is important when preparing meals, as you need a surface that won't chip or tarnish when moving cooking utensils around.
Consider a Quartz Breakfast Bar
If you've got little ones, the quartz breakfast bar is an excellent choice for morning mealtimes because it benefits from having a low porosity. This means you don't need to panic about spilt cereal milk or other spillages ruining your surfaces! What's more, due to the versatility of engineered quartz, quartz breakfast counters can be designed to mimic the effect of marble kitchen worktops, providing both style and function! 
Want to find out how to keep your breakfast bar sterile and free from germs? Check out our handy blog on Disinfecting Your Kitchen Worktops.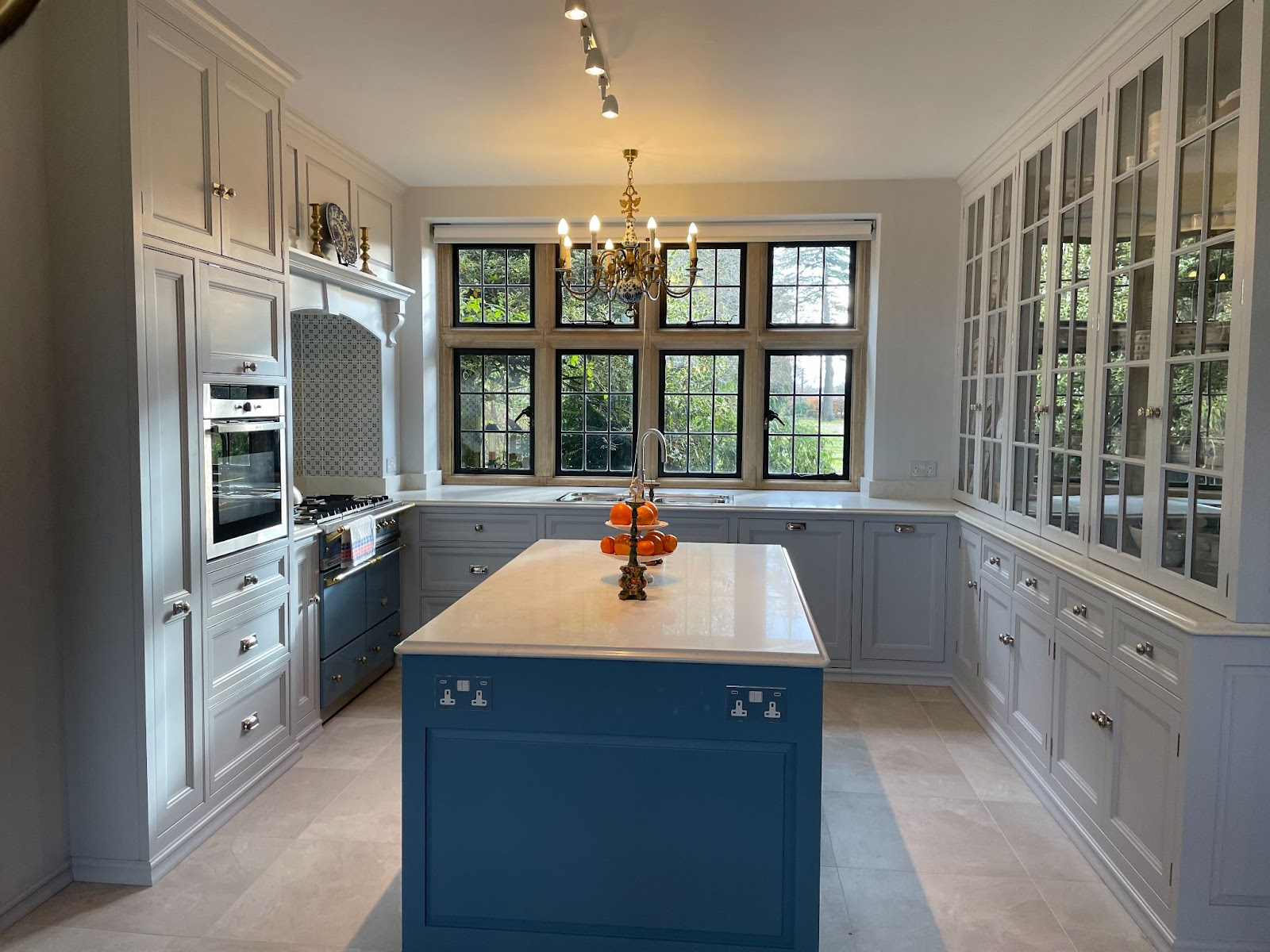 Incorporating Storage Into Your Kitchen Island Design
Another thing to think about it is storage! If your current kitchen is lacking in space, a few nifty drawers or cupboards under a kitchen island will make a fantastic place to hide cooking utensils and crockery. Even if you opt for a small kitchen island, there's still plenty of opportunity to incorporate these features. 
As master stone craftsmen, we can help you to design an island that maximises storage and enhances the overall look of your kitchen space. So, don't hesitate to contact us if you'd like to find out more.
The Dimensions of Your Kitchen Island or Breakfast Counter
When opting for a new kitchen island or breakfast bar, it's important to measure your floor space to ensure the perfect fit. Your new counter should be big enough to fulfil its function yet compact enough to allow easy movement around the kitchen. 
What's more, don't forget to look at the height of your breakfast bar! If you're considering a kitchen island with seating, then a height of around 36 – 42 inches is recommended. At Marble Supreme, our team are happy to answer any questions you may have about planning your new kitchen space. Simply get in touch with our friendly staff and see how we can help!
Match Your Kitchen Island With Your Existing Kitchen Worktops
When it comes to breakfast bars and kitchen islands, there are so many different stone types you can choose from! However, if you're planning to keep your existing worktops, it's best to find a design that will complement or blend in with your current kitchen aesthetic.
If you currently have natural or wooden style worktops, then a lighter toned surface such as a white quartz or marble can complement them perfectly whilst adding a touch of sophistication. If you have darker laminate, concrete or steel tops, a striking granite island might can be a great way to unite your surfaces and maintain a high end look. 
Already have stone worktops? If you already have quality stone counters within your kitchen space and you want to find the perfect match, we can help! Simply give us a call on 0117 956 3030 and we'll help you find a stone that will blend seamlessly into your space.
Starting From Scratch
Perhaps, you've decided upon a complete kitchen re-design?
Sometimes starting over is the only way to get the look that you want. So, if you're after a full set of worktops, including a kitchen island or breakfast bar, why not take a look at our gallery?
Over the years, we've worked on a range of kitchen styles, from modern Scandi schemes to more traditional country kitchens. Whatever your tastes, we can help you craft a space that you love.
Want a place to compile all of your ideas? Feel free to save some of our designs and pin them to a Pinterest board! Check out our Marble Supreme Pinterest page to get inspired today.
Aftercare for Your Kitchen Island or Breakfast Bar
As Bristol's leading supplier of quartz, marble and granite worktops, we not only produce perfectly crafted, luxury kitchen islands, but we also provide the best after-care service in the area. When buying your worktops from us, we will provide you with our leading stone care products to keep your new worktops looking as good as new for many years to come!
If you would like any further advice on our range of granite, marble or quartz stone and kitchen worktops then get in touch with one of our friendly, expert team today on 0117 332 5869 or email info@marblesupreme.com.