Whether you're looking to give your existing kitchen a face-lift, or are planning a full-scale kitchen refurbishment, choosing the right granite colours for your kitchen worktops can be a big decision. Factors such as the size of your space, the amount of natural light and the colour of your cabinets should all be part of the decision making process and will help you to settle on the best granite colour for your kitchen. 
In this article, we'll be running through a few useful considerations to bear in mind before selecting a granite worktop colour and sharing some of our favourite swatches with you. 
Read on to find out more…
Finding a Granite Kitchen Countertop Colour that Compliments Your Space
If you've selected your paint colours and set your sights on some shiny new cabinets, you'll want to make sure that your granite worktop colour pairs seamlessly with the rest of your kitchen design. 
In order to do this, it can be helpful to take a look at a colour wheel. 
A go-to tool for interior designers, colour wheels help you to identify which colours work well together, and which colour pairings are best avoided. Online colour wheels are particularly useful because they allow you to play about with different combinations and then export them for your own use. Take a look at this interactive colour wheel by Paletton to seek some colour inspiration.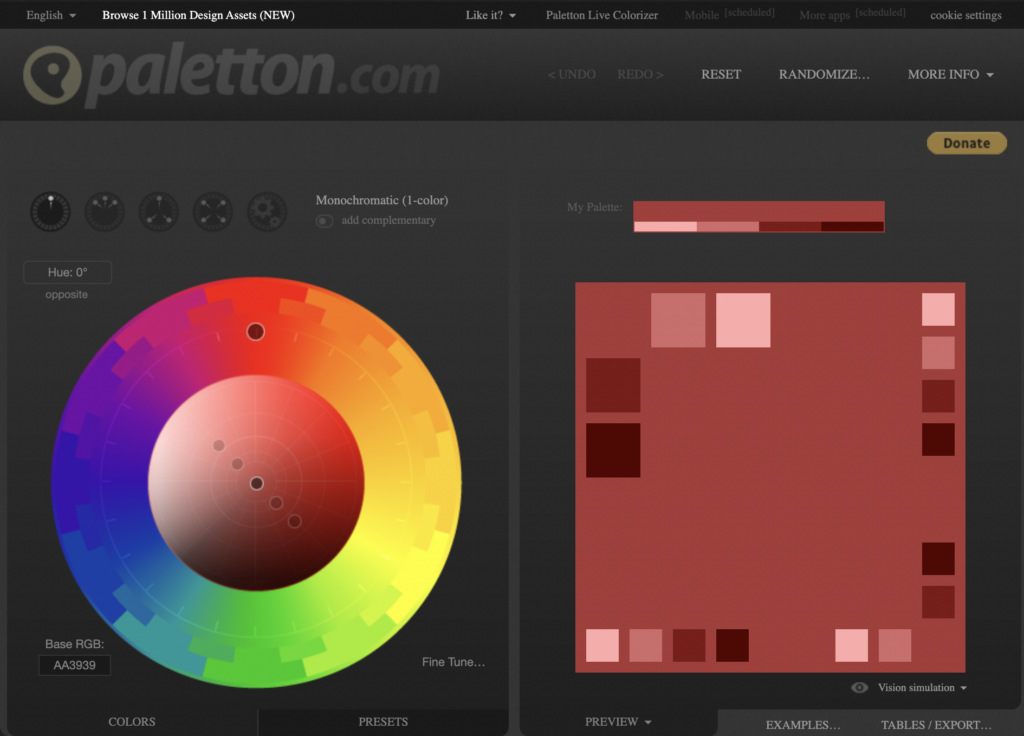 Once you've selected the colour combinations that you like and exported your files, why not print them off so that you can envisage them within your kitchen? Placing your colour pairings on your existing surfaces will give you an idea of how well they work with the decor, flooring and the lighting in your space.
That brings us nicely onto our next section…
Consider The Lighting in Your Kitchen
When choosing your granite worktop colours, the lighting in your kitchen is something that should never be overlooked. With the right granite colours you can create an illusion of more space and prevent your kitchen from feeling dark and cramped. 
Dark Granite Worktops
If you're lucky enough to have an abundance of light, colours such as black and navy will look sleek and sophisticated without making the space feel dark and drab.
Light Granite Worktops
If lighting is an issue for your kitchen, you might prefer to opt for a white granite worktop which will keep the space looking light and bright.
Low light levels in your kitchen? You don't always have to avoid darker shades… 
Although too many dark colours in a room with low lighting can make it feel smaller, this doesn't mean you have to rule them out completely. Opting for a dark shade on the walls OR the worktops can add a sense of drama to a kitchen and can create a real impact when paired with bronze hardware and warm LED lighting. 
What's more, if you place under cabinet lighting above a granite worktop that has a pearlescent tone or iridescent flecks, the light will catch the surfaces and make them shimmer!
Consider The Size of Your Kitchen
As we mentioned in the previous section, an abundance of dark colours can make a small room feel smaller. So, if maximising space is a priority for you, you'll need to choose your colours wisely.
When you fall in love with a granite worktop colour, it can be tempting to go overboard and use that colour on every single surface. But, when your space is small, this can have an undesirable effect. 
To avoid overwhelming your space with a single dominant colour, think about where those surfaces are positioned and how they facilitate the illusion of space.
Is there a way to offset the darker tones with a lighter cabinet? 
Could you position your darker granite worktops in line with a window and then opt for lighter toned island or splashbacks? 
There are many clever ways to create balance within a kitchen space. Considering 'what ifs' and asking yourself questions like the ones mentioned above will help you to find suitable solutions and prevent you from making too many rash decisions. 
Did you know?
The colour of your kitchen space can have a huge impact upon your home's value. A survey conducted by Rated People involving 2,000 participants found that kitchen colour was a deciding factor for many buyers and had a notable effect on purchasing decisions. 
So, if you suspect that you might want to put your house on the market further down the line, don't forget to think about your future buyers. While you might absolutely adore your all black kitchen suite, others might find it too bold, cramped or overwhelming.
Does Granite Colour Affect Performance?
Overall, granite is a very hard wearing worktop material and is perfect for kitchen spaces due to its natural heat resistance. With that being said, the colour and make of your granite counters can have a small impact on stain resistance and durability which is why it is important to seal your work surfaces prior to use. Depending on the manufacturer, light shades can be more porous and prone to staining so can require an additional coat of sealant to make them suitable for kitchen use.
If you have any questions about the effect of your granite colour choice on your worktop's performance, do not hesitate to get in touch with our team. 
Granite Worktop Veining
As well as your granite colour choices, it's necessary to think about whether you want a worktop that is mainly one flat colour or whether you'd like to add some interest with veining. 
Granite veining adds a unique and natural beauty to worktops. The patterns found in granite counters are formed by different mineral deposits in the granite, create an intricate and visually appealing appearance. These patterns can range from subtle and delicate to bold and dramatic, allowing you to choose a style that complements your overall kitchen design.
Each slab of granite is distinct, and the veining patterns vary from one slab to another. This natural variation means that your worktops will have a one-of-a-kind look.
Our Granite Surface Colours
In the past, homeowners were very limited to just a small selection of granite colours but, fortunately, as time's gone on and granite has become more popular, the range of colours available has expanded. 
Looking for something truly unique? 
At our Bristol showroom we stock a wide array of eye-catching granite worktop colours and styles, as well as a variety of marble worktops, quartz countertops and other stone worktops. From captivating pearlescent blue tones and striking reds to sleek black granite worktops, we've got an option to suit you. 
Take a look at our swatches below to get started!
Black Granite Worktop Colours
If you want a high-spec, sophisticated look for your kitchen then black granite worktops are the ultimate choice. Easy to pair with a wide variety of colour schemes, they are an extremely popular choice for those wanting a timeless feel.
Blue Granite Worktops Colours
We offer a variety of blue hues that will elevate your home and add a touch of colour to your kitchen suite. Can't find what you're looking for? Take a look at our granite worktops page to view our entire range of blue granite shades.
Red Granite Worktops Colours
Our stunning red granite worktops come in a variety shades and are guaranteed to add character and flair to your kitchen. Check out our opulent Juparana Bordeaux and our understated Juparana Florence granite.
White Granite Countertop Colours
Prefer to keep things simple? Our Luna white granite worktops are guaranteed to look chic for years to come and do a fantastic job of brightening up any kitchen space. The are also a great choice for bathroom worktops!
Check Out Our Granite Worktop Colours in Person
If you want to take a closer look at our granite colours, why not come and see the real deal? In photos, subtle veining patterns and other finer details of granite may not be as easy to pick up on and can make it tricky to accurately judge the true colour of each option. So, why not plan an in-person visit to help you to solidify your decision?
Our friendly staff are always happy to talk you through our granite worktop colour options and can even provide you with free samples to take away and try in your own home.
Make The Most Out of Your Visit
When planning your visit, be sure to bring any samples of your cabinets, flooring or wall colours. This will help you to think about the best stone styles for your home and will allow you to better envision them in your space.
Granite Worktops from Marble Supreme
We have a wide range of granite colours to suit all tastes. So if you'd like to see more of our granite colour options or have found a shade that takes your fancy, why not arrange a visit to our showroom? We can also offer assistance when it comes to choosing marble and quartz worktops. Call us on 0117 956 3030 to book a weekend appointment or drop in on a weekday and we'd be happy to help.
We can't wait to meet you and make your kitchen dreams a reality!