Your Granite Kitchen Worktops Guide – Everything you need to know.
Are you planning a new kitchen and wondering what type of worktop material to use? Perhaps you still love your kitchen but you would really like to refresh it and give it a luxurious touch by replacing your old worktops with new, stone worktops. Whatever your reason, the same question is on everybody's lips. "Should I invest in a granite kitchen worktop?" This granite kitchen worktop guide will answer all your questions.
I'm here to tell you that yes, you absolutely should! Granite and other natural stone kitchen worktops are an investment, They actually add value to your home. They are so hardwearing that they can look like they have just been fitted, many years after you bought them. And don't be worried about the price either. They are more affordable than you think. 
What is Granite?
You may have heard about granite but never really thought about what it is. Granite is a natural stone found on the earth's surface. Read these Facts about granite to find out a little more about where granite comes from.
Why choose granite as a kitchen worktop material?
There are many materials you could choose from for your kitchen worktop but granite is the perfect choice for many reasons. We have identified 7 reasons Granite should be your number choice. 
Granite is one of the most popular stone materials used for creating a luxurious, modern kitchen because it has a timeless, classic appeal. It's easy to see why. Granite worktops are unique and have their own natural beauty due to their individual veining and colouring.
Granite is hardwearing so it is perfect for busy kitchens that are quite often the focal point of family life. If you are still unsure whether granite is the material for you check out this article for more reasons why you should choose granite.
Granite can be finished in three ways, polished or matt or leathered but there is no denying that a polished granite worktop can make a kitchen island look stunning.
Due to its low maintenance and hard-wearing nature, it retains its beauty for years. Making it ideal for busy, modern households.  The outstanding stain and heat resistance and cool sterile surface make it a perfect surface for preparing food.
Why choose granite over other stone?
It depends on a few factors. Your budget and the look you want your kitchen to have. Other types of kitchen worktops can create a different feel for your kitchen so it comes down to personal taste. Granite is a more natural-looking stone and is perfect for you if you want to have a more natural style in your kitchen.
We have gone into more depth about choosing Granite or Corian and Granite or Quartz here.
How to choose your colour of granite.
Granite comes in many colours due to the complex and precious minerals trapped inside. You will feel spoilt for choice. 
However, granite is a natural stone so your colour choice will be a natural shade that will complement your kitchen colour scheme perfectly.
Here is a small selection of some of the many colours that are available.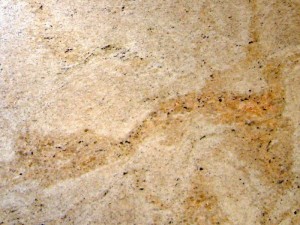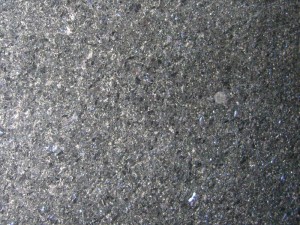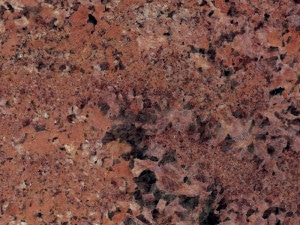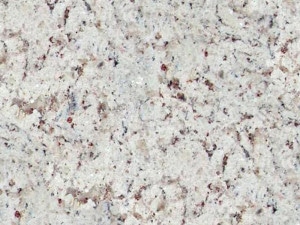 Visit our granite page to see more images of the wonderful granite colours that are available.
Images don't really do granite justice though. You can really only appreciate the beauty of granite when you see it close up for yourself.  We stock a wide range of colours at our showroom in Kingswood, Bristol, so why not come down and see the range for yourself? 
With so many colour options, you may be wondering how to choose your granite colour? After all, the colour of your kitchen worktop is probably one of the hardest decisions you will make regarding your kitchen.
How much does a granite kitchen worktop cost?
The price can vary from around £200 per square meter to over £800 per square meter. That's quite a price range! This is because some granite can be more colourful or dramatic in appearance, making it rarer and more expensive. Whatever the price I am sure you will agree that owning something so beautiful, low maintenance and hard-wearing is a luxury worth investing in. And you can be confident that with Marble Supreme, we'll give you the very best price we can. We are so passionate about what we do that we want to make it affordable for everyone. We offer free, no-obligation quotes over the phone if you have your dimensions. Just call 0117 956 3030  and you will get an idea of how affordable luxurious kitchen worktops can be.
Granite kitchen extras
Not only can you have beautiful kitchen worktops but you should budget for some granite extras that will really put the finishing touches to your kitchen.
Drainer grooves
Window sills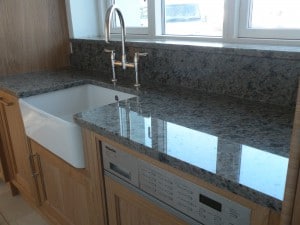 Splashbacks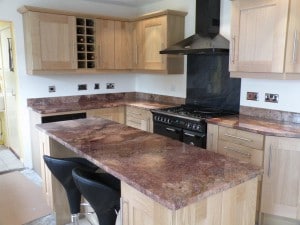 Kitchen islands and breakfast bars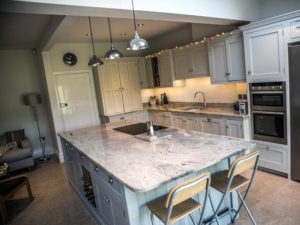 Edging – what edging will you choose? Choose from a range of bevels, bull noses, round noses, pencils, shell, ogees, bevels and shark

Sink and taps.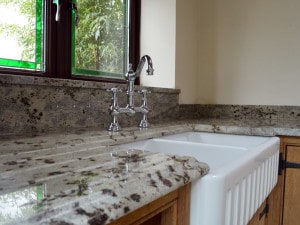 How to care for your granite kitchen worktop.
Granite worktops are low maintenance so there isn't much to do. Clean up spills with a damp cloth. If you are unlucky to have staining then treat stains of an organic nature such as wine, coffee, nicotine, fruit juices and so on, by using a water-based stain remover. To remove dirt or grease we would recommend using an alkaline degreaser. We recommend you have your worktop treated with a stain-proofing sealant.
As one of only two Authorised dealers of Dry-Treat Sealant in the South West all kitchen worktops from Marble Supreme are sealed with a Dry-Treat world-leading permanent impregnating sealer, for premium stain protection. We also provide you with our leading stone care product to keep your worktops looking beautiful and full of colour. It is a very low-maintenance material.  If you buy your granite worktop from Marble Supreme, we will always be available with aftercare advice on how to care for your granite kitchen worktop. It's all part of the service.
How to choose a granite worktop supplier?
There is so much choice when it comes to kitchen worktop companies, in granite or any other material. It's always best to do your homework before instructing someone to build your granite worktop. But how do you know you are using a reputable, experienced and trustworthy company? The most important areas to check are;
Reviews from previous customers. Do they have a Google Business page or a Facebook page where you can see reviews?

Are they trading standards approved? 

Find out if the owners are hands-on or not. Here at Marble Supreme, we are involved in every aspect of the process from quoting to fitting. This ensures a continuation of quality at every step.
Find out what is included in the quoted price. Some companies have hidden charges like templating or delivery.
How flexible are they with delivery and installation? If you have a delay you want to know your worktops will be safely stored at the factory and won't end up on your lawn for 2 weeks!
For more information on the above feel free to read our blog that goes into how to choose a worktop supplier in more detail.
The granite worktop installation process.
Once you have chosen your supplier, the process of designing, cutting and fitting your granite worktop will begin.
Step 1: You make an initial enquiry either over the phone or in person at the showroom.
Step 2: You receive an initial quote.
Step 3: We visit your home to measure up.
Step 4: We provide you with a final, detailed quote.
Step 5: Once the quote is agreed we will arrange for a template of your kitchen to be made. Now you can prepare your kitchen for your new worktops!
Step 6: The worktops are crafted to your exact requirements.
Step 7: The worktops are fitted.
What else would you like to know about granite kitchen worktops?
If you still have questions or you think we have missed something from this guide send me an email and let me know. We are also experts in marble worktops, quartz countertops and bathroom worktops. If you would like to have a free, no-obligation quote then call us today on 0117 956 3030 or email info@marblesupreme.com