Granite kitchen worktops are a popular choice for many homeowners due to their strength, durability and sleek appearance. With a timeless appeal that can add value to the home, they make a great investment for anyone looking to transform their outdated kitchen space.
In this helpful guide, we'll be taking you through the properties of granite worktops, the styles and colours available, as well as some of our best care and maintenance tips. 
So without further ado, let's get stuck in…
What is Granite?
Granite is a natural igneous rock that is formed beneath the Earth's surface through the cooling and solidification of molten magma. Composed mainly of quartz, feldspar, and mica minerals, it has an alluring granular appearance that has made it the material of choice for worktops, flooring, patios and more.
Did you know? Granite is one of the hardest materials in the world. Granite's strength comes from its interlocking crystalline structure and the intense heat and pressure conditions under which it is formed. It's these properties that make it the perfect choice for kitchen and bathroom countertops.
Unlike quartz countertops, granite countertops are completely natural and made from 100% granite stone. So if you want a stone that's come straight from the earth, granite is the answer!
What Are The Benefits of Granite Kitchen Worktops?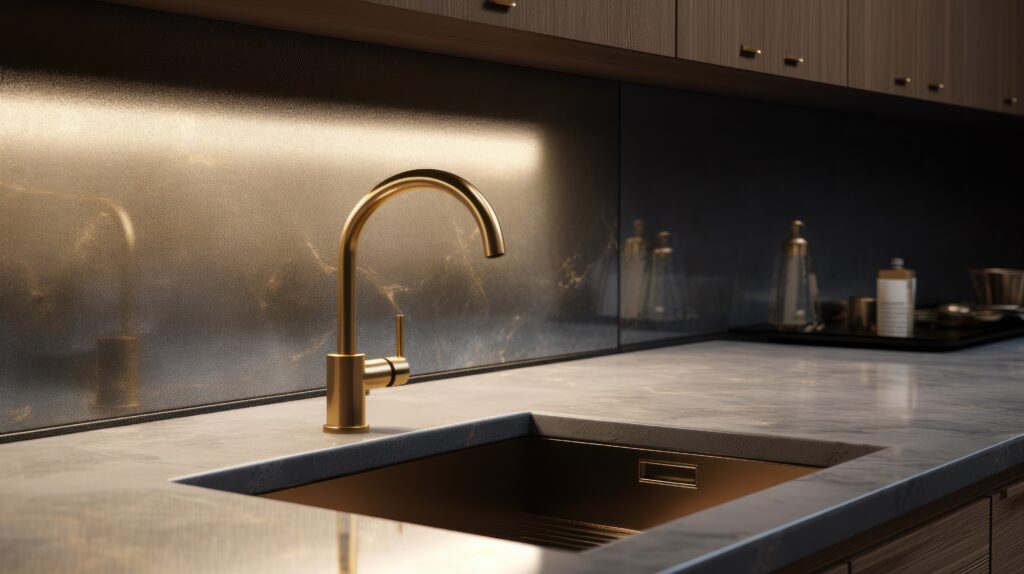 Granite Kitchen Counters Offer Excellent Durability
The kitchen is one of the most challenging environments for any surface, particularly when considering the high level of activity and potential stains and spills from household products and other food items that they endure.
Fortunately, granite is much stronger than other stone materials so, with a quality sealant and proper care, your granite surface will be able to withstand scratches, stains and low levels of heat.
Granite Worktops Come In a Wide Range of Colours 
Due to the complex and precious minerals trapped inside the stone, granite comes in a wide variety of colours. From beautiful brown hues to speckled creams and traditional charcoal shades, you'll be totally spoilt for choice!
Here is just a small selection of some of the many colours that are available…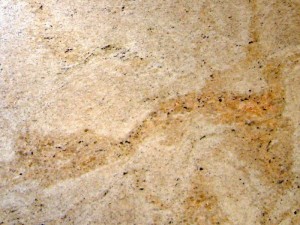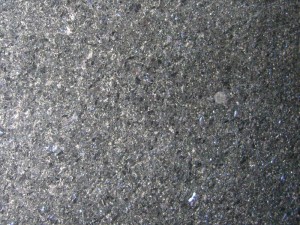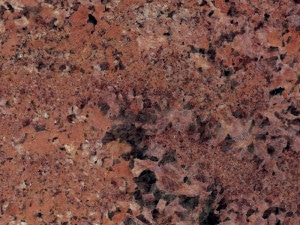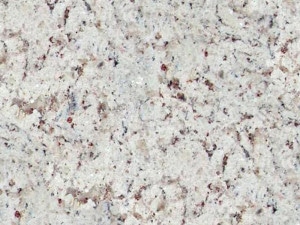 Take a look at our granite worktops page to view our entire selection of colour swatches.
Want to see our granite shades in person? If you're struggling to choose a granite for your kitchen worktop, why not come and see our granite slabs at our local Kingswood showroom? By seeing the stone up close, you'll get a better idea of the overall look while our friendly team will assist you with any burning questions that you might have.
Natural Granite Patterns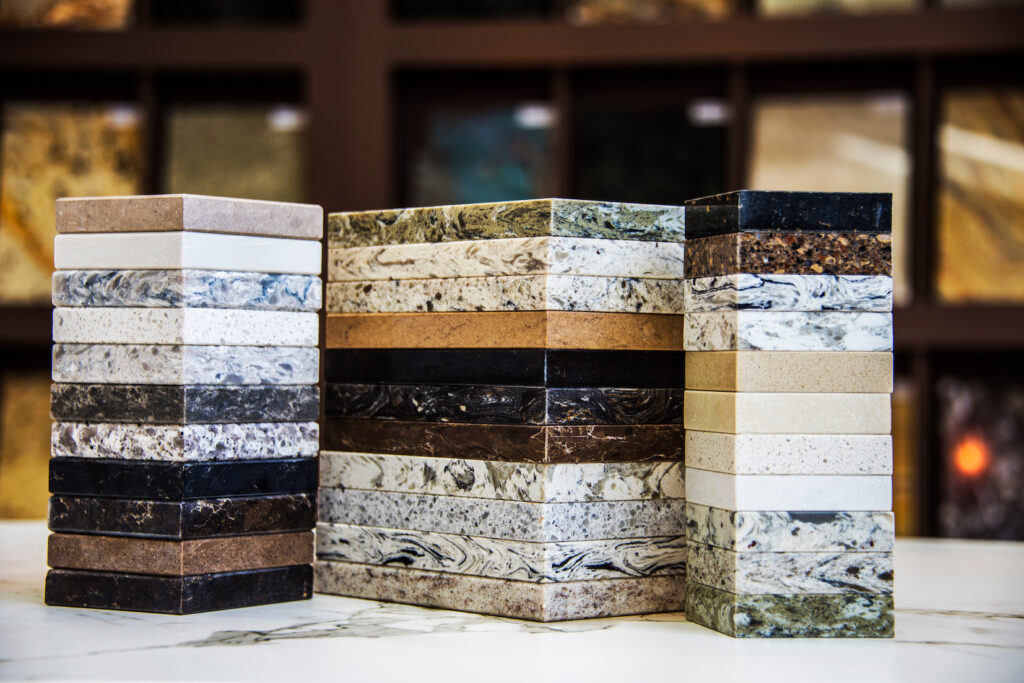 Each slab of granite is unique, with its colours and patterns indicating the region and geological conditions that it was created. 
Intricate swirls, veins, and speckles provide a mesmerising visual tapestry, revealing the intricate dance of minerals within the molten rock as it cooled and solidified.
This individuality not only adds to granite's aesthetic allure but also underscores its status as a product of nature's artistry, ensuring that no two kitchen worktops or surfaces will ever be quite the same! 
Granite Kitchen Worktops Are Easy To Maintain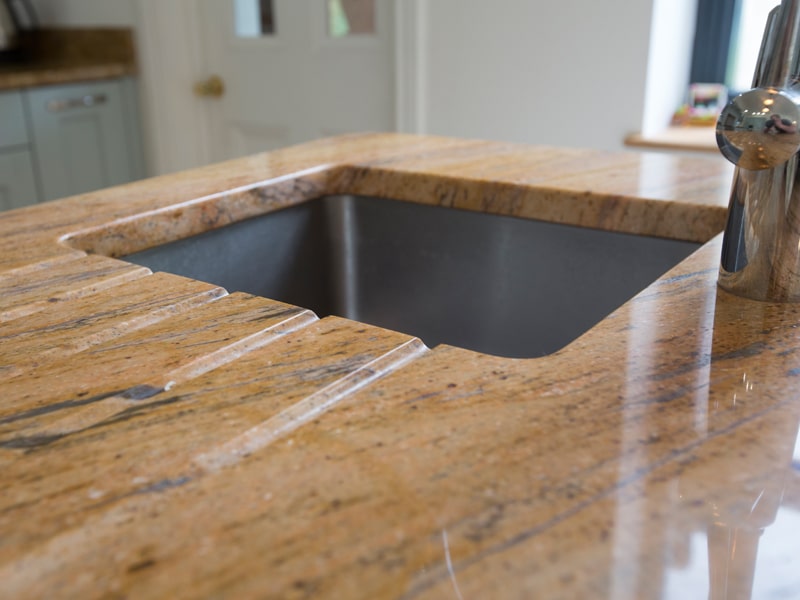 Although granite is considered to be a porous stone, with a high-quality sealant, it will require very minimal upkeep, marble worktops on the other hand require a little extra care by comparison. By wiping down stains and spillages regularly and avoiding direct contact with hot pots and pans, your granite worktops will stay beautiful for many years to come. 
Are There Any Downsides To Granite Kitchen Counters?
The quality of your granite will very much be down to the supplier, stone treatment and installation method used. Although, overall, granite is a fantastic kitchen worktop material, if it is not treated correctly or you source your stone from an unreputable company, it will be more likely to chip and discolour over time.
To prevent issues with your granite, be sure to purchase from a trusted local worktop company.
How Much Does a Granite Worktop Cost?
When it comes to pricing, granite tends to be considered a mid to high-range stone option, with prices spanning from £250 to £750 per square meter.
Many reports have found that having high-quality worktops in your home can increase the value of your property so, while granite might not be the cheapest worktop material on the market, it could be a smart investment should you ever come to sell. 
For the most accurate estimate, always get in touch with your stone supplier. That way, you'll be able to make a much more informed decision. 
Are Granite Kitchen Worktops Eco-Friendly?
As a natural stone product, granite doesn't require energy-intensive manufacturing processes like some synthetic materials do. However, from an environmental perspective, there are a number of pros and cons to consider before using this natural material in your home. 
Find out everything to know in our helpful article: Are Granite Worktops Eco-Friendly?
Granite Additions and Extras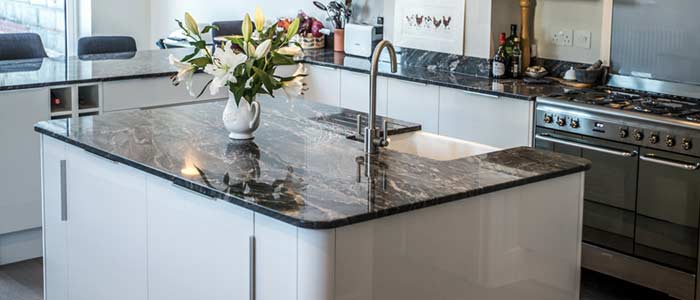 Granite worktops can come with a variety of customisable extras and additions that can enhance both the aesthetics and functionality of your kitchen space. Here are some of the most popular options:
Custom Worktop Edging 
From classic bevelling to contemporary waterfall styles, customising your edging is a great way to ensure that your new granite tops fit in seamlessly with the rest of your kitchen design. 
Granite Kitchen Islands   
A quality kitchen island not only adds a focal point to your home but also provides extra workspace for meal preparation and dining. If you want to get some inspiration, check out our blog on luxury kitchen islands and breakfast bars. 
Built-in Drain Boards 
Built-in drain boards are another practical addition that can be crafted into your worktop to aid with food prep and help you to maintain a tidy workspace. 
Granite Backsplashes
Granite backsplashes will not only look beautiful with your new granite worktops but they'll also help to protect the wall area above your stove from grease, grime and staining. 
Caring For Granite Worktops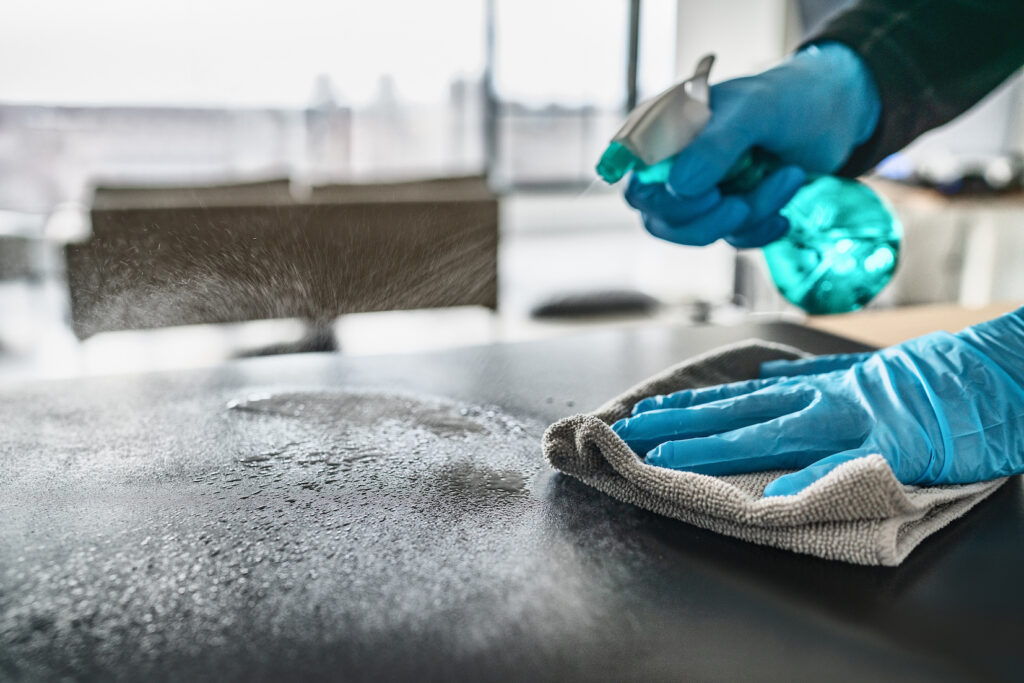 Now you know that granite kitchen counters are easy-to-maintain, you might be curious about the best ways to clean them! 
Here are our top tips for sparkling granite surfaces:
Use Mild Cleaning Agents: Opt for pH-neutral, mild cleaning agents or warm water with a drop of dish soap. If you use anything too acidic, it will damage the stone's surface.
Soft Cloths & Sponges: Use a soft, non-abrasive cloth or sponge to wipe down the surface. Microfiber cloths are a great choice as they are gentle and effective in removing dirt and spills.
Wipe Up Spills Promptly: Promptly cleaning up spills is the best way to prevent staining! Even though granite is relatively stain-resistant, certain substances like wine, coffee, and oils can penetrate the surface if left for too long.
Avoid Harsh Scrubbing: Avoid using abrasive pads or scrub brushes, as these can scratch the surface. Always gently blot and wipe the area instead.
Rinse Surfaces Thoroughly: After cleaning with soapy water or a mild cleaner, rinse the surface thoroughly with clean water to remove any residue.
Keep Them Dry: After cleaning, pat the surface dry with a clean cloth to prevent water spots or streaks from forming.
As with any type of cleaning, the best way to maintain your surfaces is to give them a once-over every day. That way, you'll prevent unwanted grime build-up.
Preparing for Granite Worktop Installation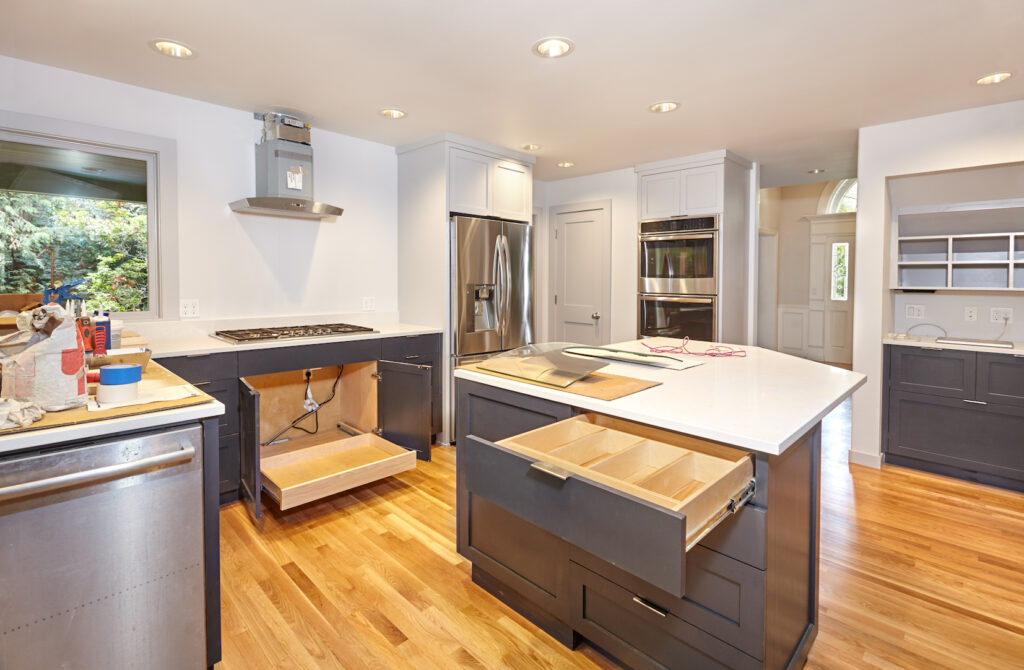 To ensure a smooth and seamless installation, it's best to prepare your space beforehand by removing any large pieces of furniture or objects that could get in the way. 
Not only is this important for the safety of you and your fitter, but it also helps to speed up the process. 
How to Choose a Granite Counter Supplier
When it comes to kitchen worktop companies, it's always best to do your research. To ensure that you are using a reputable company, keep an eye out for the following: 
Reviews from previous customers. Do they have a Google Business page or a Facebook page where you can see reviews?

Are they trading standards approved? 

Find out if the owners are hands-on or not. We are involved in every aspect of the process from quoting to fitting. This ensures a continuation of quality at every step.

Find out what is included in the quoted price. Some companies have hidden charges like templating or delivery.

How flexible are they with delivery and installation? If you have a delay you want to know your worktops will be safely stored at the factory and won't end up on your lawn for 2 weeks!
Granite Kitchen Worktops From Marble Supreme
Now that you've read through our handy guide, why not get a quote? 
Simply fill out our easy form and our expert team will provide you with the most accurate costs for your granite and installation. 
Want to see our latest projects? Take a look at our gallery to see more of our stone work.