When it comes to the idyllic material for your kitchen worktops, there is no doubt that granite is top of the list. However, with modern technologies advancing the production of stone materials all the time, other man-made materials are beginning to compete for the top spot. And sometimes at a more affordable rate.
One such material is Corian and with many large home stores such as B&Q, Homebase, Magnet and Wren kitchens already stocking a wide range of Corian worktops, it has become a very popular choice for many homeowners looking for a new kitchen on a budget.
Both granite worktops and Corian worktops have their own strengths and weaknesses, however, and one might suit the needs of someone's taste and budget more than the other. Here's a handy guide to granite vs corian kitchen worktops.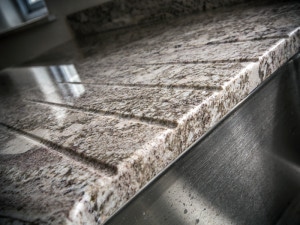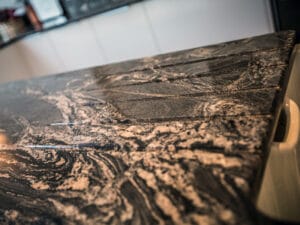 Granite worktops are one of the most durable materials around. As a solid natural stone, it's not only extremely practical but also intrinsically beautiful, offering an array of unique patterns and colours that can meet the needs of many kitchen designs.
Benefits
Hard-wearing – Granite stone is extremely durable. It is stronger and denser than all other natural stone and this makes it an ideal candidate for putting up with the constant strains from busy areas like the kitchen.
Heat resistant – As an extremely durable natural stone, granite is heat resistant and able to withstand temperatures from the hot pots and pans in the kitchen with ease.
Easy to clean – Like marble worktops, granite is extremely easy to maintain with a simple wipe of the surface with a wet cloth and mild detergent. For more on how to maintain your granite worktops, check out our guide on cleaning granite worktops.
More benefits of granite can be found in our "benefits of granite worktops" guide.
Cons:
Very heavy – As a heavy porous natural stone, granite slabs are extremely heavy and need to be handled by experienced professionals when installing.
Price – Granite is one of the most expensive stone materials out there. It's hard-wearing qualities and natural beauty can often come at an expensive price
2. CORIAN WORKTOPS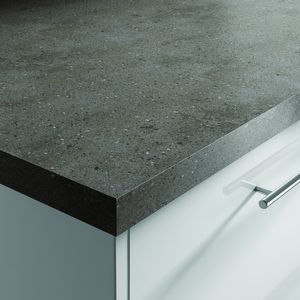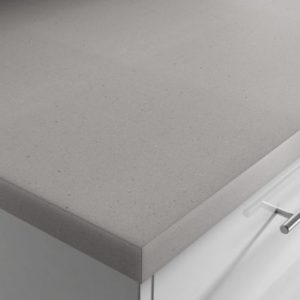 Man-made solid surface worktops such as Corian have become increasingly in recent years. Made by applying acrylic resin to the top of a substrate material like wood, they can create seamless worktop surfaces that can be fitted and moulded into many contemporary designs.
Pros:
Seamless – The seams between slabs of Corian stone are not as visible as those that can be seen with natural stones such as marble and granite.
Stain resistant – Stains can often be resolved by simply wiping them clean with a damp cloth and mild cleaning detergent.
Can be easily moulded into shape – Corian is a very versatile material and can be moulded into just about every shape or size – perfect for matching bespoke kitchen designs.
Cons:
Expensive – Whilst man-made solid surface materials can often be cheaper than natural stone worktops or quartz countertops, Corian stone is still an expensive option.
Easily damaged by heat – Whilst Corian worktops can sustain a certain level of heat, they are still more susceptible to damage from hot pots and pans than that of other natural stone like granite.
Susceptible to scratching – Whilst it can offer seamless joins between kitchen units, Corian stone is often susceptible to scratching and denting by heavy objects in the kitchen and so preparing food on the counter would have to be done with extra care.
Doesn't quite match the individuality of natural stone – Whilst it can be moulded into multiple shapes and sizes, Corian stone does not quite match up to the intrinsic beauty of natural stones like marble and granite, particularly when it comes to the individual patterns and colours of each stone slab.
Water damage – Unlike solid stone or quartz worktops, if water seeps through the exterior resin of the Corian worktop it can damage the wood material beneath and cause irreparable damage.
WHY NATURAL STONE?
Whilst man-made materials such as Corian can offer a range of benefits in terms of cost and flexibility, they can also have their drawbacks. In heavy traffic areas such as the kitchen, it is important to choose a stone material that can stand the tests of endurance a kitchen demands. If you're looking to prepare meals directly onto your worktops but would like to prevent them from getting scratched, then Granite materials would be a wiser choice.
SPEAK TO AN EXPERT
If you'd like to find out more on how natural stone could be the right choice for your home, or even looking for some inspiration for your latest kitchen or bathroom worktop improvements, then get in touch with one of our team today by calling 0117 956 3030 or emailing us at info@marblesupreme.com. We'd be more than happy to help guide you through a range of stone choices available in our Bristol showroom. Our wealth of expertise, combined with a sheer passion for what we do, makes us the go-to place for your natural stone needs.