If you've found the perfect marble worktop, quartz countertop or granite worktop, now comes the exciting part – booking a date for your kitchen worktop installation!
Kitchen countertop installations always need to be carried out by a professional stone worktop company, regardless of which stone worktop material you decide to go for. This is because countertop installations require total precision and accuracy in order to avoid obvious seams and unevenness. 
To ensure a smooth and safe process for both you and the worktop fitter, there are a number of key steps that you can take ahead of time. 
Follow our handy tips to make sure your installation is a success!
Kitchen Worktop Templating 
As with any custom-made item, you want it done right. To ensure that all measurements are correct, your stone supplier will book in a templating appointment prior to fitting your kitchen worktops. 
The templating appointment is a key part of the process and involves measuring both your kitchen's shape and where you'd like your appliances so that you can be sure that your new surface will fit around them perfectly.
Kitchen Worktops: Installation Checklist
When it comes to the installation of your new kitchen worktops, it helps to have a tidy and organised space that is easy to navigate. By making sure everything is in its place, not only will you make life easier for the fitters, but you'll also help to save time and prevent accidents from happening.
Preparing the Kitchen Space for The Installation Day
Make sure that all your base units, white goods and furniture are fixed in their intended place. Remember, once the worktop has been installed, there's no going back, so everything needs to be level and in the correct position. 

If you're keeping your old units and only replacing the kitchen worktops, then it goes without saying, those old worktops need to be removed prior to installation. 

Have your sink templates to hand —  preferably digital versions. Your sink provider should be able to provide these if you don't have them. 

Fix any

under-mounted sinks

into their support cradles, with the top of the sink flush with the top of the carcass.

Ensure that your lower cabinets are completely clear so that the fitters can easily get underneath when required.

Remove all valuables from the kitchen area and entryway. Stone worktops are extremely heavy and most stone companies will not be liable for damage to items that have not been cleared prior to the appointment.
Worktop Installation Health and Safety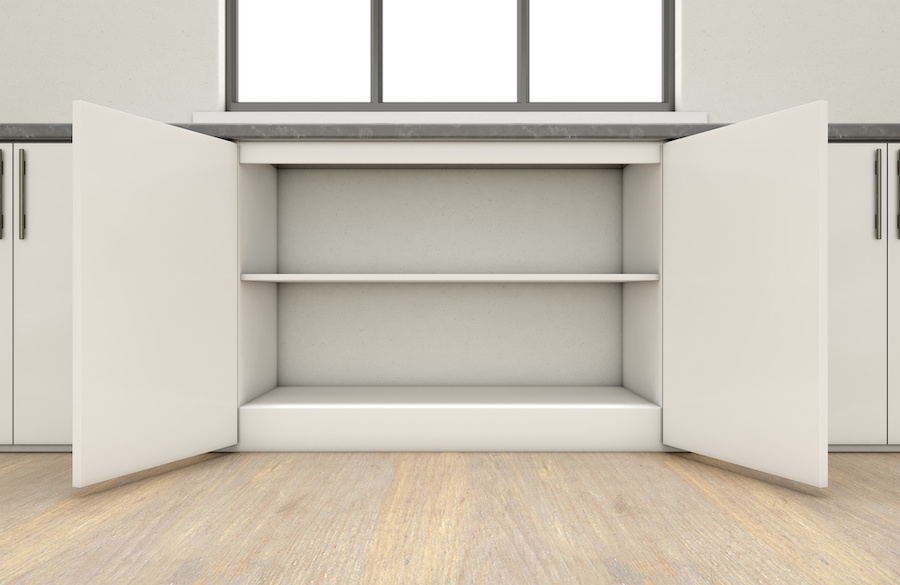 Clear your entry point. Whether it's a hallway or an open-plan lounge kitchen, keep large items out of the way so that there is plenty of room to enter and exit the property. Marble and

quartz countertops

can be particularly heavy so it's vital that they can be moved quickly and safely.

Keep children and pets out of the way. If you can take them out of the house during the worktop installation it will be safer and less distressing for them and much easier for the installers.

Consider parking options for the fitters. It is much better if you inform the company of your parking options in advance so that there are no problems on the day.
Do I Need to be Home during a Kitchen Worktop Installation?
We know that people lead busy lives however when it comes to having new kitchen worktops installed, it's very important to have someone home to assist the fitters. 
Your worktop installers will most likely want to ask you questions and may require access to other areas of the home so it's necessary for someone to be there.  
If there's no way that you can be home, try to ensure that a friend or family member can wait in and keep your phone on you at all times in case the fitters need to get in touch.
How Long Does a Kitchen Countertop Installation Take?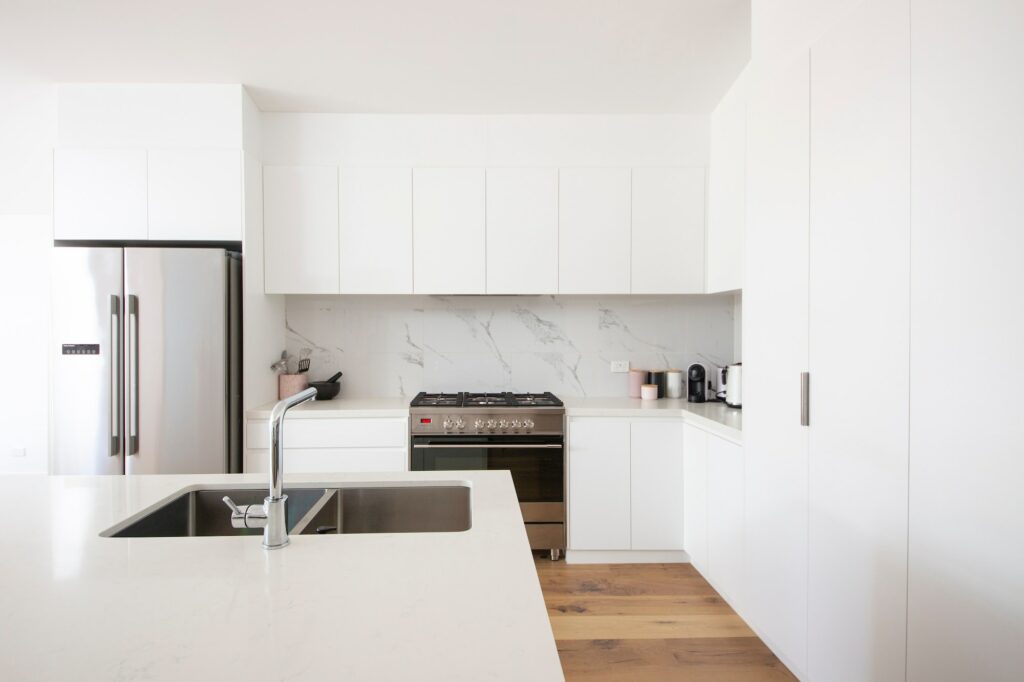 The time it takes to measure and install your worktops is very much dependent on your kitchen size, your preparation and the company that you use.
We deliver and fit within 2 to 3 weeks after an order has been placed. 
Within this time, we will book a slot to carry out templating (measurements) and then book your fitting. 
In general, the average worktop installation time after templating is between 1-2 hours depending on the complexity of the job. More complex jobs or much larger spaces may take anywhere between 2-5 hours. 
Need a Kitchen Worktop Replacement?
If you're replacing your old kitchen worktops and are looking for an experienced local company to supply and install your new countertops, why not give us a call? 
At Marble Supreme, there is so much to discover. Along with kitchen worktop replacements, we also craft and fit bespoke kitchen islands, stylish stone bathroom counters and classic commercial stone furnishings! 
Still have Questions About Installing Kitchen Worktops?
If you still have questions about the installation of your new kitchen worktops, do not hesitate to contact us and we'll happily talk you through the process. Alternatively, you can check out our FAQ page for more information about our products and services.