In 2023 we predict that the popular trends for kitchens will be striking and exciting, and easy to make your own!
If you are considering giving your kitchen a revamp you may think that following trend cycles can leave your kitchen feeling outdated in a year's time, however, this is not the case. There are staple kitchen trends that we see year after year which brings together functionality and style in a timeless way. 
There is also no singular style becoming popular, modern and minimalistic kitchens are likely to be just as popular as kitchens with a more traditional look. Bright bold kitchens are trending at the same time as white airy kitchens. 
At Marble Supreme, our main aim of presenting 2023 trends is to inspire, and help you find ways to make your kitchen worktops, cabinets, flooring and whole kitchen feel unique to you, and reflective of your functionality needs.
Light & Bright Kitchens
This is a popular kitchen design every year, and 2023 is no exception. It's hard to beat a clean and open looking kitchen. In 2023 there will be even more focus on opening up space, with additional lighting and windows. Think large bay windows, roof windows and statement lights to maximise sunlight, and artificial light.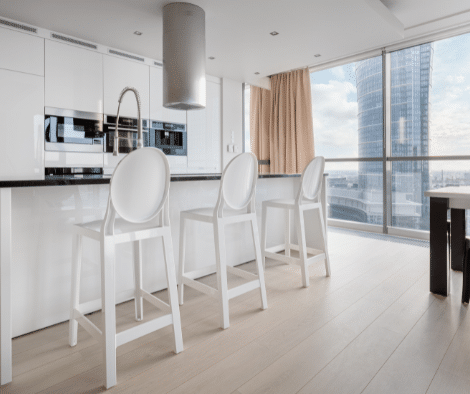 Black Kitchens
In contrast to bright open kitchens black kitchens are also gaining popularity and are a unique way to decorate your space. It can be daunting to consider doing the opposite of what we would consider to be the stereotypical kitchen design, but it does have its benefits. 
Black kitchens look sleek and sophisticated and are incredibly impactful. Black kitchens aren't new for 2023, but in previous years black would often be paired with a bright and bold statement colour. Not anymore. 
Now we're seeing full black kitchens, and when done right it's an incredible way to make your kitchen stand out. 
We have several black stone options for your worktops and accents…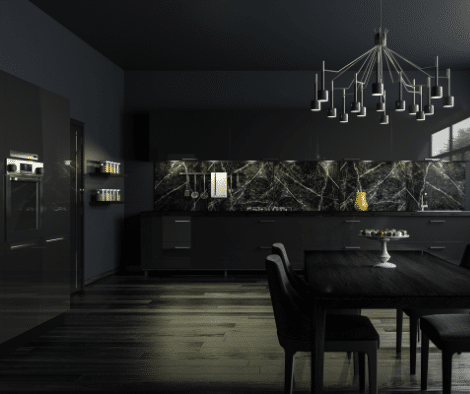 Uniquely Patterned Countertops
If you want a quality stone countertop in your kitchen that will stand the test of time it doesn't have to be plain. Even with completely natural stone there are so many options when it comes to colours and patterns. With natural stone, every slab is also completely unique, a one of a kind piece of natural art in your home. 
For a truly colourful and decadent countertop look into quartzite worktop options. Quartzite is a mixture of marble, quartz, dolomite and granite with varying compositions. The patterns found in quartzite are truly like no other material and can really set your kitchen apart.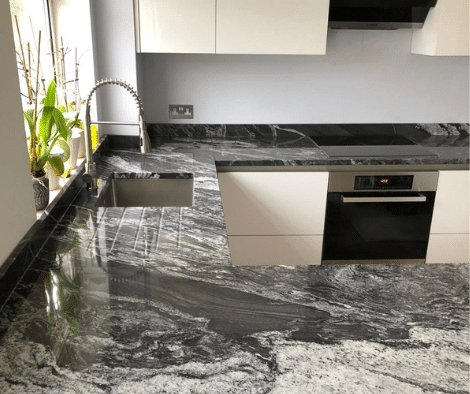 A Kitchen for the Whole Family
Family time never goes out of style and when redesigning a kitchen it's a good idea to have the whole family in mind. This includes enough seating for everyone to sit together if your kitchen space allows it, as well as creating a comfy space to relax. And so no one misses out feeding stations for your furry friends can also be built into your kitchen to match the style!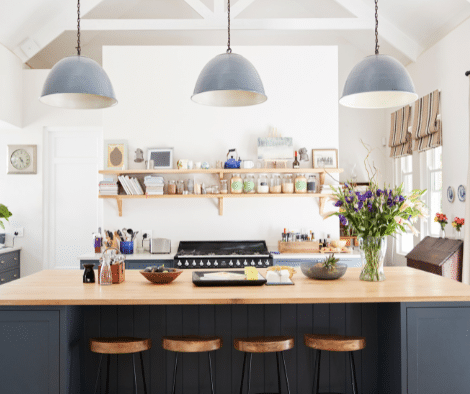 Texture
Increasing the different types of visible texture in your kitchen increases the depth and is a great way to increase character and individuality. There are many ways to increase the number of textures in your kitchen, such as exposed wood beams, exposed brick, chrome accents and natural stone worktops.
How to Coordinate Textures in Your Kitchen
If the idea of adding texture to your kitchen seems daunting then don't worry! There are several ways that texture can be used to add a more dimensional look to your space.
Textures for Worktops 
Natural materials for work surfaces like slate, quartz and granite are due to make a huge impact this year, these natural textures can be glossy or honed for a number of different textures. Wooden worktops are also a good way to add texture, but can be more unhygienic in the long run – wood is often better used elsewhere where it won't come into contact with food.
To increase the impact of your dazzling new worktop you can pair it with smooth chrome cabinet handles, and sleek sinks. 
A Statement Wall
A statement wall that contrasts your kitchen can add new depth to your space. Whether this is an exposed brick wall or some kind of textured wallpaper. This can also be an exciting way to add wood to your kitchen, with the addition of natural wood panels – wood should be treated before use to prevent rotting which may occur with the high levels of condensation in a kitchen.
Combining Rustic Textures
Combining rustic textures like stone, wood and brick can give your kitchen more of a unique and rough look, which is very in trend right now.
Smooth and Sleek Textures
Layering smooth and sleek textures gives a contemporary, modern and clean look. Combining chrome or brushed steel with high-gloss stone worktops is a great way to achieve this look.
Add a Touch of Nature 
Plants and flowers can be used within the kitchen in a number of ways to elevate your intended look to the next level. Draping plants like pothos and string of pearls off of high shelves can add to a stylishly unkempt vibe when combined with rustic textures. Whereas, a potted monstera or dainty bonsai can lend itself more to a contemporary kitchen.
Combining Aesthetics
There's no reason not to combine sleek and rustic to give a whole new dynamic. Exposed brick natural worktops can be successfully contrasted with brushed steel and minimalistic statement lighting. It's your space to get creative with, but our kitchen furnishings gallery may inspire you!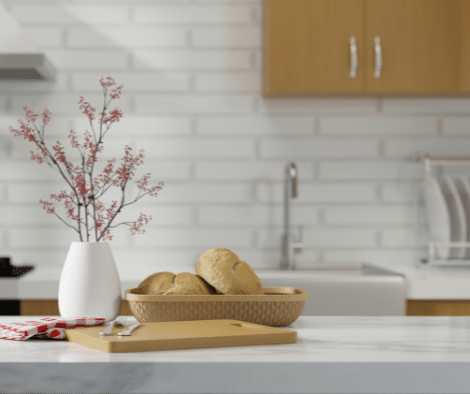 Luxury Countertops for Smaller Spaces
Having a smaller kitchen doesn't mean you can't go all out and enjoy a quality and long-lasting countertop. As long as you can find a trusted stone craftsman who can appropriately measure and cut the chosen countertop material to your specification there's no reason you can't enjoy the beauty of granite or the durability of quartz. 
2023 will be all about making the best use of the space you have. Not only not skipping out on lasting and eye-catching countertops, but incorporating hidden storage and dining areas to make the most of every centimetre. 
Top Tips to Maximise Your Kitchen Space in 2023
Use kitchen tools for storage – a cake stand or bread bin can act as an extra shelf to keep smaller items on, such as herbs, spices, and oils

Foldable table – a foldable table which can be put out of the way when not needed and brought out when extra preparation space or a place to eat is needed as a good way to make the most of all your space.

Using the windowsill – a deeper windowsill can be a great storage option, the perfect place for a thriving herb garden, which is not only useful but attractive. Your windowsill could also be the new home for kitchen items such as cookbooks and carafes.

Use your stovetop as a workspace – there are many purchasable covers for your stovetop which can double up as a chopping board, alternatively, you can

make your own

. This maximises your space for kitchen prep, provided of course your stove isn't in use.

Use your sink as a work surface – the point above also works for the sink, all you need is a chopping board that is wider than your sink to place over it and you have a new area for preparation. 

Use your backsplash for storage – with a few well placed hooks you can make your backsplash an extra storage area and prevent clutter on your countertops. Installing a rail across your backsplash means you will be able to easily access your kitchen tools and utensils, without them being in the way. 

Use a foldable drying rack – Having a drying rack next to your sink at all times doesn't make sense when you're trying to make the most of your space. A foldable drying rack is easy to put out of the way when not needed.
Sustainable Kitchens
Sustainability has been at the forefront of consumer culture for a number of years now, and this is set to continue. Incorporating natural materials where possible is not only sustainable in terms of how the materials are acquired, but they also last longer. 
Upcycling is also becoming more popular, not just in the kitchen, but all over the home, such as for bathroom countertops. Upcycling can result in unique and environmentally friendly statement pieces.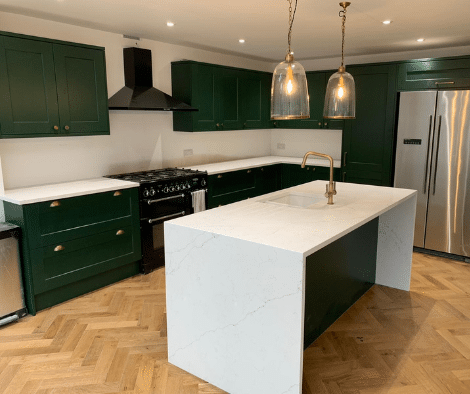 The Rise of Smart Appliances in the Kitchen
Energy saving devices are getting more helpful everywhere in the home, and this includes the kitchen. Adding smart appliances to your kitchen can not only decrease the amount of time preparing and cleaning, but also tend to look modern and sophisticated, and will definitely be a talking point.
Smart touchscreen ovens where you can save recipes, and watch how your food is doing via an app can allow you to spend time getting on with other important tasks around the home, or just spend more time with your family.
The addition of a smart fridge to your kitchen can help you keep track of your groceries, get notifications when you are running low on something and access a fridge camera when you are grocery shopping so you can see what you need. This can help combat waste, and make sure you're not missing any ingredients for your next big family meal.
There are so many available integrations you can add to your kitchen, such as voice activated kettles, intelligent food thermometers and kitchen scales that sync with your Fitbit or Apple health app.
Statement Lighting 
With the excitement of remodelling your kitchen the lighting can often be an afterthought, despite how much of a difference it makes. The importance of lighting has become clear to designers, meaning that there is a huge variety of different pendants and other striking lighting options. Finish your new kitchen the right way by putting care and thought into your lighting choices.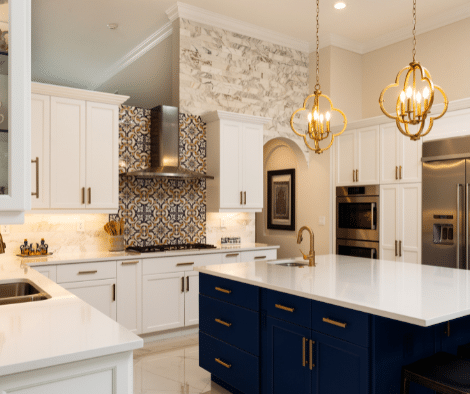 Slab Backsplashes 
A slab backsplash is an effective way to make a statement with your kitchen, and using natural stone can make this even more eye-catching and unique. This is an easy way to incorporate marble into your kitchen. When marble is used as a kitchen worktop it can often be high maintenance due to its porosity. Utilising marble as a backsplash is the answer! Natural polished stones like marble also add a new element of texture and reflectivity.
Kitchen Island Trends
Kitchen islands have always been functional extra from kitchens, providing a place to socialise and prepare food. The popularity of kitchen islands is not faltering anytime soon!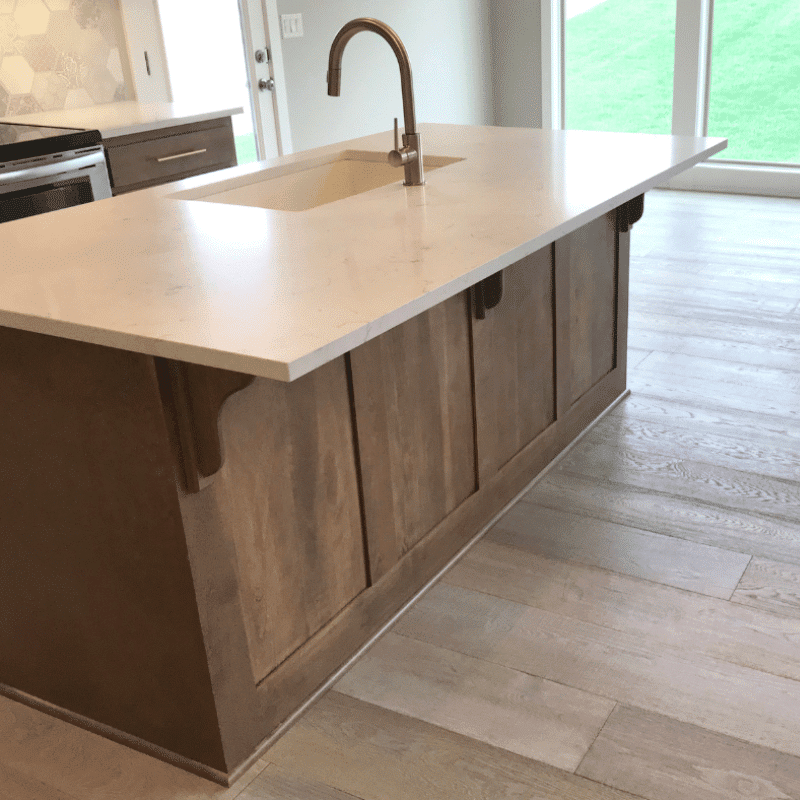 Round Kitchen Islands 
Kitchen islands are a great way to increase the space in your room for cooking and preparation. But your island doesn't have to be a standard rectangle to be useful. In fact, a round island makes it much easier for the family to sit around. Having a round kitchen island cut and installed does require an experienced craftsman, so make sure to find a highly rated stone craftsman near you.
Kitchen Islands for Large Kitchens 
If you have a lot of space to be utilised in your kitchen then a kitchen island is a great way to increase useful space. A double kitchen island with a walkway in between can help improve the flow of your kitchen, while increasing usable space. A double kitchen island is extremely helpful for anyone who enjoys cooking but often runs out of preparation space, or for a household where the kitchen is a space for socialising.
Having a natural stone double island is also an eye catching and decadent addition to your space.

Options for kitchens are just becoming more and more plentiful with increasing options, which can be intimidating. At Marble Supreme, we can help you plan your dream kitchen and then make it a reality. Just get in contact today, or visit our showroom. 
You may also be interested in…
White kitchen worktops have a distinct beauty that is both subtle and impactful.  Whether they...
read more