If you're planning to update your home with stone kitchen worktops, these kitchen trends for 2023 are sure to give you some food for thought… 
With a focus on functionality, classic colours and beautiful textures, kitchens in 2023 are all about minimalist kitchen design with a touch of personality. 
Whether you want to freshen up your existing kitchen design with classy quartz countertops or completely re-design your kitchen to increase your property value, we've got you covered!
 Read on to discover our favourite kitchen ideas for 2023!
Trend 1: Light & Bright Kitchens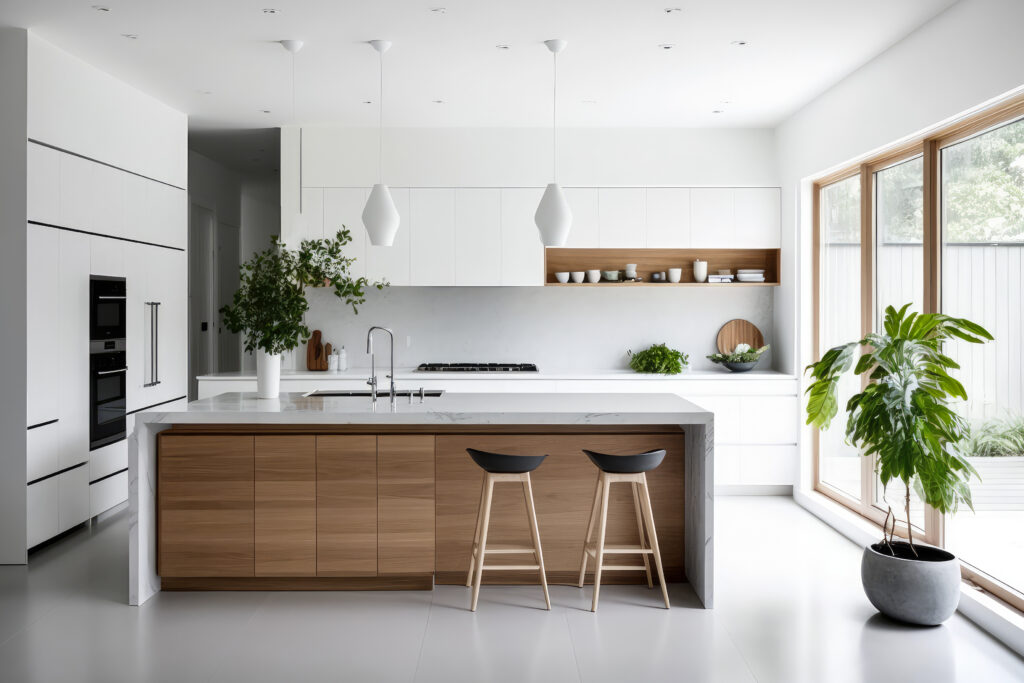 Our first 2023 kitchen trend is all about maximising the light in your space.
Light, airy kitchens have always been popular; however, in 2023, clean, bright spaces have become more and more desirable. 
Light kitchens are often equated with a feeling of calm. When you strip away dark colours and let light flow freely through a space, it becomes less chaotic and more tranquil. 
This can be particularly beneficial within the kitchen environment because it tends to be a place where clutter can accumulate, especially when preparing food or cooking for lots of people. 
To create a lighter, brighter kitchen, combine soft, neutral wall colours with reflective quartz countertops. As a non-porous stone, quartz counters are highly durable. Since they are very resistant to mould and mildew, they keep their clean, fresh appearance whilst protecting against harmful bacteria. 
To further brighten up your space, why not consider adding a skylight or some additional under-counter lighting? When placed directly above quartz or marble countertops, the light will hit the surface and beautifully illuminate any intricate veining or detailing within the stone. 
Trend 2: Black Kitchens
In our second kitchen trend for 2023, we're taking you to the dark side.
Now, we know what you're thinking, you've just sold us the benefits of bright, light airy spaces, why would anyone opt for a black kitchen design?!
But, bear with us… 
When a black kitchen is done right, it can add a real sense of drama and sophistication that will make your home feel expensive… but it's all about finding a balance. 
If your kitchen is small, it's still possible to create a dramatic effect with black kitchen worktops. However, to prevent it from feeling cramped, you'll need adequate lighting and a lighter wall or cabinet colour to break up the space.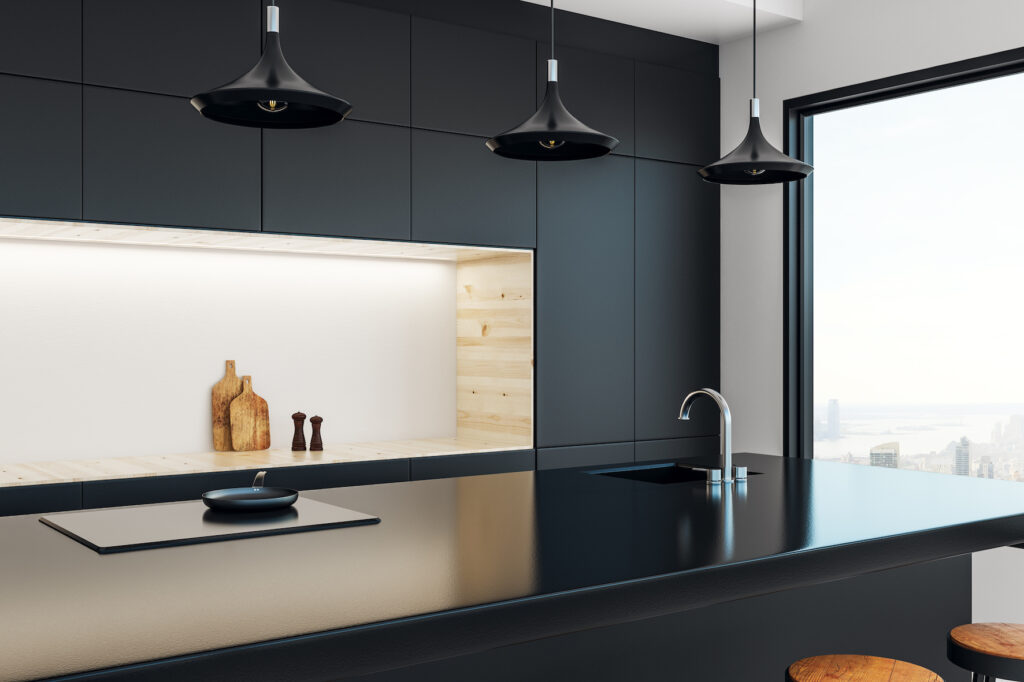 If you are lucky enough to have a larger kitchen or have ample light from a roof lantern or patio doors, you can get away with more dark elements. So, if you want to pair black cabinets with black worktops, go ahead!

We have a wide variety of striking black granite worktop shades. Take a look at our stone swatches to get inspired…

Trend 3: Unusual Worktop Patterns
In at number 3, we have unusual worktop patterns!
As a wider variety of stone worktop materials become available, many homeowners are relishing the opportunity to find countertops that are completely unique. 
Both natural and engineered stone worktops come in a huge range of patterns. You can find styles with intricate veining or delicate speckles that glisten under LED lights.  
For a truly decadent countertop design, we recommend quartzite worktops. Made from a mixture of marble, quartz, dolomite and granite, quartzite offers a range of eye-catching patterns that are unlike any other stone. 
What's more, due to its composition, quartzite is extremely hardwearing so it's an excellent choice if you want a stone that will stand the test of time.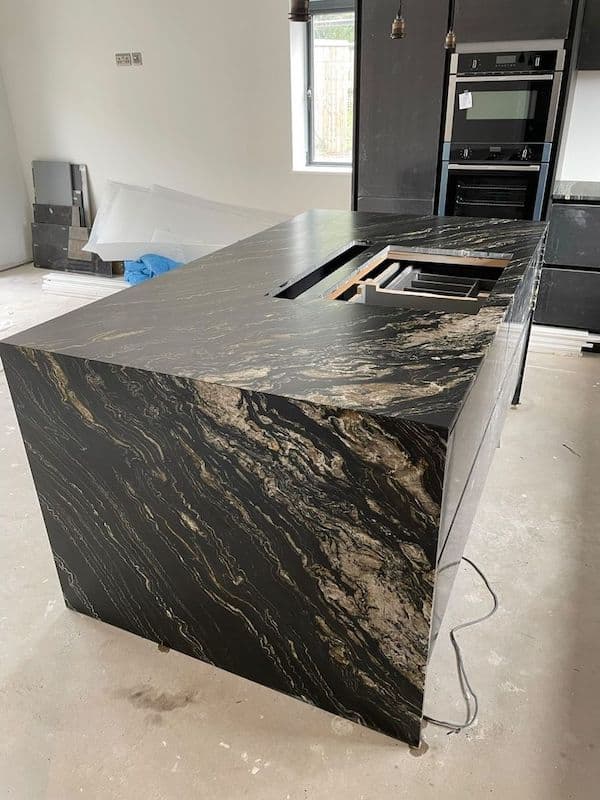 Trend 4: Family-Centred Kitchens 
Family time never goes out of style and when redesigning a kitchen, it's a good idea to have the whole family in mind. 
In order to create a functional family space, it's important to incorporate ample seating and plenty of storage.
So, if you want your kitchen to be a place for relaxing and socialising, a central kitchen island complete with stylish bar stools is the way to go. Underneath your island, you even have the option to add extra cupboards and drawers so you can keep your surfaces clear of clutter. 
If you have little ones, consider adding floating cabinets. Not only will this allow you to safely store cleaning products but it will also enable you to keep sweet treats out of reach so the kids won't be ransacking the snack cupboard!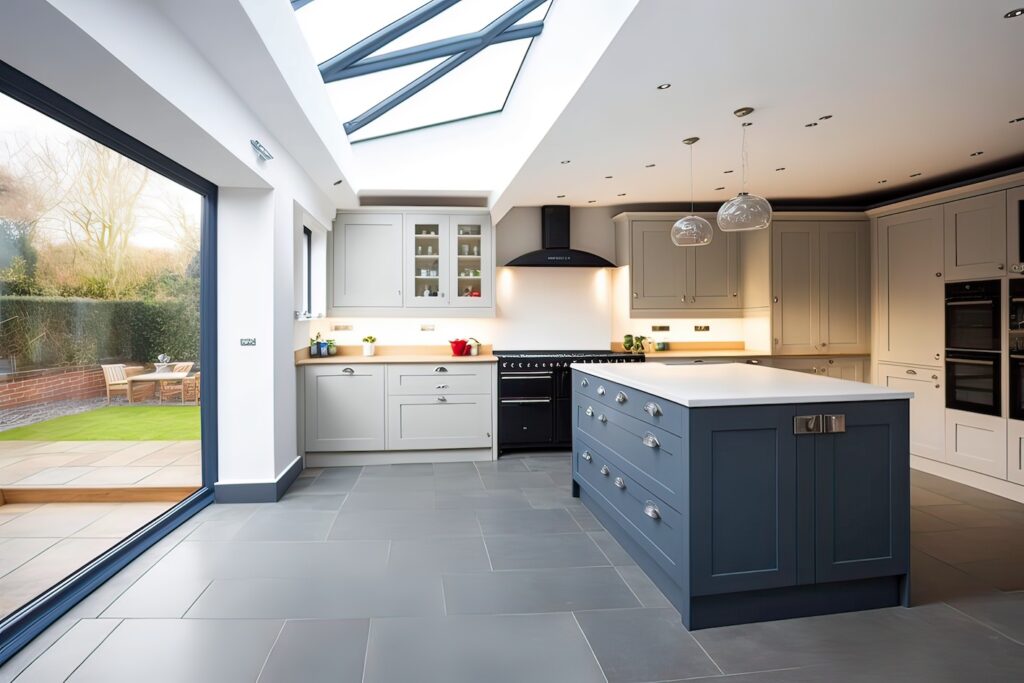 Trend 5: Get Playful with Textures
Playing around with texture in your kitchen is a great way to inject character and add some contrast. 
From natural stone worktops and flooring to exposed beams, there are many ways to incorporate texture. Here are some of our favourites: 
Textures for Worktops 
Natural materials such as slate, quartz and granite have made a huge impact this year.
These stones can be treated with a glossy finish to add shine, honed to create a matte surface or leathered to provide a natural dimpled effect.
If you want to find out more, check out our article on granite worktop finishes. 
Wooden worktops also tend to be quite a popular way to add texture to a space but can be slightly more unhygienic in the long run. When it comes to the kitchen, wood is often better used elsewhere where it won't come into contact with food.
A Statement Wall
A statement wall can add new depth to your kitchen!
Whether you opt for an exposed brick wall or a textured wallpaper, statement walls can help to break up the space and add a sense of interest. 
If you want to give your kitchen a rustic feel, why not create your statement wall from natural wood panels? Natural wood panelling pairs beautifully with patterned stone counters and can add warmth and cosiness to your space. 
When using wood, it's important to note that it should be treated before use to prevent rotting which can occur with high levels of condensation in a kitchen.
Add a Touch of Nature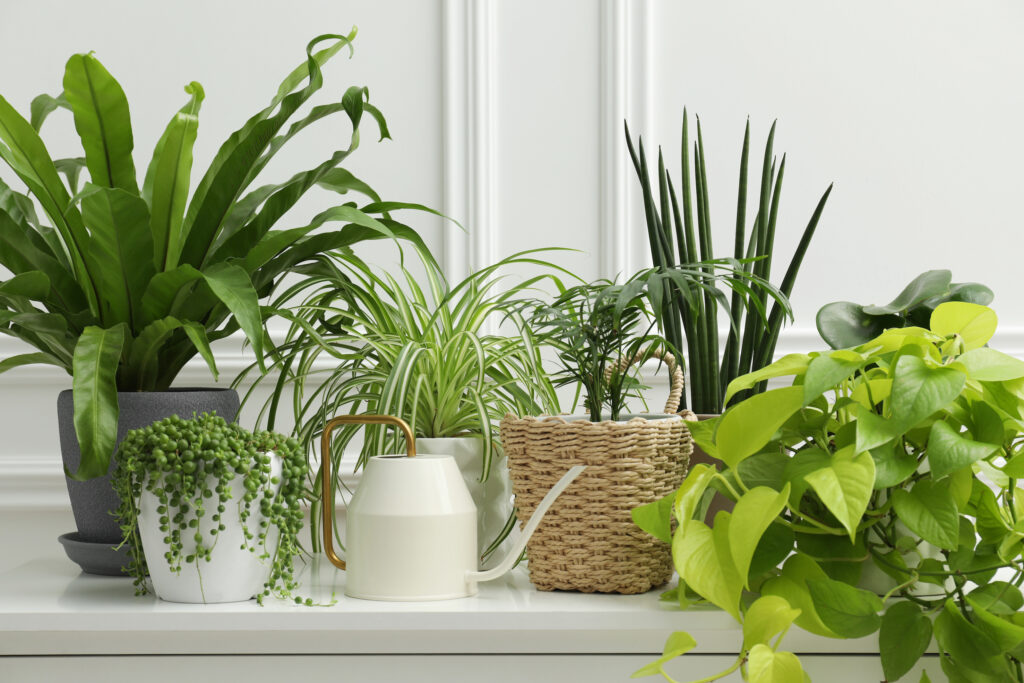 When added to a kitchen, plants and flowers can both elevate your aesthetic and bring some oxygen into the space. 
If you're after a more traditional look, draping plants like Pothos and String of Pearls off of high shelves will add charm and character. 
For a more modern look, opt for a potted monstera or a dainty bonsai which will blend seamlessly with any contemporary kitchen design. 
Trend 6: Sustainable Kitchens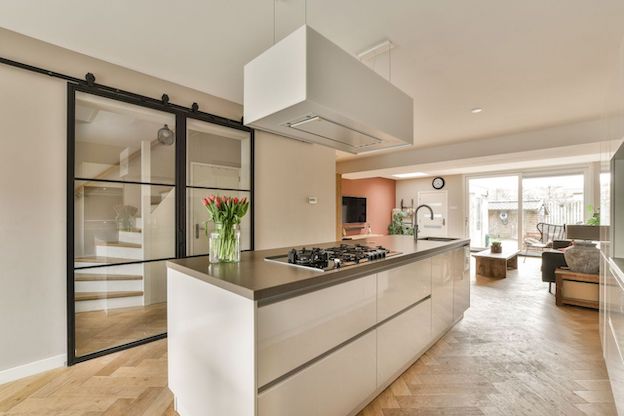 Sustainability has been at the forefront of consumer culture for a number of years now, and this is set to continue. 
By using sustainable materials not only will you be doing your bit for the environment but you'll also be extending the lifespan of your kitchen!
If you want to invest in a sustainable stone material, check out our Silestone worktops. 
Silestone worktops are made with 100% renewable energy and crafted from 99% recycled water and 20% renewable energy. This makes them a wonderful choice for those wanting a more eco-friendly home. 
Along with sustainable materials, you also have the option to incorporate upcycled pieces. Upcycled furnishings look wonderful all over the home. So, whether you go for reclaimed bathroom countertops, vintage furniture pieces or antique kitchen floorboards, adding upcycled elements is a great way to upgrade your space without harming the planet. 
Trend 7: Smart Appliances in the Kitchen
For kitchen trend number 7, we're talking smart tech.
Smart devices are becoming increasingly popular in the UK as they help homeowners to automate everyday tasks and take the stress out of daily living.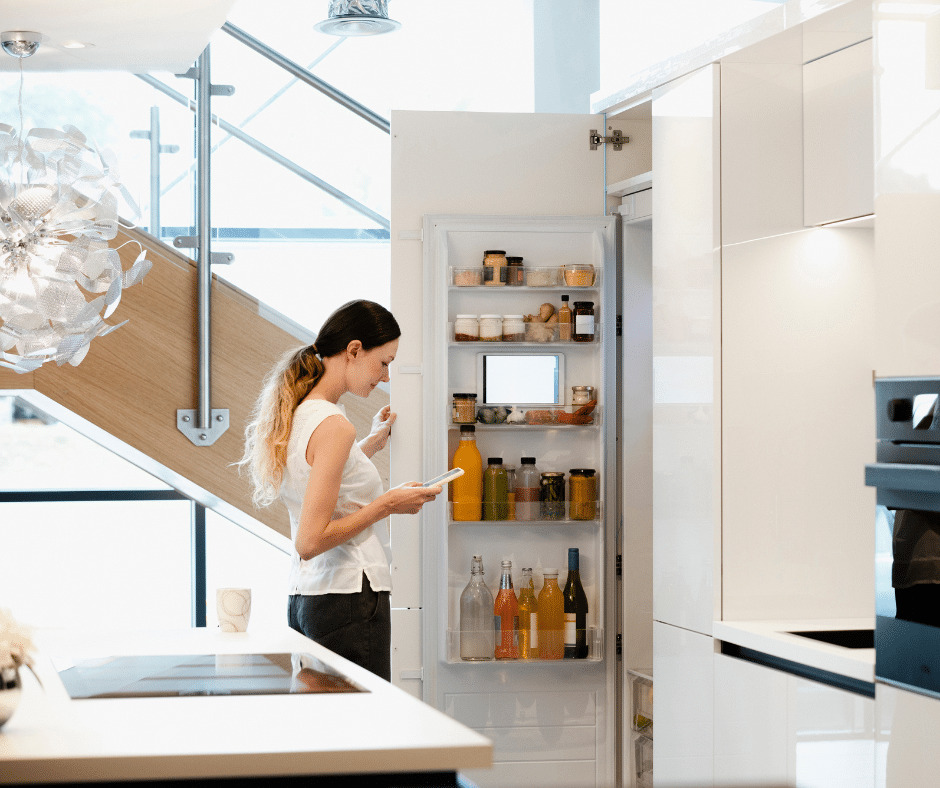 Smart devices are incredibly useful for the kitchen as they offer convenient features and automation, making cooking and meal preparation more efficient and hassle-free. 
With a smart kitchen device, you can remotely control and monitor kitchen appliances, set cooking timers, access recipes, and even receive personalised cooking tips, all from your smartphone or smart speaker.
The best thing about these devices is that they are designed to blend in with modern kitchen designs so they'll make life easier and won't stick out like a sore thumb!
Trend 8: Statement Lighting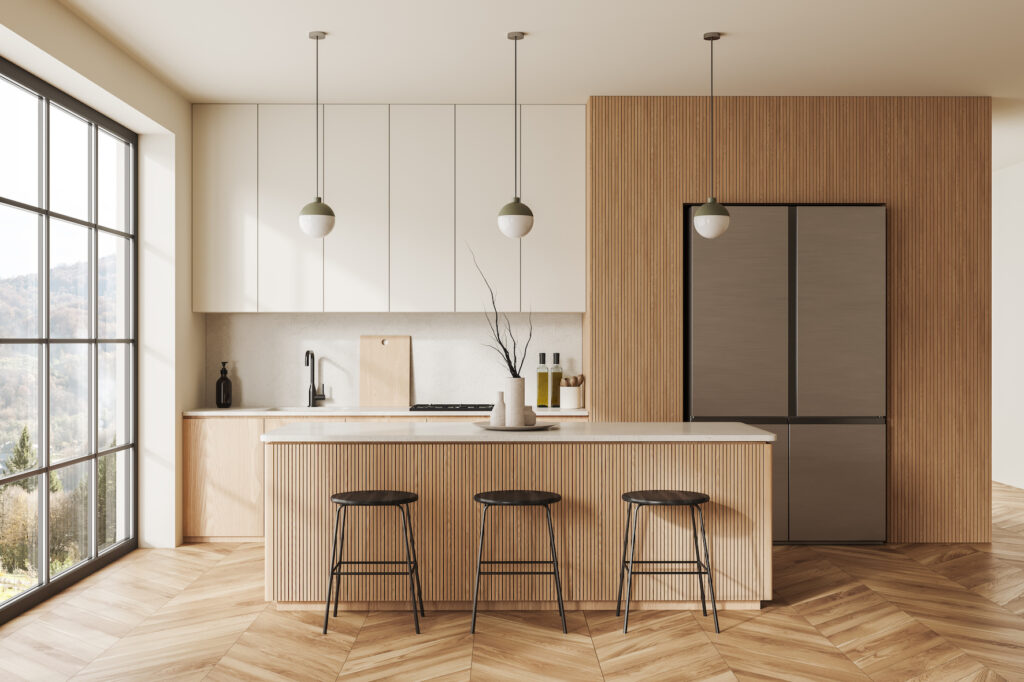 With the excitement of remodelling your kitchen, lighting can often be an afterthought, but it's never something that should be overlooked. 
With beautiful statement lighting you can completely change the feel of your kitchen.
From bold pendant lights that can be arranged at varying heights, to colourful under-counter LED strips, you have so many types to choose from. 
So why not get creative?
Trend 9: Slab Backsplashes 
Obsessed with marble, quartz or granite? The good news is our stone slabs aren't just limited to worktops!
A slab backsplash is a wonderful way to make a statement with your kitchen, and using natural stone can make it even more eye-catching and unique.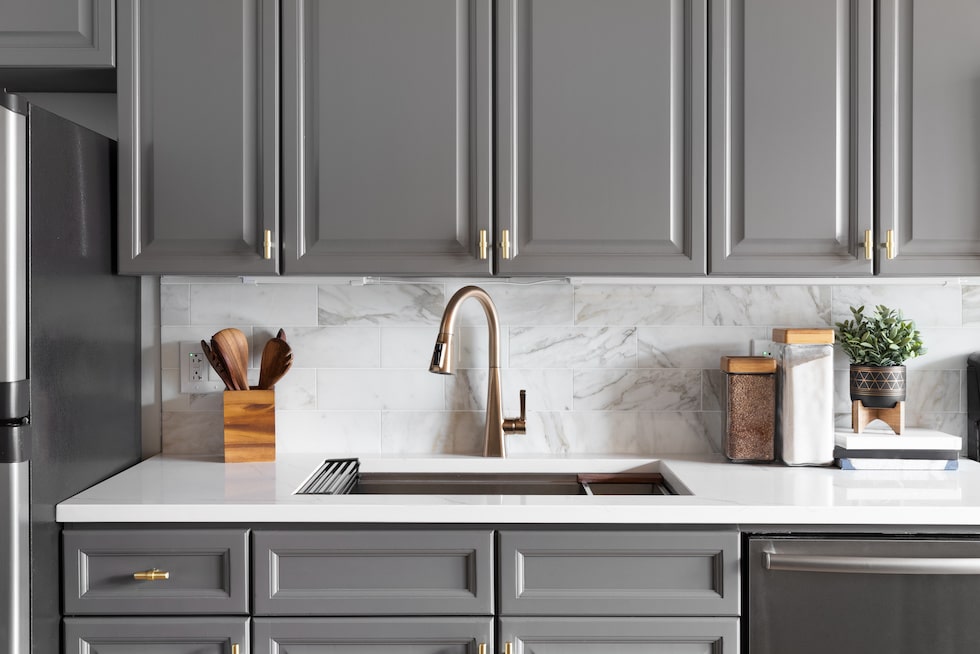 When it comes to choosing a stone for your backsplash, marble is a fantastic choice. 
Adding opulence and sophistication, marble both looks incredible and is very hardwearing.
Since marble worktops are slightly porous, they do need to be sealed to protect against water damage; however, when done correctly, they can hold up for many years to come.
Trend 10. Kitchen Islands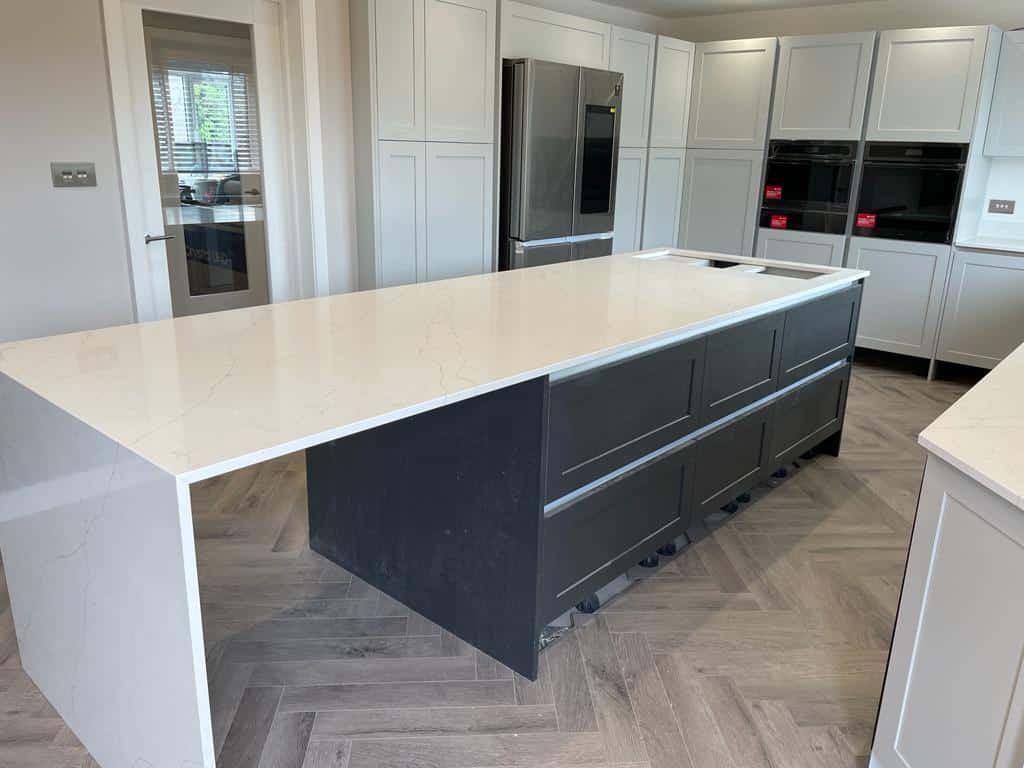 Kitchen islands act as a focal point for the kitchen and come in a variety of different styles and stone types. 
Circular Kitchen Islands 
Did you know that you can get circular kitchen islands?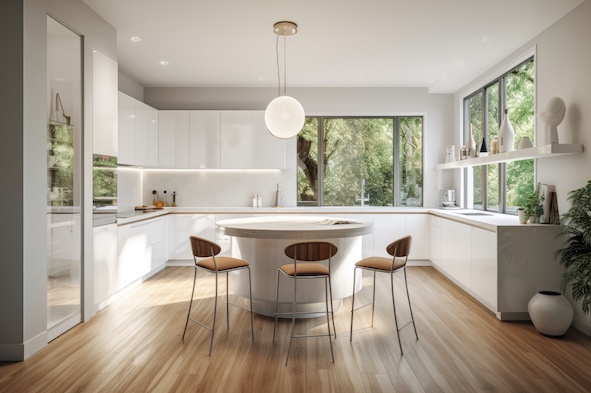 Some homeowners prefer to invest in a circular island because it makes it much easier for the family to sit together at meal times. Having a round kitchen island cut and installed does require an experienced craftsman, so make sure to find a highly-rated worktop company near you.
Double Kitchen Islands
If you have a large amount of space in your kitchen then why not treat yourself to more surface space? 
Double kitchen islands are great for large family kitchens because they offer more room for food prep, socialising and dining. Whether you're having friends and family over for tea, enjoying board games with the kids or simply sitting down for a spot of breakfast, with a larger surface area, there is plenty of room for activities!
Trend 11: Space Saving
To complete our list of kitchen trends for 2023, we have space saving!
There are many ways that you can switch up your kitchen area so that it serves a variety of purposes. 
Here are some things that you can try:
Foldable table – a foldable table can be put out of the way when not needed and brought out when you require an extra preparation space or a place to eat

Using the windowsill – a deeper windowsill can be a great storage option, the perfect place for a thriving herb garden, which is not only useful but attractive. Your windowsill can also act as a home for kitchen items such as cookbooks and carafes.

Use your stovetop as a workspace – there are many purchasable covers for your stovetop which can double up as a chopping board, alternatively, you can

make your own

. This maximises your space for kitchen prep, provided, of course, that your stove isn't in use!

Use your sink as a work surface – the point above also works for the sink, all you need is a chopping board that is wider than your sink to place over it and you have a new area for preparation. 

Use your backsplash for storage – with a few well-placed hooks you can make your backsplash an extra storage area and prevent clutter on your countertops. Installing a rail across your backsplash means you will be able to easily access your kitchen tools and utensils, without them being in the way. 

Use a foldable drying rack – Having a drying rack next to your sink at all times doesn't make sense when you're trying to make the most of your space. A foldable drying rack is easy to put out of the way when not needed.
Get Your Dream Kitchen in 2023
If our 2023 kitchen trends have got you feeling inspired, why not get in touch? We can help you plan your dream kitchen AND make it a reality. 
Simply get in contact today, or visit our showroom. 
You may also be interested in…
In the realm of kitchen design, every detail matters. From the choice of countertops to the...
read more