When it comes to adding elegance and durability to your kitchen, nothing quite compares to natural stone kitchen worktops cut to size. With the perfect finish, shape and worktop style, you can ensure that your surfaces seamlessly blend in with your kitchen design. 
Among the many skilled artisans in the industry, we stand out for our commitment to quality stone craftsmanship. So, in this blog, we will take you behind the scenes to discover the meticulous process by which we cut your stone worktops to size, guaranteeing a perfect fit every time.
What are the Benefits of Kitchen Worktops Cut To Size?
Worktops cut to size offer both aesthetic and functional advantages. Precise fitting eliminates gaps and enhances your kitchen's appearance, while custom sizing maximises space utilisation. 
With cut to size worktops, you also benefit from being able to customise your worktop. From custom patterns to different styles of edging, you have the option to create something truly bespoke that ties in with your overall kitchen scheme.
Material Selection
The first step in the journey of producing your cut to size worktop begins with careful selection of high-quality natural stone materials, ranging from granite, marble, quartz worktops and more. These slabs vary in size, colour, and patterns, offering you a wide array of choices to suit your design preferences.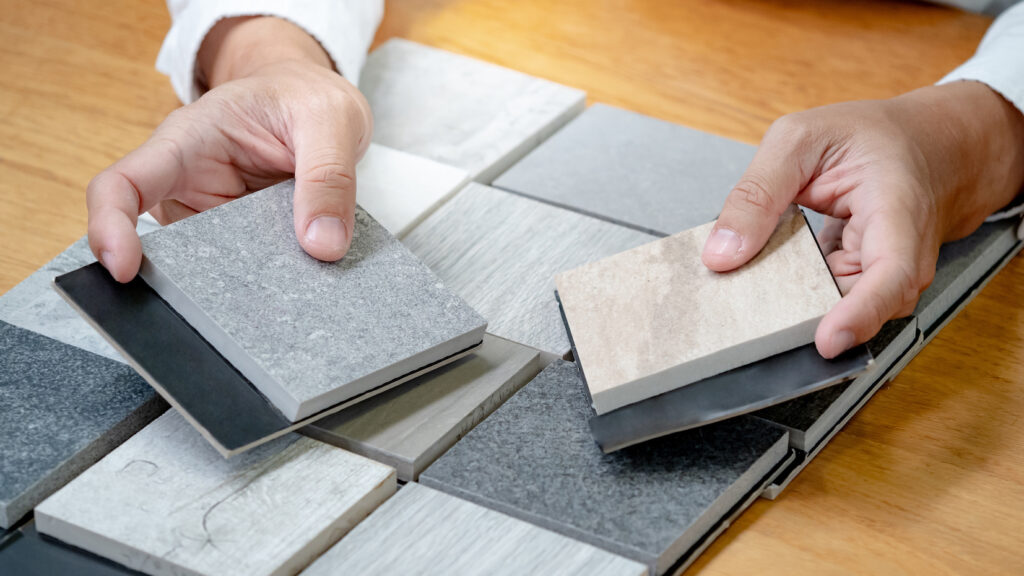 Precise Measurements
Precision is key when it comes to cutting your granite, quartz or marble worktop, and so we employ a variety of methods to create a highly accurate template of your space, ranging from: measurements made by our trusted and skilled professionals; engineering drawings; and 3D scanning to create highly accurate virtual models. We then convert these templates into digital form to prepare them for design customisations.
Design Customisation
Once the digital template is created, it can be customised to fit your specific design preferences. This includes selecting the exact slab from which your worktop will be cut, determining edge profiles, and specifying cutouts for sinks, cooktops, and other fixtures.
Computer Aided Cutting
Here at Marble Supreme, we use cutting-edge computer numerical control (CNC) machines to precisely cut the selected stone slab. These machines follow the digital template's specifications with incredible accuracy. This step ensures that every cut is clean, straight, and exactly to size.
Kitchen Worktop Cutting Tools
We use specialist machinery and kitchen worktop cutting tools to ensure your worktop is cut to perfection and remains chip-free.
Edge Profiling
The edges of the stone worktop are then meticulously shaped and polished according to your chosen profile. Whether you prefer a simple bevel or an ornate ogee edge, our skilled craftsmen ensure that the edges enhance the overall aesthetic while maintaining durability.
Cutouts and Cut-ins
If your design includes cutouts for sinks, taps, or cooktops, our CNC machines make precise cutouts to accommodate these fixtures. Additionally, cut-ins for features like undermount sinks are executed with utmost care to achieve a seamless and polished look to produce the best kitchen worktops cut to size.
Quality Inspections
Quality control is an integral part of our process. Before the worktop is deemed ready for installation, it undergoes a thorough inspection to ensure it meets the highest standards of craftsmanship. Any imperfections or discrepancies are addressed and corrected.
Finishing Touches
Once the stone worktop is cut to perfection, it undergoes a final round of polishing to bring out the natural beauty of the stone and achieve a smooth, lustrous finish. This step enhances the stone's colours and patterns, adding to its visual appeal.
Kitchen Worktops Cut To Size in Bristol
Our dedication to precision and craftsmanship is evident in every stone worktop we create. From the initial material selection to the final polishing touches, our process ensures that customers receive a worktop that not only fits flawlessly but also enhances the overall aesthetics of their space. If you want to find out more about our marble, granite or quartz kitchen worktops cut to size, contact us for a free quote.