A kitchen island has quickly become a staple companion of kitchens worktops across the world. What was once a symbol of extravagance is now a must-have for the majority of homeowners. Not only is a kitchen island a "must" for many house hunters, but it is also considered a selling point by many property experts. 
In fact, a kitchen island could help you sell your home as well as increase the value of it too. 
We understand that it can be hard to determine whether the cost of an island is actually worth the investment – especially if your kitchen is already tight on space. 
If budget is your concern, we have a wide range of products each with different price points, plus plenty of helpful experts to advise you. But first, we'll help you decide whether a kitchen island is right for you. 
We've assessed the benefits and cons of kitchen islands so you can make an informed decision.
So without further ado, here are the factors you may want to consider before committing to this popular feature.  
Pros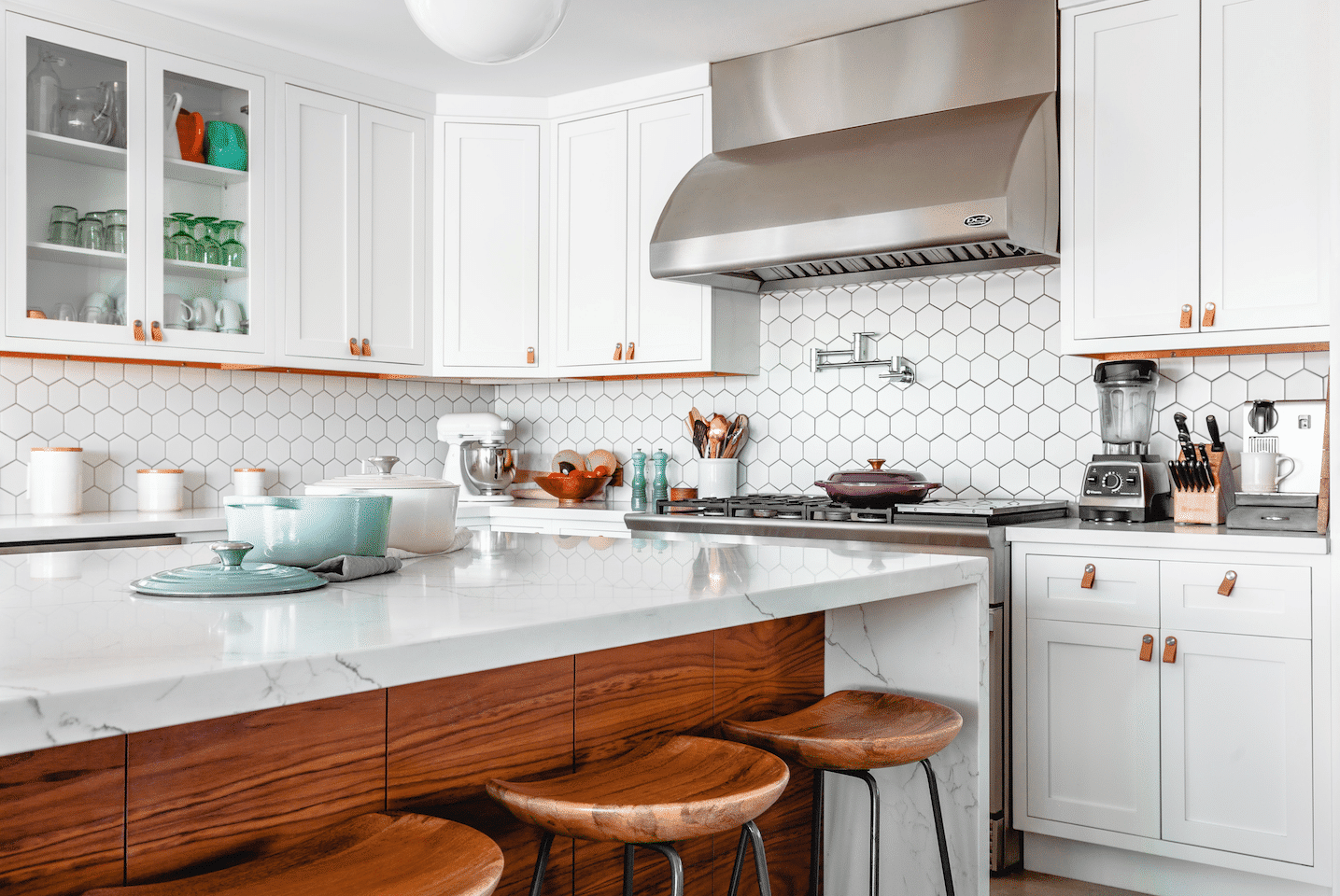 An island presents the perfect opportunity to add more storage space to your kitchen. 
The space beneath the worktop is in a prime position to install cabinets that are easy to access yet will still allow you to tuck away any unsightly clutter. 
You could even create the perfect cubby to keep bins or waste disposal boxes out of sight. 
If you intend to use your island for seating (which we'll come on to later), you will have to sacrifice some space to make way for leg space, however, there are still plenty of possibilities for you to explore.
The Perfect Place To Entertain 
Everybody knows the party always ends up in the kitchen – so why not make it the perfect place for entertaining? 
An island is versatile enough to support your social life as well as your family life. If you choose to have seating at your island, this can be both a comfy place for guests to perch as well as an area for kids to complete homework.   
An island can be whatever you want it to be, from a breakfast bar to a replacement dining table and everything in between. 
An island isn't limited to its usability, it can also be a beautiful feature in your home.
With the right choice of material, colour and shape, you can turn your island into the focal point of your kitchen. We can help decide on the perfect material for your kitchen island, whether you want marble worktops, quartz countertops or granite worktops, we can help.
Many interior designers choose to enhance kitchen islands with strategically placed lighting. You could even customise the cabinets beneath your island, drawing attention with pops of colour and fashionable finishes. Islands have been a long-lasting trend in design, and it doesn't look like they'll fall out of favour anytime soon. 
If you have a passion for interior design or are simply seeking a fresh look for your kitchen, an island can be a real asset. 
If you find yourself scrambling for spare plugs, or a place to chop your veg, the extra workspace provided by an island can be a great solution. 
A carefully planned island can improve how you use your kitchen, optimising it for an easier experience – our blogs on zoning and the working triangle explore this modern approach to kitchen design. 
Many homeowners with limited space are even choosing to incorporate sinks and appliances into their islands to further develop the functionality.
It's estimated that the addition of a kitchen island could increase the value of your home, earning you a 60-80% return on investment, especially if you opt for a long-lasting material such as quartz worktops.
Islands have become a staple of kitchens across the world, and are considered an essential commodity for many homeowners. 
Should you ever choose to sell, an island would be a valuable addition to your property. The majority of property hunters are more than willing to pay a little bit extra for a modern kitchen than go through the hassle of installing a new one. 
Cons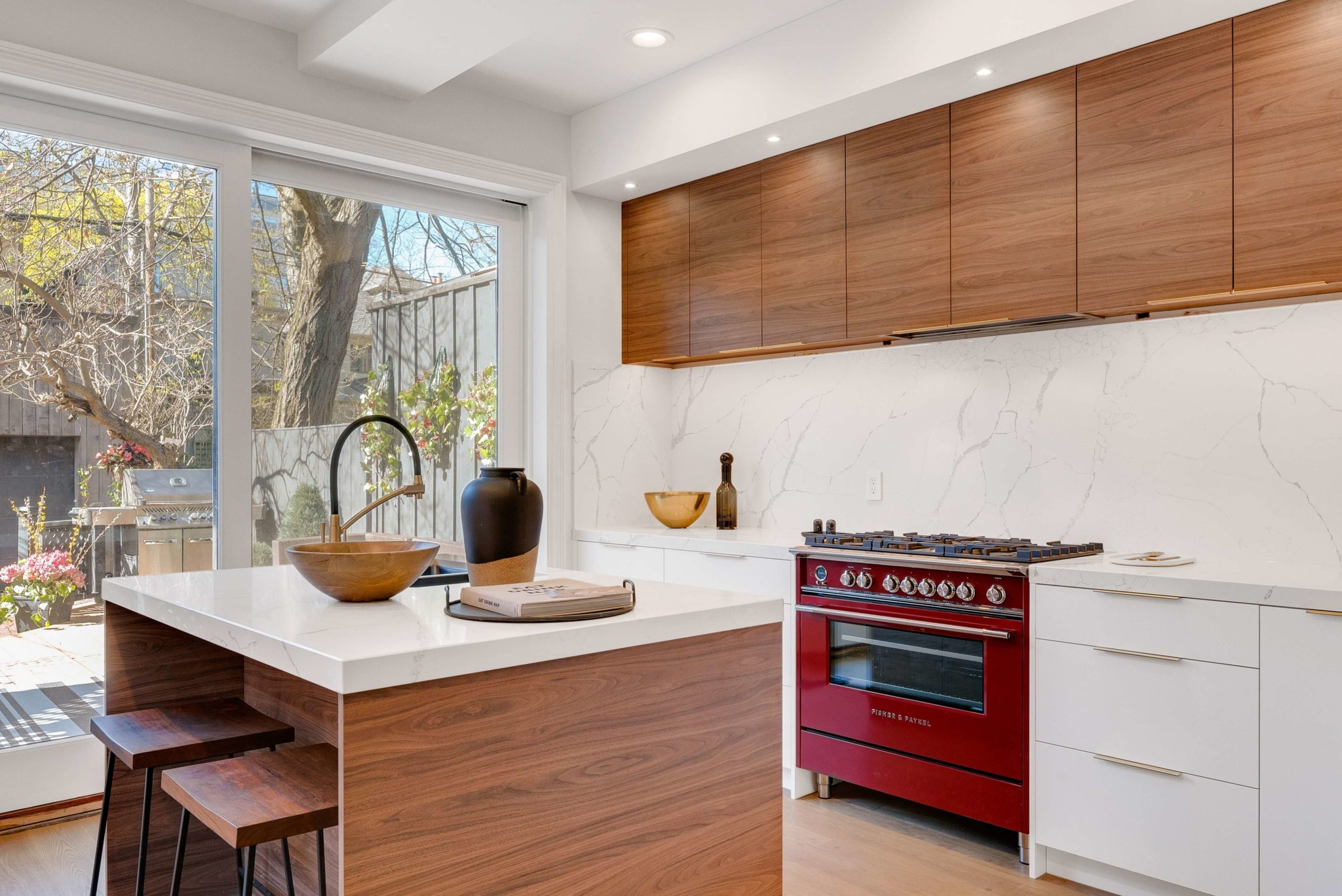 Not Always Compatible With Small Kitchens
A poorly thought-out island can create more problems than it's worth – especially if your kitchen is on the small-side. 
In an attempt to create more space, an island can impose on your kitchen, creating a cramped environment than ultimately makes your kitchen less user-friendly. 
To avoid this, we encourage you to speak to one of our team members who can provide you with size recommendations as well as a free quote. 
As mentioned above, an ill-planned island can reduce the functionality of your kitchen and ultimately be frustrating to work around. 
Islands are not one-size-fits-all, and there are plenty of factors to consider when choosing your island. 
The shape you like might not be right for how you use your kitchen – it's important to consider what you want from your island and whether it will work with your existing space. 
A common symptom of poor design is the 'bottleneck effect'. As we've previously discussed in our zoning blog, this concerns traffic-flow in the kitchen. It occurs when more than one person is using a kitchen and both users end up restricted by the space and end up condensed into one area. In most cases, this makes disrupting one another unavoidable.
If you're interested in installing an island in your kitchen, there's a variety of options available, some of which are more eccentric than others, read our blog on island styles to find out more.
More Suitable Alternatives
There is always the chance that a kitchen island is not the right option for you.
There are many other features, such as a peninsula layout or slim breakfast bar that share the same benefits of an island but are better suited to smaller spaces. 
It's important to consider that every kitchen space is totally unique, and brings along its own set of challenges. Therefore, different island sizes and shapes will suit different kitchens.
Take a look at our ultimate guide to kitchen layouts to find an alternative that works for you. 
So, is a kitchen island right for you? 
You can speak to any of our experts for help with any questions you may have about the pros and cons of kitchen islands- fill in a contact form or call us on 0117 332 5372 if you'd prefer. 
Want to start your project? Call us now, we can also help with bathroom worktops or even commercial countertops.